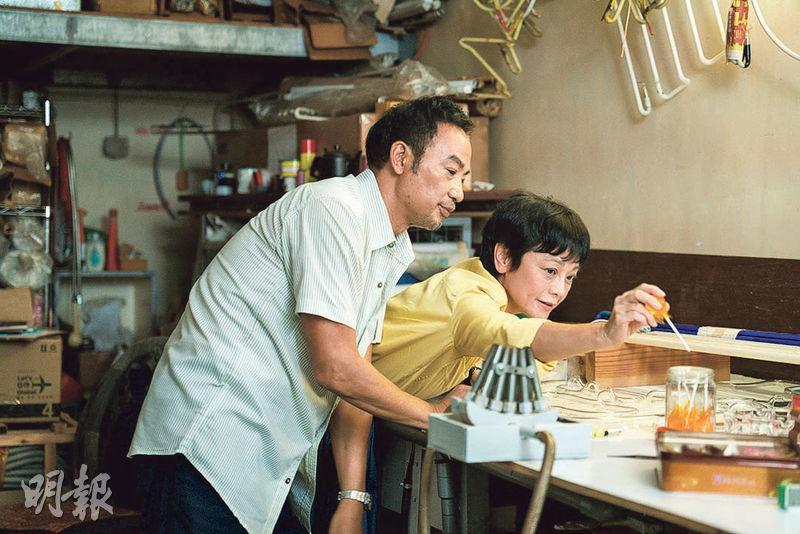 courtesy of mingpao.com
The Sylvia Chang, Simon Yam Tat Wa, Cecilia Choi Sze Wan and Henick Chou Hon Ning starred, Saville Chan Sum Yiu produced, Anastasia Tsang Hin Ning's directing debut A LIGHT NEVER GOES OUT (LAN FOR LAN SHAN) yesterday announced that it would represent Hong Kong in the competition for the Oscar Best International Film nomination. Lead actress Sylvia Chang hoped that this would bring the neon lights back again; Chou Hon Ning was excited and happy to see Hong Kong's beautiful scene making the leap to the international stage; director Tsang Hin Ning was surprised that her directing debut would represent Hong Kong; produce Chan Sum Yiu called for Hong Kong people to continue to support Hong Kong films.
A LIGHT NEVER GOES OUT has been invited to participate in international film festivals in Tokyo, Rotterdam, Milan, Udine, Stockholm, Miskolc, Warsaw, New York, Bangkok, Singapore, Kuala Lumpur, Taipei and other cities; it even received nominations at the 16th Asian Film award for Best Actress, Malaysia International Film Festival Best Actress, Best Supporting Actor, Best Supporting Actress, Best Cinematographer and other international awards. This time it received the Federation of Motion Film Producers of Hong Kong board of directors' recommendation in accordance of the Academy of Motion Picture Arts and Sciences' film selection standards for Best International Film to represent Hong Kong at the 96th Oscars Best International Film competition. The Oscars Best International Film Hong Kong selection council made the selection from all Hong Kong films released between November 2022 to October 2023. A LIGHT NEVER GOES OUT with the majority of votes was nominated to represent Hong Kong in the 96th Oscars Best International Film competition. The team was very surprised upon receiving the news and had difficulty with hiding their excitement. Director Tsang Hin Ning said about the film representing Hong Kong at the Oscars. "I feel a little surprised to hear the news. Ultimately this year had many excellent Hong Kong films. To be able to represent Hong Kong is my honor. I hope even more Hong Kong films would be seen by international viewers." In his first film, Chou Hon Ning was proud to be a part of it. "When I found out A LIGHT NEVER GOES OUT would compete for the Oscars Best International Film nomination, I was very excited! I am very honored to be able through the performance, through the video documentation, to display the beauty of Hong Kong on the international stage." Hong Kong culture enthusiast Sylvia Chang said, "Let Hong Kong neon lights return!" Producer Chan Sum Yiu said, "I represent the film team in thanking everyone for their love! For Hong Kong film to go to the world, Hong Kong audience is its strongest backing. Please continue your support."
Currently in England, Brother Wa after getting the good news thanked everyone for the encouragement and congratulated the director, the producers, cinematographers and all of the staff for being able to represent Hong Kong at the Oscars. He hoped through the movie even more people would care about friends, events and things around them in Hong Kong, through the film's humanity, interpersonal stories show Hong Kong's unique nostalgia to the entire world and introduce the taste of Hong Kong film. He also welcomes friends around the world to come to make movies at the unique location of Hong Kong.
He also said, "Although the lights have gone out, the spirit of the people remains. I hope the Travel Development Council or the Art Development Council would hold more exhibits about film, photography or water ink art with Chinese color elements, and through them to promote Hong Kong to the entire world so even more people would be able to see the color of the Hong Kong culture. At the same time I hope the Hong Kong film professionals would make even more good movies for everyone to enjoy."