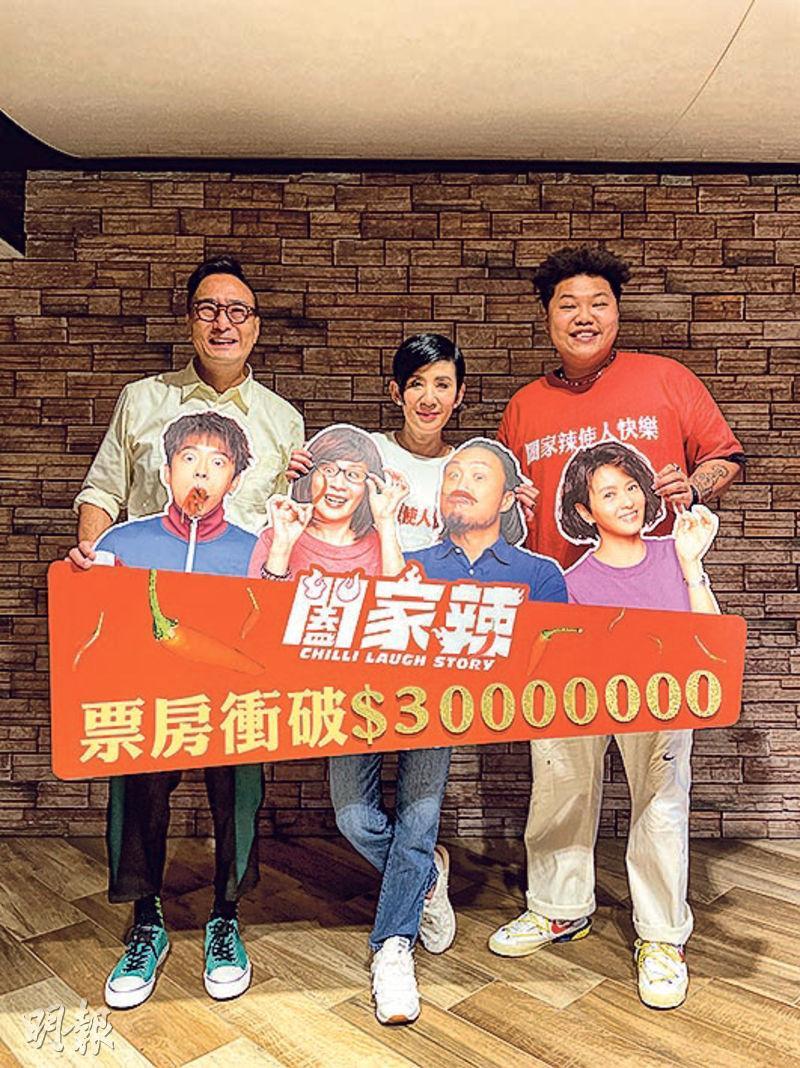 Matthew Chow, Sandra Ng, and director Coba Cheng attend an audience appreciation event
courtesy of mingpao.com
The Sandra Ng Kwan Yu produced and starred film CHILLI LAUGH STORY (HOP GA LAT) after a month in release made over HK$ 30 million. Director Coba Cheng Chun Hin two days ago with Sandra Ng Kwan Yu and screenwriter Matthew Chow Hoi Kwong went to the cinema for an audience appreciation event. When viewers saw them they immediately cheered, praised the onscreen "Auntie" Ng Kwan Yu as pretty and a good actress. Ng Kwan Yu revealed to the audience how star Edan Lui Cheuk On has been lately. She said, "Edan is OK, he hopes everyone would relax and support us even harder." Ng Kwan Yu thanked the audience for their support. "From HK$ 1 million to 30 million, everyone has contributed a lot of effort. Thank you very much everyone for paying real hard cash to watch the movie. I hope everyone would continue to support Hong Kong film." After the audience appreciation, many viewers wanted to get Ng Kwan Yu's autograph and photo.
Chow Hoi Kwong said, "Since the box office reached 30 million, we can finally release Edan and Ng Kwan Yu's shower scene, not Angela (Yuen Lai Lam) but Ng Kwan Yu. We will make the announcement, please wait a little." Ng Kwan Yu did not mind releasing this cut shower scene and said, "Thanks to the audience's support, this film is able to reach 30 million. It is very encouraging for our entire team." She said that currently in Taiwan Gigi Leung Wing Kei would also help promote, so the Taiwan audience would like CHILLI LAUGH STORY just as much.