courtesy of singtao.com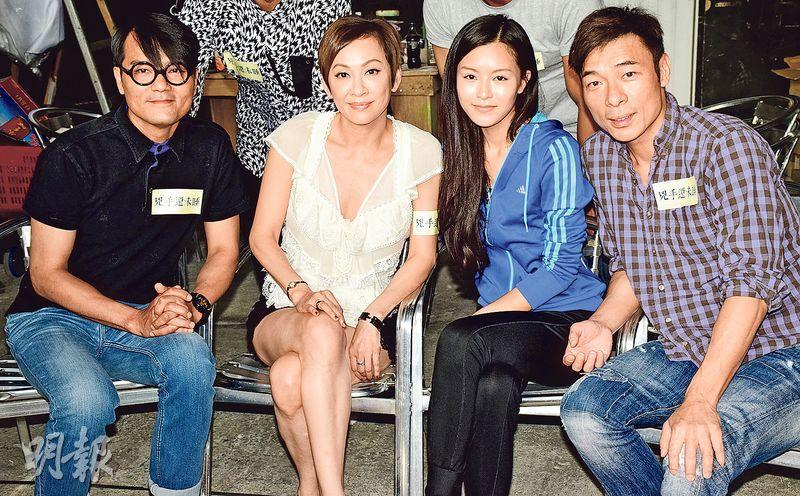 Gordon Lam, Candy Yu, Janice Man, Andy Hui
courtesy of mingpao.com
Janice Man's performance will be her most daring to date
Janice Man and Andy Hui will have romantic and intimate scenes
Candy Yu
courtesy of on.cc
Andy Hui Chi On, Janice Man Wing Shan, Gordon Lam Ka Tung, Candy Yu On ON and Paco Wong yesterday conducted a production start worship ceremony for their film NESSUN DORMA (HUNG SAU WAN MEI SHUI). JM revealed that her character was very heavy. On the first day of work she was already on the verge of collapse. She said, "In the film I suspected that I was raped and had huge mood swings. I was a little out of my mind. It will be the most daring performance of my career, but I really want to challenge this character."
JM even had nude scenes. She said, "The story requires it, but nothing will be shown." She said that she was very familiar with director Herman Yau Lai To and trusted him very much. In addition she too hoped for a breakthrough performance from herself, so she decided to go all out. She recently has taken many sad roles, which she admitted was good because she had more potential to demonstrate her skills. However after making such a heavy film this time she hoped to make a comedy next time to adjust. Aside from NESSUN, she will also work on COLD WAR 2 (HONG JIN 2). She will also have the chance to work with Chow Yun Fat. As for rumors that she was the second choice for the role after Isabella Leong Lok Si, JM said that she did not know before hand and said that films constantly recast. The most important was for the role to be suitable. How was her relationship with boyfriend Carl Ng Kai Nam going? She sweetly said, "I am very busy but very happy. We are getting to know each other."
On Jai in the film would have intimate scenes with JM, but denied that he was the killer who raped her. He also said that to look better on screen he planned to get into better shape. As for how long the intimate scenes would go, he said, "There is no limit, no other thought. I only go topless. I am very nice. (Do you have the chance to show your trademark giant condor?) No need! Everyone wants to see JM more! (Did you ask your wife for love scene permission?) No need, she even says that if the director needs to I should go all the way." Ka Tung in the film played a bisexual. HE not only had to be in a fake marriage with JM but also a relationship with 24 Herbs member Phat, he "rocked the bathroom" with an escort and raped Jacky Cai Jie. Will he have any love scene with JM? He said, "Just a peck! (Will she be performing in full nude?) In that scene she will be alone and seem to have been raped. Although she says that it can be more extreme, we don't know how it will be shot yet."