courtesy of singtao.com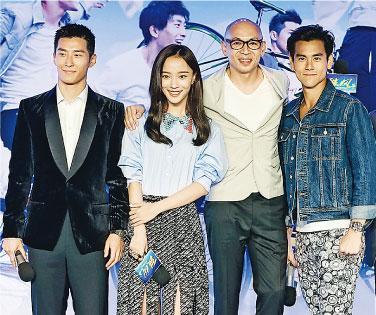 courtesy of mingpao.com
Shawn Dou, Wang Luodan, Dante Lam, Eddie Peng, Andrew Lin and Carlos Chan
Jackie Chan, Nicholas Tse and Albert Yeung surprises Dante Lam
courtesy of on.cc
Director Dante Lam Chiu Yi yesterday led Eddie Peng Yu-Yan, Shawn Dou Xiao, Wang Luodan, Andrew Lin Hoi, and Carlos Chan Ka Lok attended their film TO THE FORE (POR FUNG)'s Beijing press conference. Another lead Choi Si-Won was unable to attend due to his U.S. concert. The actors played games, Dou Xiao's team lost and accepted its punishment -- to give Peng Yu-Yan a princess hug. Peng Yu-Yan laughed, "Now even promotion puts your life on the line, luckily I am thin now." He then jumped into Dou Xiao's embrace and the crowd shrieked.
Peng Yu-Yan in the film had a lot of cycling experience. "When I used to watch other people bike, I would feel that why would they get into that; but now I am completely in love with cycling, when I bike the wind and the sunshine that you experience are not what you would experience when you drive." He stated that he relied a lot of confidence in his character's personality and state of mind on training. "I spent half a year to experience the life of an athlete, which helped me understand their world inside. Only through such a training program would I be able to experience athlete's mental state in a variety of situations." He also joked, "I already have word of mouth from training, as long as anyone thinks of making a movie that requires hard training they would think of me."
Dou Xiao stated that off camera the domestique was Peng Yu-Yan. He explained, "Because he is tanned, then I would look paler." Chan Ka Lok said that his domestique was his management team, because when he did something bad and reporters asked for him, the team would hold them off. Playing the "Devil Coach" Lin Hoi expressed his love for his wife. "Life has many domestiques, the most primary sprinter is my wife. She helps me with a lot at home, so I am able to sprint with all my focus." Wang Luodan's sprinters are her parents and the crew because they blocked a lot of things for her.