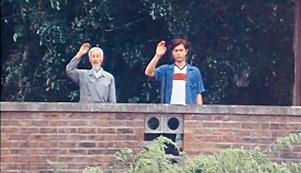 courtesy of singtao.com
The Louis Koo Tin Lok, Julian Cheung Chi Lam, Gordon Lam Ka Tung, Charlene Choi Cheuk Yin, Charmaine Sheh Sze Man, Law Lan, Ava Liu (Yu Kiu), Lam Suet and Yuen King Tan starred TROUBLESOME NIGHT (YUM YEUNG LO) 20th anniversary film ALWAYS BE WITH YOU (SEUNG JOI NEI JOR YAU) will open on the 26th. With attention on this long running Hong Kong horror film series, this classic team of "producer Nam Yin, director Herman Yau Lai To and star Louis Koo Tin Lok" had to be mentioned. They worked together endless times in the first seven films and cooked up scene after horrifying scenes!
The most memorable had to be Goo Jai's trademark farewell wave! He personally explained how it came about. "I too feel the most classic scene was in the first film when I waved to everyone goodbye at the pier; I actually created this wave myself, haha!" Speaking of the reason behind it, Goo Jai said, "Actually I didn't have any special reason, but I don't know why, after the first film was released everyone had such a deep impression of this scene. So later this idea appeared more and more."
Another collective memory of TROUBLESOME NIGHT was Sister Law Lan's character "Lung Por". Goo Jai also said, "Sister Law Lan definitely is the most memorable. Her character became famous because of TROUBLESOME NIGHT."
Aside from Simon Lui Yu Yeung also was well known. Goo Jai said, "He is even more amazing, after TROUBLESOME NIGHT he went to host a radio program and became the 'ghost king'."
Movies about the supernatural of course had many taboos. Goo Jai revealed, "For example when shooting in a cemetery, try not to disturb the ancestors, not to touch the ancestors' tomb, not to sit on the ancestor's tombstone; if a character passed away in the film because the story required it, he or she would receive lai see first." Actually Goo Jai in the first seven TROUBLESOME NIGHT already had six "death experience".