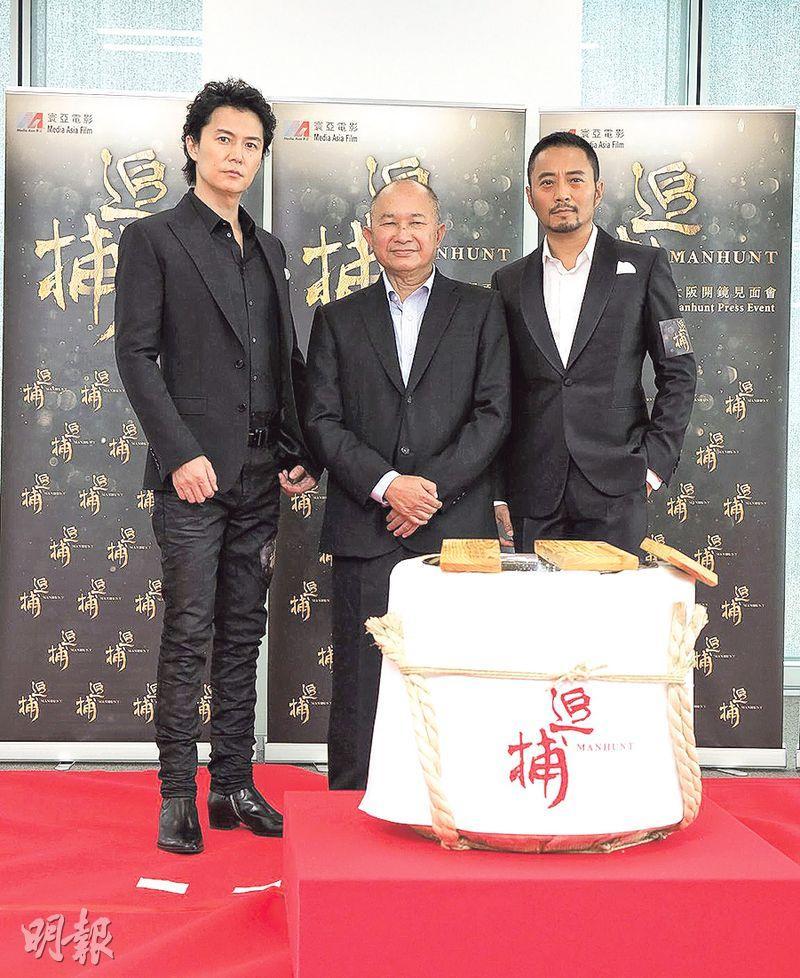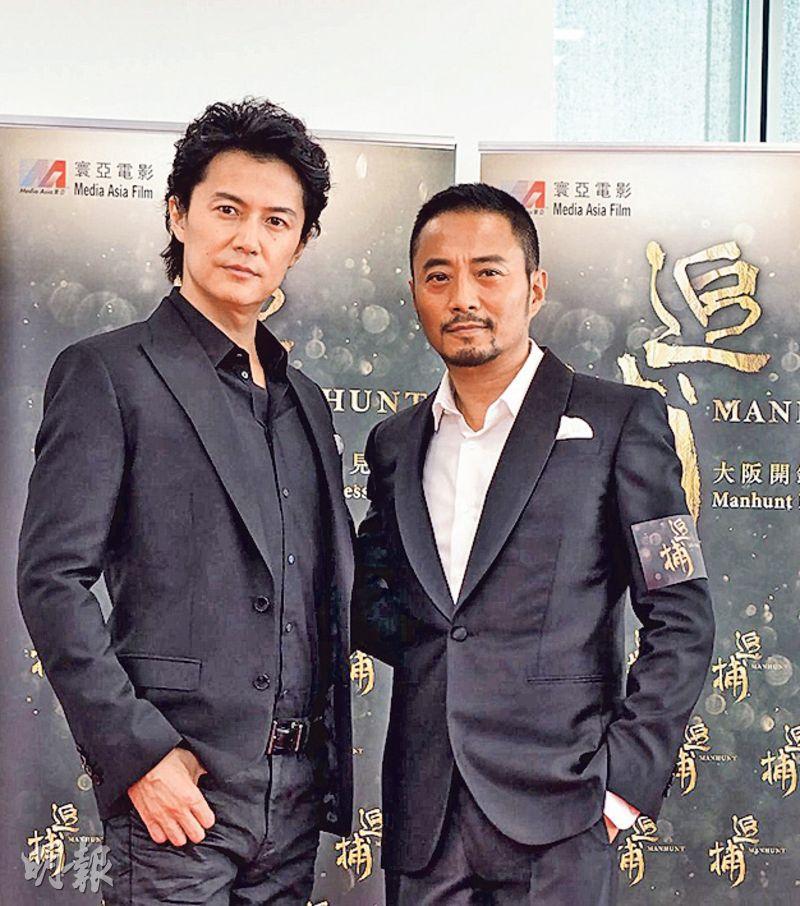 courtesy of mingpao.com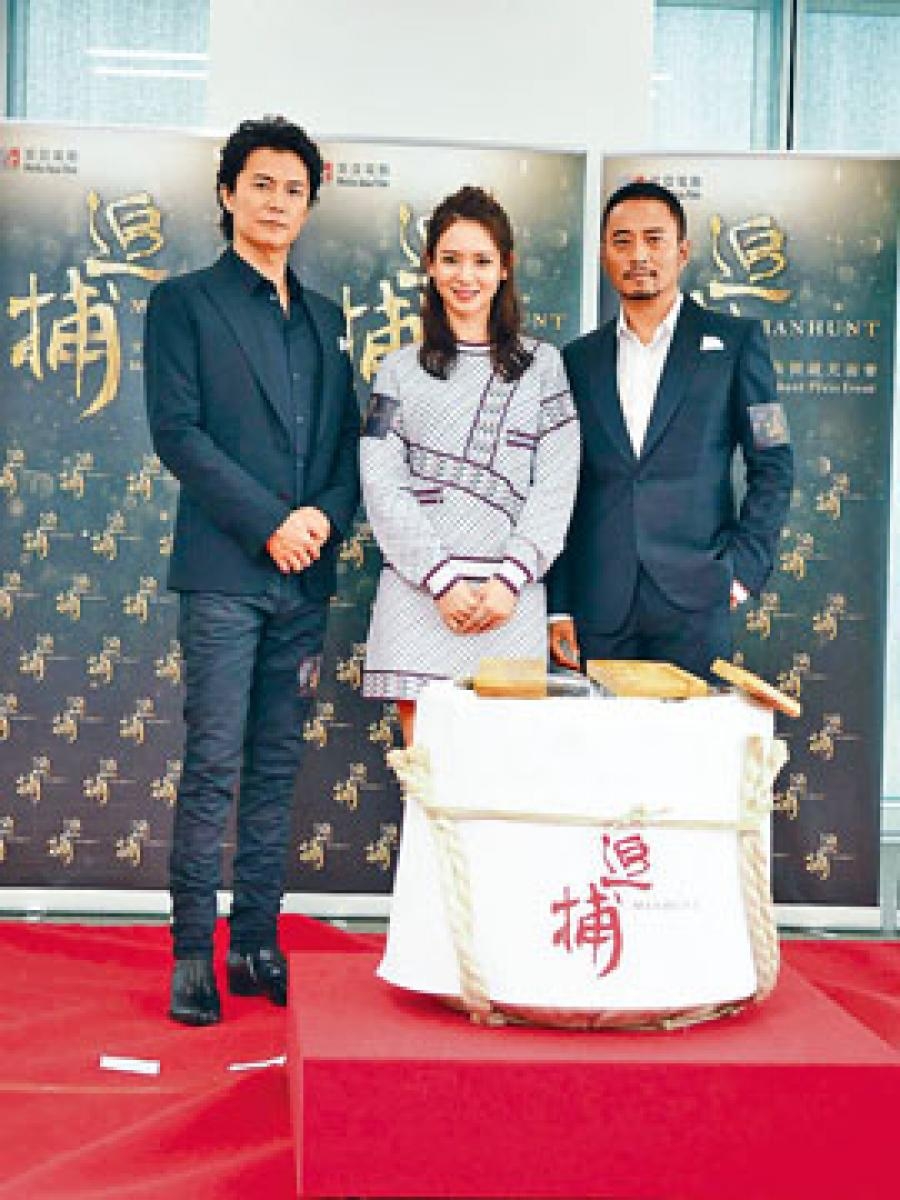 courtesy of singtao.com
Masaharu Fukuyama, Stephy Qi, Zhang Hanyu
courtesy of on.cc
John Woo (Ng Yu Sum)'s latest film MANHUNT (JUI BO) earlier officially started production Osaka. The film company for the film held a "production start (wine drum beating)" traditional Japanese ceremony on location in Osaka's landmark Abeno Harukas. They struck a wine drum with a wooden hammer for a smooth production. Guests included director Ng Yu Sum, producers Gordon Chan Ka Seung and Chan Hing Ka, and actors who just arrived in Osaka for the production like Zhang Hanyu, Masaharu Fukuyama, Stephy Qi Wei, Jun Kunimura, Hiroyuki Ikeuchi, Nanami Sakuraba, and Japanese model TAO. Media Asia chief Peter Lam Kin Ngok also flew to Japan to cheer on everyone.
Fukuyama said that he has already worked with Director Ng, so he was still confident about the action scenes even though he only had a few. Another lead actor Zhang Hanyu said that the shoot had been rather difficult. All the running was very tough and after the shoot he did not want to do anything, and he still had a long time that he would have to keep running. Would they hold back when they fought? Fukuyama said that he did not know. "Because it would depend on the situation. When we really reach that emotion we might not be able to control ourselves and would naturally fight." Zhang Hanyu said, "No matter how we fight we would have protection and precaution, otherwise everyone would go to the hospital after the shoot. However, all the action designs were very realistic, the audience would definitely feel the excitement."
Two other Japanese actors Jun Kunimura and Hiroyuki Ikeuchi also attended. This time in the film they played father and son. Hiroyuki Ikeuchi respected elder Jun Kunimura very much, but in the film Jun Kunimura would have some struggle with him. Even though in the film Jun Kunimura really loved his son, he did not agree with certain things about his son and was very worried about him.
The selection of Osaka as the MANHUNT production location was very important to Osaka officials. Aside from an independent press conference in Japan for the film earlier, the Osaka prefecture governor Ichiro Matsui and Osaka mayor Hirofumi Yoshimura took time to participate on the day of the ceremony. Kintetsu Corporation Abeno Harukas' chief Kensuke Nakanishi, who has strongly supported the production on locations, also attended. After the director, the actors and guests conducted the wine drum beating ceremony, everyone immediately raised their sake for a toast.
Director Ng Yu Sum thanked the Osaka Prefecture governor Ichiro Matsui and Osaka mayor Hirofumi Yoshimura's strong support. "I am very happy to be able to shoot in Osaka, many places made exceptions with road blocks for us to shoot at. Anything we needed assistance with we received. I hope to be able to capture the scenery of Osaka."