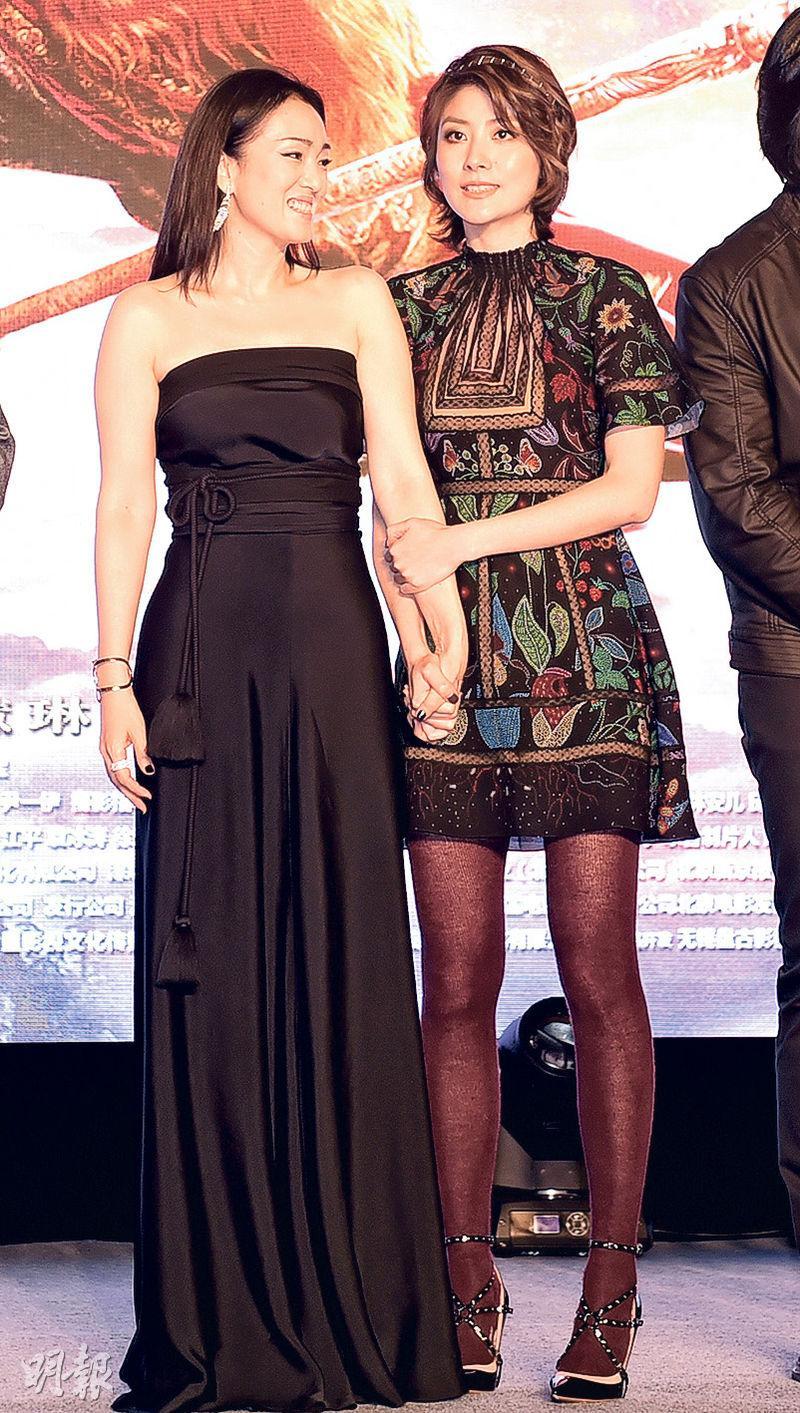 Gong Li, Kelly Chen
Gong Li and Aaron Kwok promote hard for THE MONKEY KING 2
courtesy of mingpao.com
courtesy of on.cc
Kelly Chen Wai Lam two days ago attended the film THE MONKEY KING 2 (SAI YAU GEI ji SUEN NG HUNG SAM DA BAK GWUT JING) press conference. On the way to Guangzhou she asked the driver to pull over and signed autographs on four boxes of her upcoming record release. Kelly launched her "motor hand" and spent half a hour to sign all of the 300 or 400 records. Not only did the pen run out of ink, her hand went limp and her legs were numb from standing.
Kelly explained, because some Mainland fans were unable to attend her Hong Kong autograph session, she contacted her assistants to sign autographs at a location. Kelly in order to keep from affecting the film promotion signed autographs halfway! She hoped that the record company will soon release the Mainland version of the record and hold Mainland autograph sessions.
Aaron Kwok Fu Sing two days ago attended THE MONKEY KING 2 Guangzhou premiere with Gong Li and Chen Wai Lam. Sing Sing and Gong Li both revealed that when they watched the film they succumbed to tears. Gong Li said, "Two parts were very touching for me. You can truly sense that my White Bone Spirit is a little bad." Sing Sing stated that the film's final 10 minutes made him lose his composure. "The character truly wasn't easy to play, and the process was very tough and very stressful. The film took 4 months to make, when I went to see it I was very nervous."
Meanwhile for Kwok Fu Sing's other film THE ETERNAL WAVE, director Chung Siu Hung was strict as he asked him to jump from the third to the second floor. Sing Sing was an "obedient actor" and insisted against using a double. He injured his left knee and aggravated an old wound. He planned to have surgery in March, a complete recovery could take half a year as his summer Hong Kong Coliseum concert might be affected.
Playing the Goddess of Mercy, Kelly starred in two JOURNEY TO THE WEST films. She said, "In both films, the Goddess of Mercy's influence was Sun Wukong was enormous. She was a life coach and a psychiatrist." When the host asked her for an early Lunar New Year greeting, she recited poetry in Cantonese. It was accidentally translated as "You would get pregnant from watching THE MONKEY KING 2!" Reporters joked that she was a "child granting Goddess of Mercy.