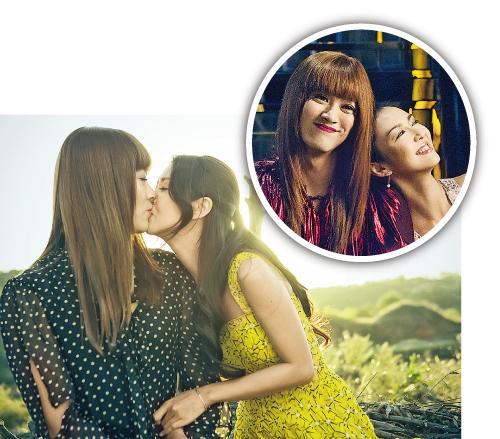 Fiona Sit says Du Jiang's female disguise is very pretty, but the kiss scene is a little weird
courtesy of mingpao.com
The Fiona Sit Hoi Kei, Du Jiang, Wong Cho Nam starred romantic comedy MR. HIGH HEELS opened on February 14th in the Mainland.
In the film Fiona lost confidence in men and had an ambiguous relationship with the cross dresser Li Yuan. Du Jiang due to her crush on Fiona dressed up like a woman to get close to her. Fiona said, "Du Jiang with his big eyes and pointy face looked prettier than many real women as a woman. Yet at every night shoot, I can see his facial hair growing slowly. No matter how romantic the scene originally was, I had a very hard time with holding back my laughter." Du Jiang instead praised Fiona for working hard to hold back her laughter and concentrate on her character, her performance was professional. His female disguise received uniformly good reviews. Fiona gave him some lady secrets to make Du Jiang more woman than any woman.
Speaking of the most memorable scene, Fiona admitted that absolutely when she could not help herself but kissed Du Jiang in a woman disguise. She said, "At the time I didn't know Du Jiang was a woman, one day I share my heartache with him. When he encouraged me I couldn't help but kiss him, and I realized that I have already fallen for this person." Earlier MR. HIGH HEELS held its Mainland premiere and had decent word of mouth. The official release in a few short days already accumulated 50 million RMB at the box office. The performance absolutely answered for the onslaught from many Lunar New Year hit films.