courtesy of on.cc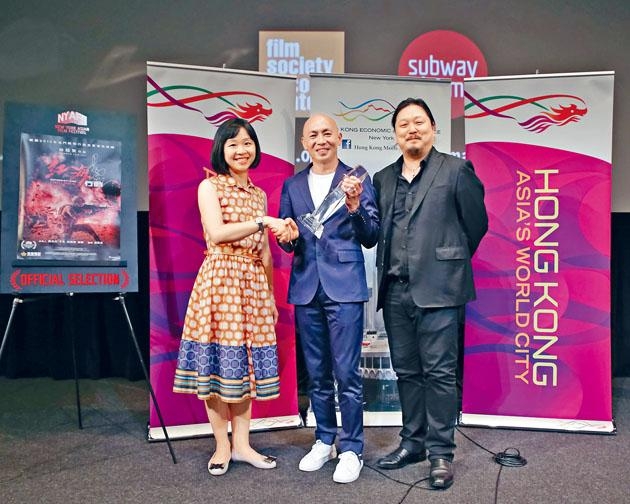 courtesy of singtao.com
Director Dante Lam Chiu Yin appeared at the New York Asian Film Festival with OPERATION RED SEA, THE BEAST STALKER (JING YUN) and UNBEATABLE (GIK JIN) and received great treatment from the event. To recognize Director Lam's talent and proud achievements, the New York Asian Film Festival presented the Daniel A Craft Award to him, his best birthday present this year.
"Because this time THE BEAST STALKER and UNBEATABLE are also being screened, THE BEAST STALKER was a movie that few foresaw would be a hit. Ten years later, I am bringing THE BEAST STALKER, UNBEATABLE and OPERATION RED SEA together, I feel extra sentimental. When I got on stage just now, I got a little choked up and needed to pause for half a second."
This trip happened to take place during Director Lam's birthday (July 1st), but due to the tight schedule he could only celebrate with producer Leung Fung Ying and the team at dinner. "I didn't have time to stay and sightsee. Earlier I went to Los Angeles and had several meetings with foreign companies to discuss any possibility of working together. we even discussed which latest technologies to use. At the same time I also saw some not yet released new films, to see if I have any chance to try with possible sequels."
In recent years superhero films ruled the global market. How exciting would they be if they fell into Director Lam's hands? He said, "Actually we talked about some famous film series and whether we could take them off. We still need to continue to explore that. However I have to stress, completely jumping into the U.S. production format is not too suitable. I am interested in this subject, the problem is it would need to have our elements. Our actors won't be guest stars, they have to have roles!"