courtesy of on.cc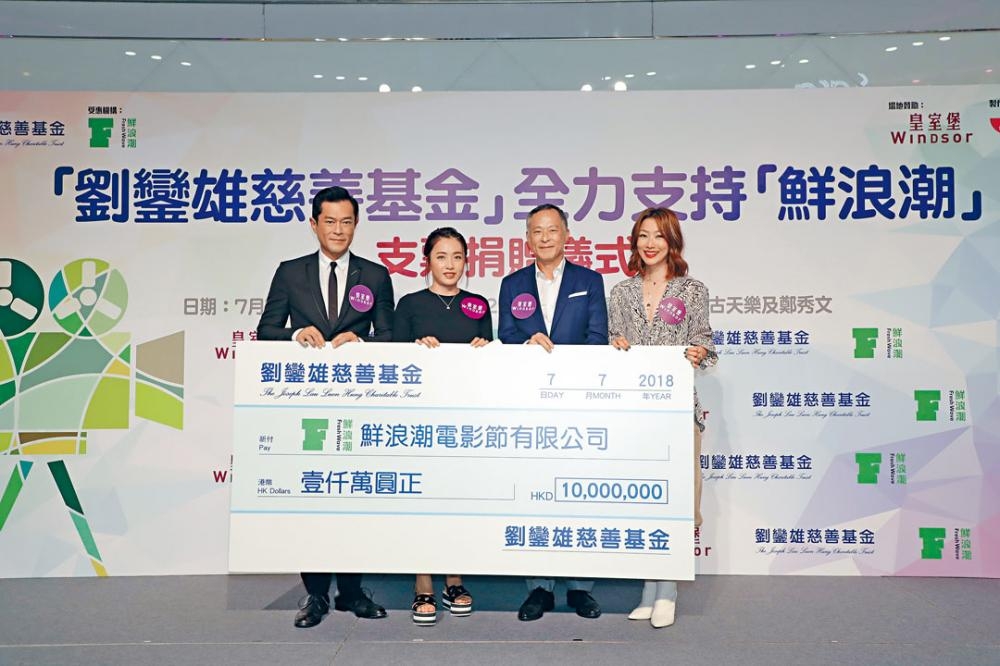 courtesy of singtao.com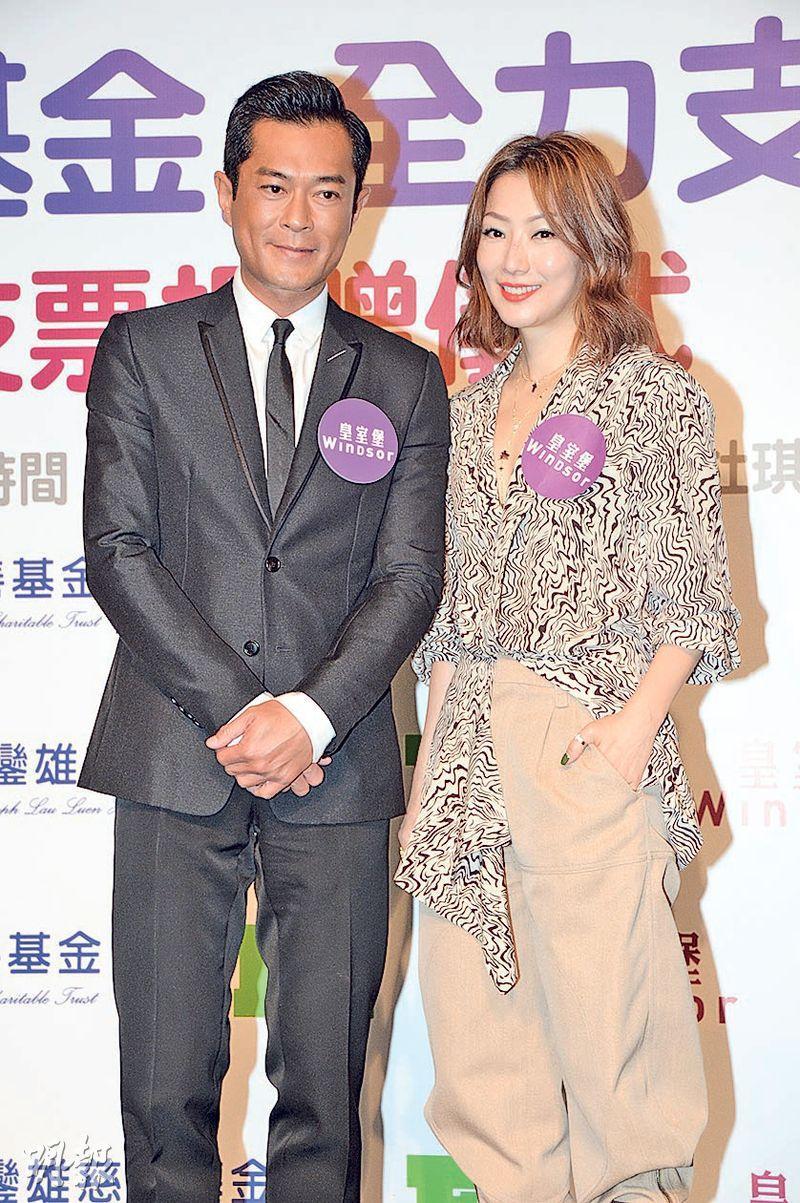 Louis Koo and Sammi Cheng show their support for Johnnie To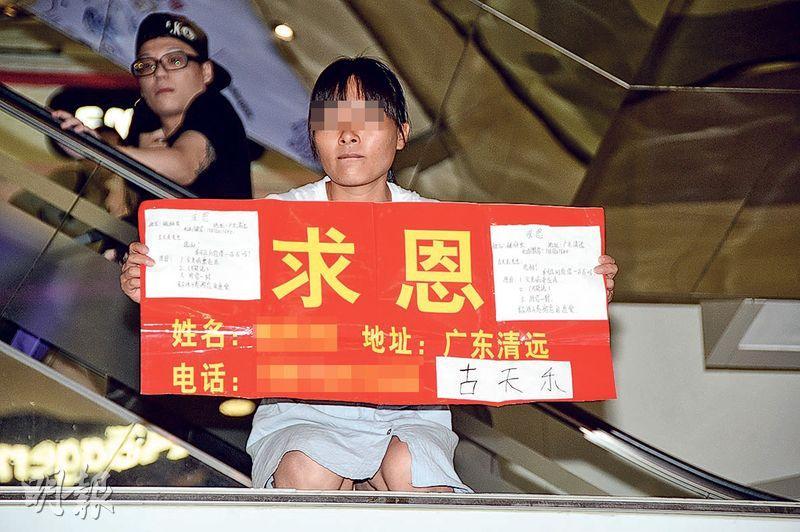 A woman climbed over the barricade to plead for help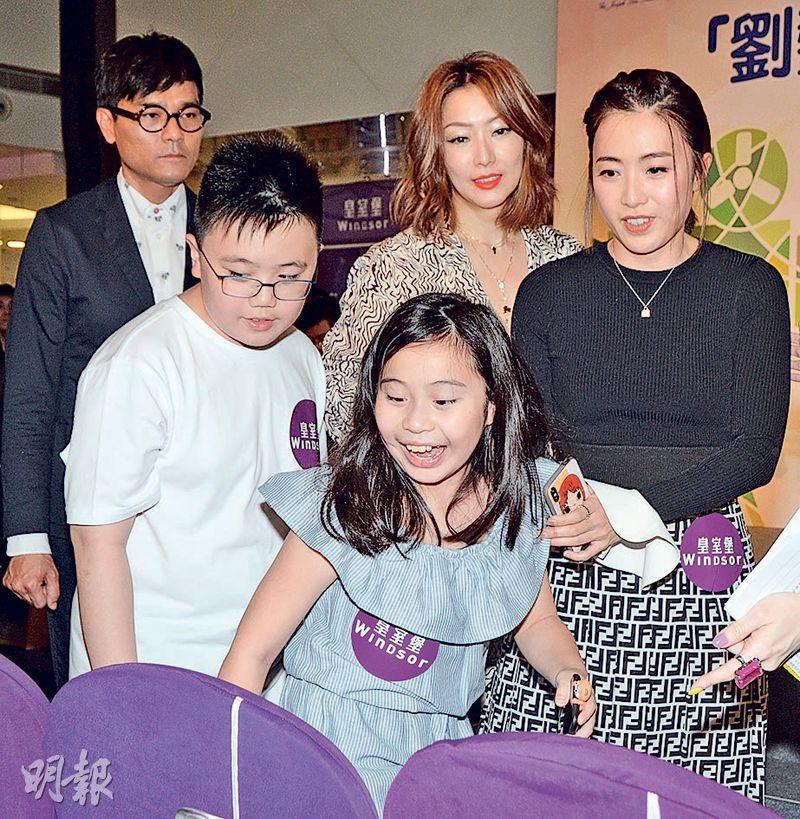 Kimbee Chan bring her children to the ceremony
courtesy of mingpao.com
The Joseph Lau Luen Hung Charitable Foundation donated HK$ 10 million to Fresh Wave Film Festival. Yesterday Lau Luen Hung's wife Kimbee Chan Hoi Wan presented the check and Fresh Wave founder and president Johnnie To Kei Fung, Fresh Wave director Louis Koo Tin Lok and artist Sammi Cheng Sau Man accepted. In addition Lo Hoi Pang and Gordon Lam Ka Tung showed their support in person. As the event neared its end and the guests went to the stage for a group photo, a woman jumped the barricade and raised a poster to ask for a favor and borrow 1 million from Koo Tin Lok for her seriously ill father. The guests had no idea but due to the woman's further action several security guards teamed up to subdue and remove her.
Goo Jai was asked if he knew that something sudden happened. Goo jai said that he had no idea. When the media informed him of the entire incident, he said, "That's pretty dangerous!" Goo Jai admitted that his company has already received such plead for assistance, but due to scam concerns he would try to make sure if it is a real case before handling it. He would help privately. Would he help with this case? Goo Jai replied, "I just got this plead from workers, but in the past no specific amount has been stated. So I would have to get a clear understanding first."
Was the woman's barrier jump too extreme? Goo Jai said, "At first I really thought someone wanted to jump down. Actually her crossing over already became a public safety issue, there were people below and if she slipped it wouldn't be good. This already put herself in danger. If she needed help there probably would be different ways to, so I have to get an understanding."
Goo Jai revealed that in the past some community groups, senior homes and even schools would ask him for help. Some cases might not ask for financial assistance. Some might just want holiday visits or material needs, it was not about money every time. Did he feel that he would attract so many people who wanted his help because he constantly did charitable deeds? Goo Jai said, "I never look into it, if I can help I help!" Has he been to generous? He said that his colleagues would help and follow up when they got the requests. Sometimes they would refer them to other charitable organizations for assistance. For example they once received school book requests and he asked publishers to help.
Sammi said that she did not find out about the woman's plead for help after she was back stage. She never has run into such a situation while working in the Mainland, but she has received fan letters to ask for help. She said, "Now information is so advanced, once someone private messaged me. Actually it's pretty hard because you don't know if it's fake or real. However I would think that if it is real help would be needed, so I would try to get an understanding." As for yesterday's incident, Sammi believed that Good Jai would know what to do, get an understanding first before helping.
Fresh Wave Film Festival received a donation of HK$ 10 million as seed money. Fresh Wave president To Kei Fung happily said, "With the huge sum of 10 million, we can make long term stable development. Because 'Fresh Wave" in recent year has been short on financing every year, this time with this kind of seed money for investment and interest would help. We will make safe investments and need at less 80% of the directors to agree before using the fund!" To Sir revealed hope to conduct a fund raiser next year. Cheng Sau Man immediately volunteered. Would he make a movie to raise fund? To Sir said, "It won't be as complicated as making a movie, but I would ask (Andy) Lau Tak Wa, Koo Tin Lok and Cheng Sau Man to do what they are best at because they are Hong Kong elite." Sammi said that she would perform without taking any money.
Would Sammi be interested in making a short film? She said that several years ago she helped a musician with a music short film and asked Michelle Wai Sze Nga to perform. "Luckily not too many people have seen it, I don't want anyone to know. It may look simple but directing is not just put up a pony tail and simply act like a director. I have no concept of camera position and editing! Directing is a noble job that requires knowing everything big and small, so I am not too interested because my abilities aren't in this area!" Sammi said that she is super looking forward to working with To Sir again, not in his city comedy but his gun fight or human movies. Reporters joked that how could she make a gun fight film in such a skinny shape? Sammi said, "I am incredibly agile!" As long as To Sir would direct she would be willing to give a discount or not take a salary at all. However she would need hair and make up money. She would pay if To Sir would have to pay, but if the boss would pay sh would charge more.