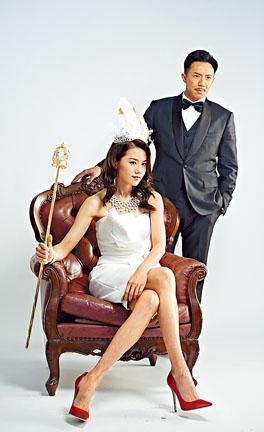 courtesy of singtao.com
The Chrissie Chau Sau Na, Louis Cheung Kai Chung, Eric Kot Man Fai, Maggie Siu Mei Kei, Richard Ng Yiu Hon starred film HOTEL SOUL GOOD (NUI WONG JONG DOH JING) will open in October. The first trailer and poster have officially been released.
On the day of the shoot, Sister Na was dressed in white and tens of millions in diamond accessory to appear more royal. Cheung Kai Chung joked that he was dressed like a waiter to serve the glittering queen Sister Na.
This time Sister Na and Ah Chung played happy rivals and had the most scenes with each other. Sister Na said, "Ah Chung is a co-star who can put you at ease. Before the shoot even started we would already talk about the script to se how we would be able to make it better. On the set he even gave me a lot of confidence. Our level of familiarity has already reached great chemistry, so this entire film was a lot of fun!"