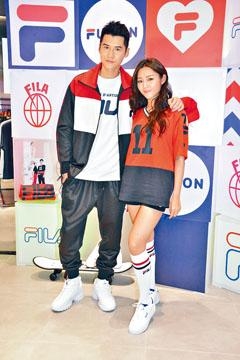 courtesy of singtao.com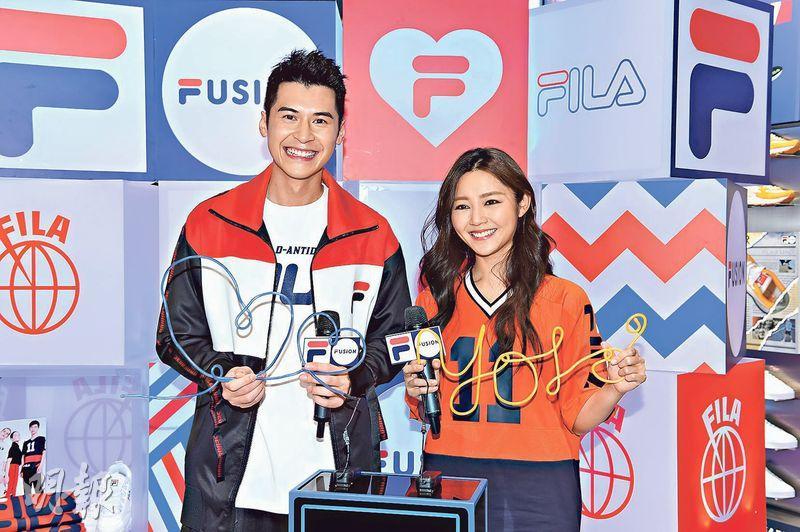 Carlos Chan, Michelle Wai
courtesy of mingpao.com
Carlos Chan Ka Lok and Michelle Wai Sz Nga yesterday attended a fashion store event. They also DJ'ed with DJ Yin. Ka Lok also used neon light to make a heart and cheered on students who just finished the Diploma of Secondary Education Examination. They worked together on a car chase scene for the first time. Ka Lok overcame his car crush fear as Sze Nga praised his driving skills, but the scene was so thrilling that she was very afraid! Sze Nga drove the drunk Ka Lok home. Ka Lok said that it was the first time a girl gave him a ride home and his mother made fun of him.
Chan Ka Lok said that he liked to play soccer and run, Sze Nga liked to hike and swim. However they have been busy lately with the film THE WHITE STORM 2 (SO DUK 2) so they did not have time to exercise. Ka Lok said that he came to the event after work stopped at 6AM. At night he would have night shift. "It's not tough, my adrenaline rose because I was able to work with two idols, (Andy) Lau Tak Wa and (Louis) Koo Tin Lok."
Sze Nga said that this was one of the reasons that they were able to stay awake. She also revealed that two nights ago they worked on their first car chase. At the time Ka Lok drove and she sat next to him. How was Ka Lok's driving? Sze Nga said, "His driving is really good, after the shoot director (Herman) Yau Lai To praised him too. He was very close to the cars, like a second away from crashing. I kept saying I was very, very scared. He instead said that my driving was bad." Sze Nga explained that earlier she, Ka Lok and a group of colleagues went on a boat ride. However Ka Lok was drunk halfway, so she drove him home. However Ka Lok had to give her directions even when he was nauseous. Ka Lok said that because the car was his and Sze Nga was not familiar with the roads. In addition it was the first time a girl rode him home. Sze Nga said that later she took a taxi home, and Mommy joked that this was love. She also revealed that originally she wanted to ask the director for her to drive in the film, but after one take she gave up because as soon as they drove it was already at 100 mph. Ka Lok earlier had a car accident. Did the car chase scene bring up any bad memory? He said, "I wasn't driving that time, so no." He also revealed that later they would have even more gun fight and car chase scenes, as the shoot would go on until August.
Sze Nga said that after ten years in the business she worked with Ka Lok for the first time on a movie. In the second half of the year they would see each other everyday. Ka Lok was already single again, would anything come from that? Sze Nga had reservations. "When I met Ka Lok he was single, even if we made up rumors ourselves no one would believe them. Now we have 'Sze Ka romance'." Ka Lok told everyone to wait and see.