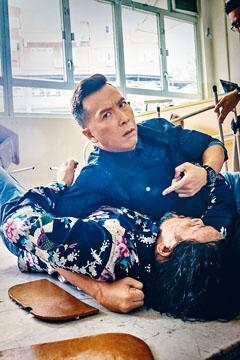 courtesy of singtao.com
The Donnie Yen Chi Tan, Wong Jing and Connie Wong Nga Lam produced, Kam Ka Wai directed BIG BROTHER (DAI SI HING) will open on August 16th in Hong Kong. The cast included Yen Chi Tan, Joe Chen Chiao-En, Bruce Tong Kwan Chi, Chris Tong Kwan Yiu, Gladys Li Ching Kwan, Gordon Lau Chiu Kin, Chaney Lin (Lam Chau Nam), Yun Qianqian, and others. This film mixed school and kung fu action elements, a rare film about school in recent years. In one scene Chi Tan in order to save a student from the mob's control had to fight MMA masters, one of them was the famous Jess "The Joker" Liaudin. The film's action director Kenji Tanigaki has been Chi Yen's collaborator for a long time. Kenji Tanigaki is also the only Japanese action director in Hong Kong.
Producer Wong Jing said that the concepts of the action scene was very difficult, "This is a positive movie, not everyone is fighting at school. Each stunt has to make sense, not very hawkish type. Thus every stunt's difficult is very high." Chi Tan asked for the action scene not to fight for the sake of fighting as he focused more on the overall story development.
Chi Tan said that when he was little he was very mischievous, exactly like the "problem students" in the film. Later after he became a parent, he paid a lot of attention to his children's family education. "I would understand in depth some pressure that students face everyday, homework, mental, education system and others. Everyone in the world would face school problems. I hope through my movie I can bring out some topics for everyone to examine."