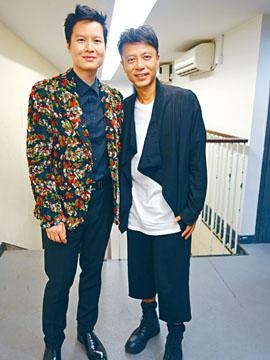 courtesy of singtao.com
Veteran musician Leon Ko Sai Chiang's interpretation of film scores as a musical, THE AMAZING FILMPHONY, earlier came in an end. This time he worked with the Hong Kong Sinfonietta on classic music from PERHAPS LOVE (YU GOR OI), THE WARLORD (TAU MING JONG), MONSTER HUNT, THE GREAT MAGICIAN (DAI MOR SHOOK SI), MR. CINEMA (LO GONG JING JUEN) and drew many celebrities like Hacken Lee Hak Kun, Alica Lau Nga Lai, Connie Chan Bo Chu and Dexter Yang Tin King.
This time Leon used film score to connect the stage. He not only asked four outstanding stage actors Jarita Wan Cheuk Yin, Margaret Cheung Kwok Wing, Jordan Cheng Kwan Chi and Rick Lau Wing Hung to perform but also personally performed one of the songs YOU LOVE ME. He said that he has always been behind the scene and rarely performed on camera. However this time he performed because a few parts would be easier to grasp the expression if he performed himself. He was unusually nervous. Even the conductor Yip Wing Sie joked that Leon's face would turn red from just saying a few more words.
After the performance, Leon would take a break and joked that he would sleep to relieve his stress. In the past he was too focused on work and often worked until the middle of the night, the next day he would have to get up early. Now he has learned that health would be the most important.