Jonathan Wong, Lam Yiu Sing, Eugene Tang, Ng Hok Him
courtesy of on.cc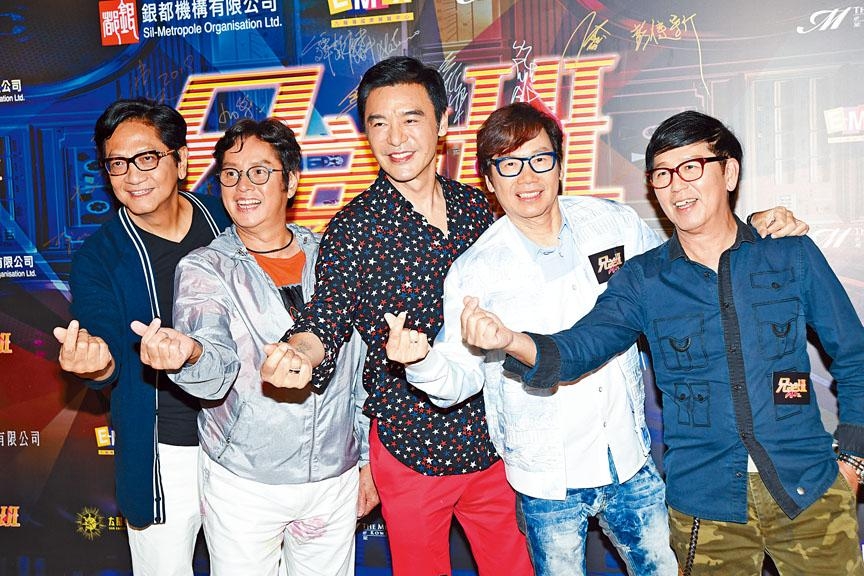 courtesy of singtao.com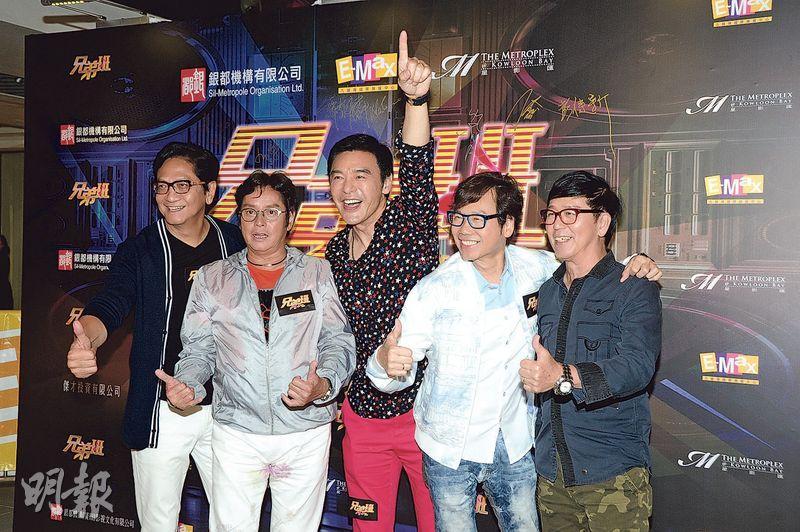 Anthony Chan, Alan Tam, Kenny Bee, Bennett Pang, Yip Chi Keung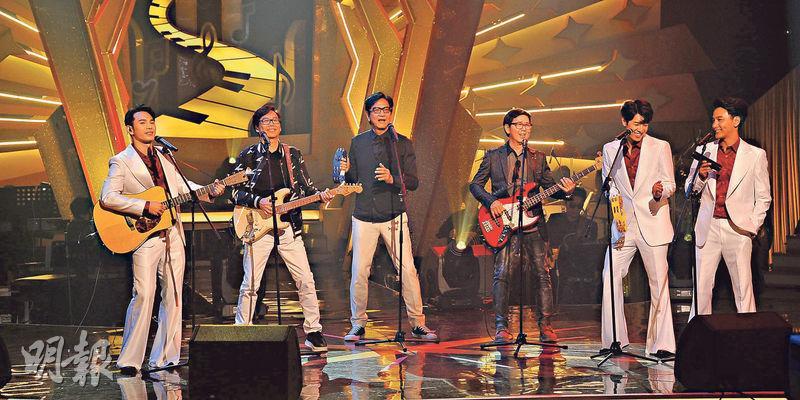 Jonathan Wong, Bennett Pang, Anthony Chan, Yip Chi Keung, Eugene Tang and Lam Yiu Sing perform Wynners hits
courtesy of mingpao.com
The film HOUSE OF THE RISING SONS (HING DAI BAN) two nights ago held its premiere. The "Wynners Five Tigers" Alan Tam Wing Lun, Kenny Bee (Chung Chun To), Anthony Chan Yau, Bennett Pang Kin Sun and Yip Chi Keung and the new generation "Wynners" Lam Yiu Sing, Eugene Tang Ka Lok, Ng Hok Him and co-stars Jonathan Wong Chee Hynn, Chin Siu Ho, Liu Kai Chi attended. The new and old Wynners played games. The Wynners even revealed that when they worked on a movie with John Woo (Ng Yu Sum), the hot and humid climate frustrated them. When Chan Yau accidentally stabbed Yip Chi Keung in the nostril, Ah Keung slapped Chan Yau. Alan cracked up, "Ah Keung really can fight, even if it's fake, because he is a Ip Man descendant. His last name is also Yip."
The film was selected for the 17th New York Asian Film Festival. Director Chan Yau was also invited to attend. He said that the trip was very beneficial because professional film critic called the film one of the seven must see films among 58 Asian films of excellence in the past decade. Chan Yau was asked why the Wynners switched from rock and roll to pop music, later even gave up rock and roll for Cantopop. He quoted their then manager, 'rock and roll will never die, but will be very hungry!' He also pointed out that another film critic asked him although the film was made with a lot of passion it was full of commercially designed elements. Chan Yau again explained, 'I didn't make up the screenplay, it was completely the story of our brotherhood. It only took two years to put together, both the passion and the commercial are the story of brotherhood."
Chan Yau even said that after the film festival the Wynners got together to promote it in the Mainland. He never thought that the Mainland audience would like the Hong Kong film that was full of Hong Kong nostalgia. Speaking of Ah Keung's birthday on the 16th, no one had any reaction. Ah Keung could only say, "It's not so soon yet, everyone go and see this movie. Then you would know about our brotherhood!" Kin Jai joked, "You see, no one knows about your birthday, how brother like is that!" Ah B also joked, "We only see you twice in five years, that's about the likes of it!"
New Wynner Lam Yiu Sing said that it was the first time he would see the movie so he was very nervous. Tang Ka Lok's parents came from Canada for the premiere. Ng Hok Him saw a screening earlier and was pleased with his own performance. Playing a mix of Nat Chan Pak Cheung and his brother, Wong Chee Hynn did not find out that the Ah Lek founded Loosers was the predecessor to the Wynners until the performance. He felt that this shoot was very passionate and moving. Several new actors were together day and night for four months of location shoot in Foshan. They played as a band and trained for the fight scene together and turned from strangers to brothers. Thus they thought about forming a band. Wong Chee Hynn suggested for them to form a super boy band with the Wynners because several of the new comers came from boy bands.