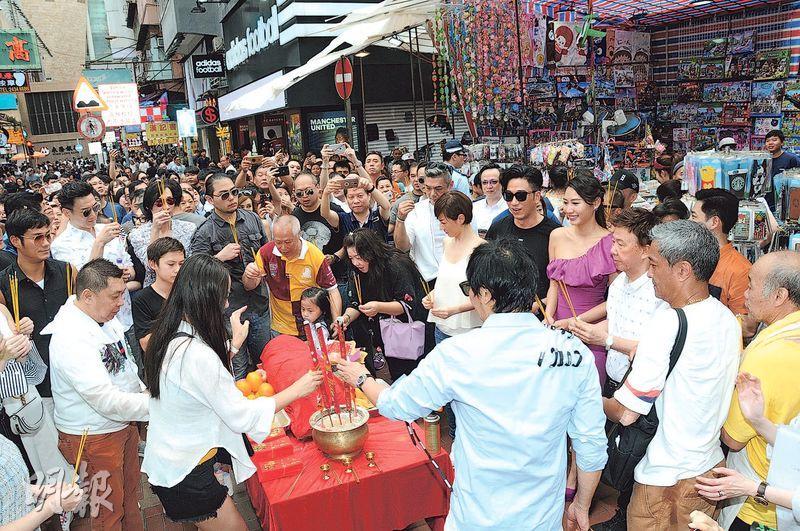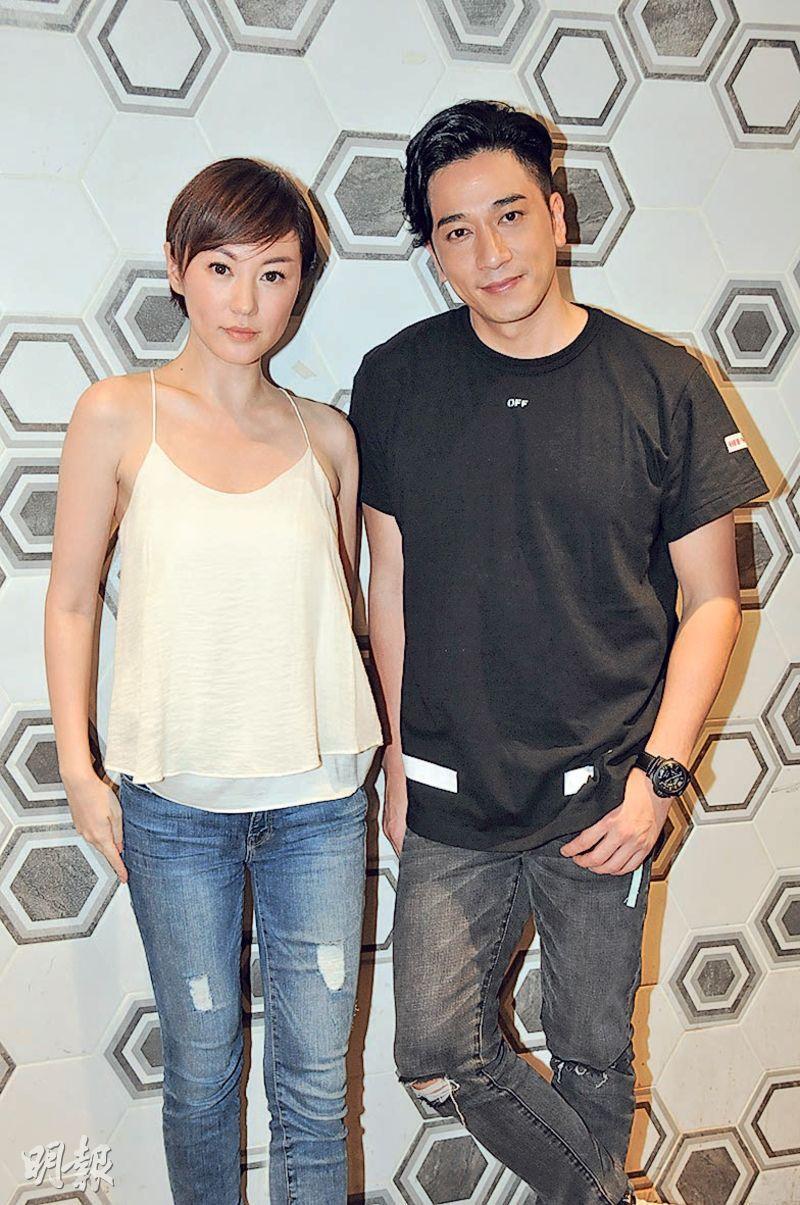 courtesy of mingpao.com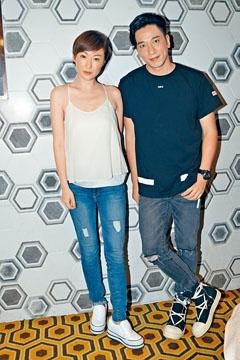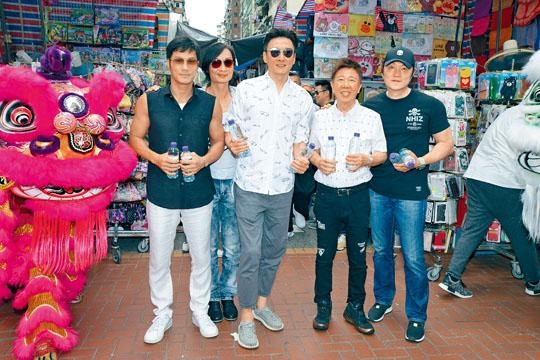 courtesy of singtao.com
Annie Liu turns into delivery person
courtesy of on.cc
Annie Liu (Lau Sum Yau), Ron Ng Cheuk Hei, Wan Kwong, William Hu (Wu Wai Hong) and others yesterday attended their new film JOI GEIN NUI YUN GAI (FAREWELL LADIES MARKET) production start worship ceremony at the Ladies' Market and drew a big crowd. Sum Yau who rarely went to the Ladies' Market only wore a tiny tank top. She admitted that she was not afraid of the crowd and the chaos, she even praised how cheerful the atmosphere was.
Some said that Sum Yau was responsible to sell sexiness. She said, "Is it very sexy? It's OK, it proves that I am improving." Sum Yau said that the new film will shoot on location at the Ladies' Market in its entirety, so she was not worried that the mix of crowds would become complicated. "This is my third time here. I think it's pretty cheerful and fun. In addition you can see people of many different nationalities." She said that in the film she played a transport worker so she would not need to wear a tank top. "I really like this character because she has very few lines. Although I play a transport worker, I won't be too rough and I won't need to curse." Sum Yau said that last year she made two television series, and this year she would focus on film. She felt that as an actor she should try anything once.
Temple Street Song King Wan Kwong also felt a heavy sense of familiarity and even suggested to the director for him to sing classic songs like 14 SEATS, HOLLYWOOD GRAND HOTEL for the film. As for the cancellation of the Mongkok Pedestrian Schemes, Wan Kwong believed that the street culture would not fall because many performers could be seen outdoors at the ferry terminal and Times Square.
Ng Cheuk Hei in the new film would play a mobster. He joked that he would only be small time thug who watches over a gambling parlor. He said, "In the story Lau Sum Yau and I have known each other since school. Years later we run into each other again at the Ladies' Market. Actually our dreams were to become a cop and a secretary, but one became a mobster and the other a transport worker." Ng Cheuk Hei said that he often went to shop for sneakers around the Ladies' Market area. Has he visited the shopping center with people chanting slogans to sell sex videos? He said, "Disk shopping? I have gone to shop for video game disks but because it was too noisy I didn't heard anything else. I of course know what the slogan means. It's very civilized. I have overseas friends who wanted to see something locally authentic, as they are curious about how the slogans go." Would he buy a disk to study at home? He said, "I am busy with making movies, I don't have the time. The video player at home has been sitting for too long, it probably won't be able to play anything."
Speaking of rumors that Kevin Cheng Ka Wing and Grace Chan Hoi Lam would wed overseas, Ng Cheuk Hei said that he has not received their wedding invitation. If it was true of course he would congratulate them. "When they make the announcement I definitely would know, but they really haven't said anything to me." Cheuk Hei even misheard and thought that Ka Wing would wed in the Mainland. Reporters joked that he would have to go back for a Mainland wedding with his Mainland girlfriend. He awkwardly said, "No matter who it would be with, we would have to do something in Hong Kong since I was born in Hong Kong." Sum Yau said that she heard about the Cheng Chan wedding from Cheuk Hei, who immediately corrected her and said that he only found out from the newspaper. Sum Yau was once linked to Cheng Ka Wing and said, "Rumor means it's not real, it's fantasy."