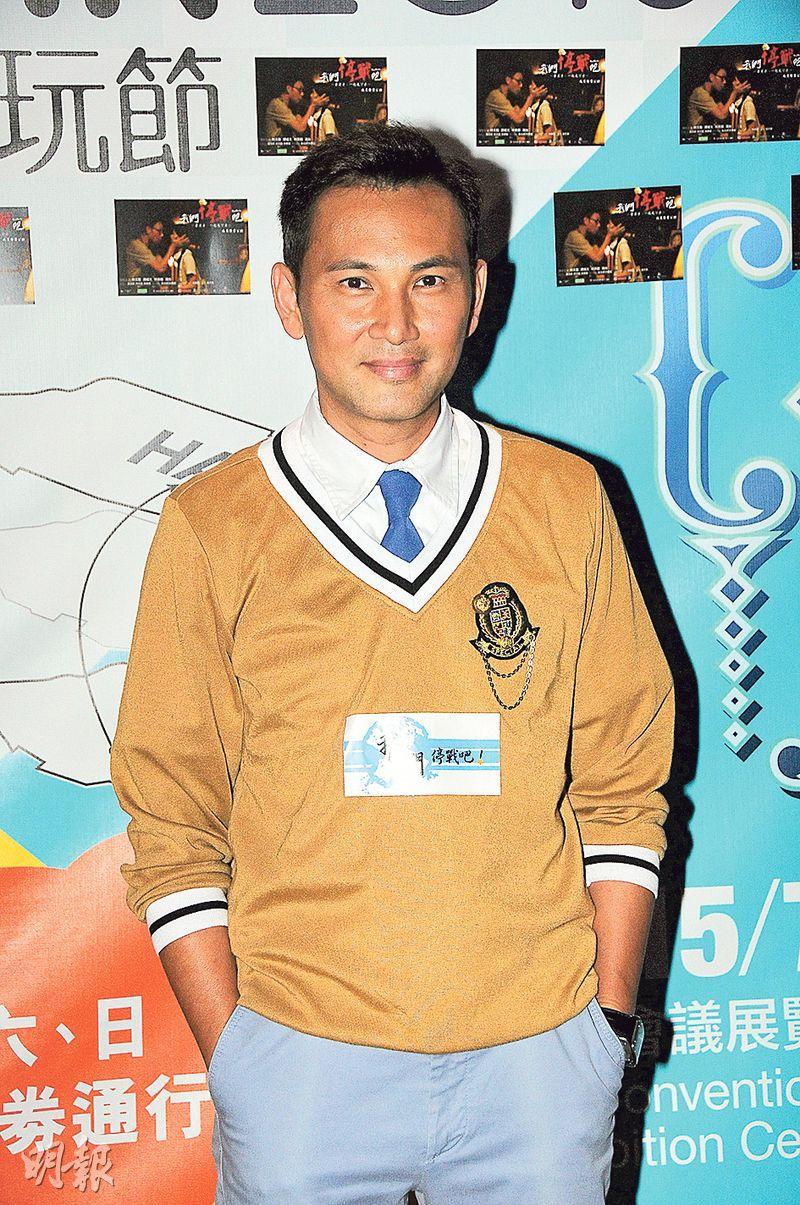 courtesy of mingpao.com
Meiki Wong, Kathy Yuen, Charles Ying, Rachel Lam, Frankie Lam, Tony Wong promote THE MERGER with cosplay
Kathy Yuen saves the skippy dip opportunity for Frankie Lam
Meiki Wong in her Sailor Suit
Tony Wong asks the live audience to fill in the word balloons
courtesy of on.cc
The film THE MERGER (NGOR MOON TING JIN BA!) yesterday promoted at the HKACG with a cosplay event. Boss Tony Wong Yuk Long, artists Rachel Lam Hei Tung, Kathy Yuen (Tong Yee), Meiki Wong, Frankie Lam Man Lung and Charles Ying Cheung Yau all appeared in costumes. Rachel and Meiki Wong's Sailor Suits and Ying Cheung Yau's Detective Conan costumes stole the spotlight.
The film so far has won 27 awards. Lam Man Lung won three Best Actor awards with this film. Rachel won four Best Actress awards. Rachel even suggested, "If the film makes over HK$ 100 million we can all go skinny dipping." Lam Man Lung said, "I don't mind, I swim freestyle so you can't see much. (So if the box office passes 100 million then you are going to skinny dip?) Hopefully." Meiki Wong even offered to cheer. "I will cheer him on and tell him to swim slower for everyone to take pictures!" Tong Yee also said that sh would leave the skinny dipping to the leads. Wong Yuk Long was very happy that the film performed well and revealed that the company will make a horror film. "Now it is under preparation, it will star top Mainland actors!" Does he plan to turn his comic books into movies? He said, "I thought about it, the plan is to adapt WEAPONS OF THE GODS (SUN BING YUEN KEI) into a movie."
Speaking of their costumes, Meiki Wong said that it was her first cosplay but it was her first Sailor suit appearance. She said, "The costume feels very strange, the skirt is very short and the stage is high. Even with the precautions I took I still didn't dare to move around too much." Dressed like Ami Mizuno, Rachel said that this costume was rather daring. "I struggled for a long time over this cosplay look, finally I decided to just go with it!" Dressed in a school uniform, Tong Yee said that she wanted to try cosplay with her boyfriend. "I will play Sailor Moon, he can be Tuxedo Mask!"