courtesy of on.cc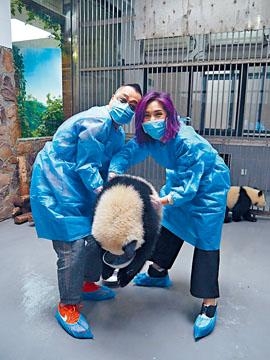 Pang Ho Cheung and Miriam Yeung have to work together to pick up "Cherie"
courtesy of singtao.com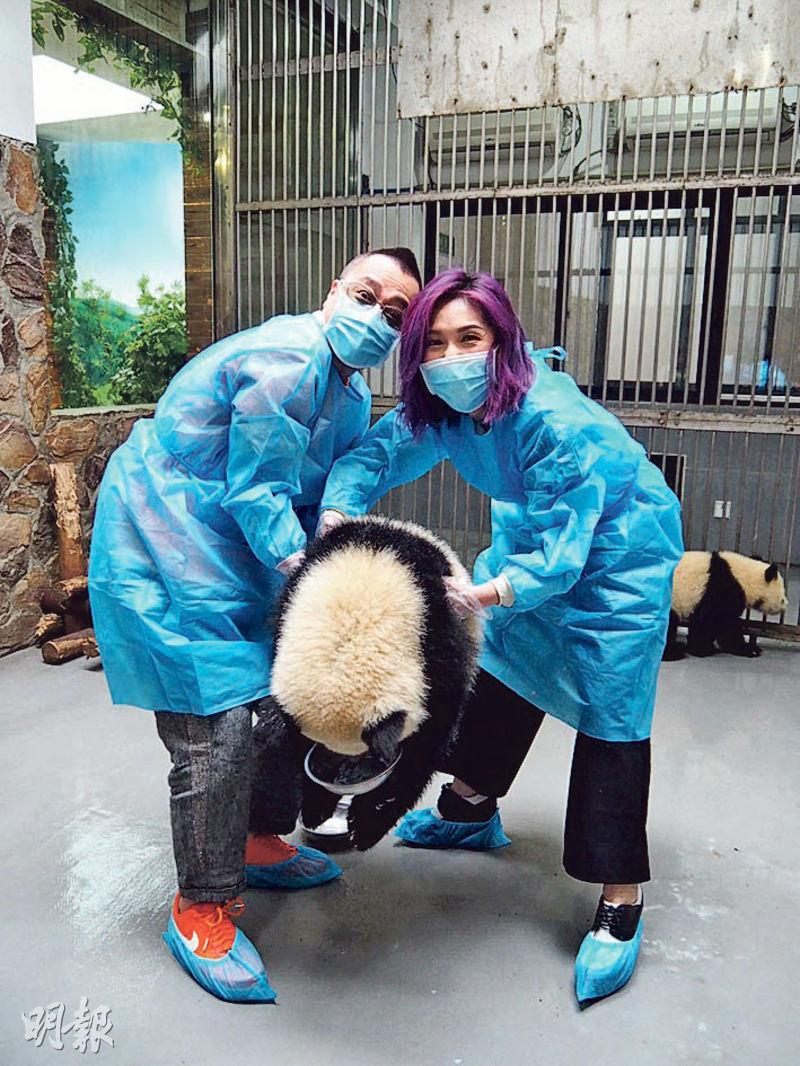 Pang Ho Cheung and Miriam Yeung get intimate with a giant panda in Chengdu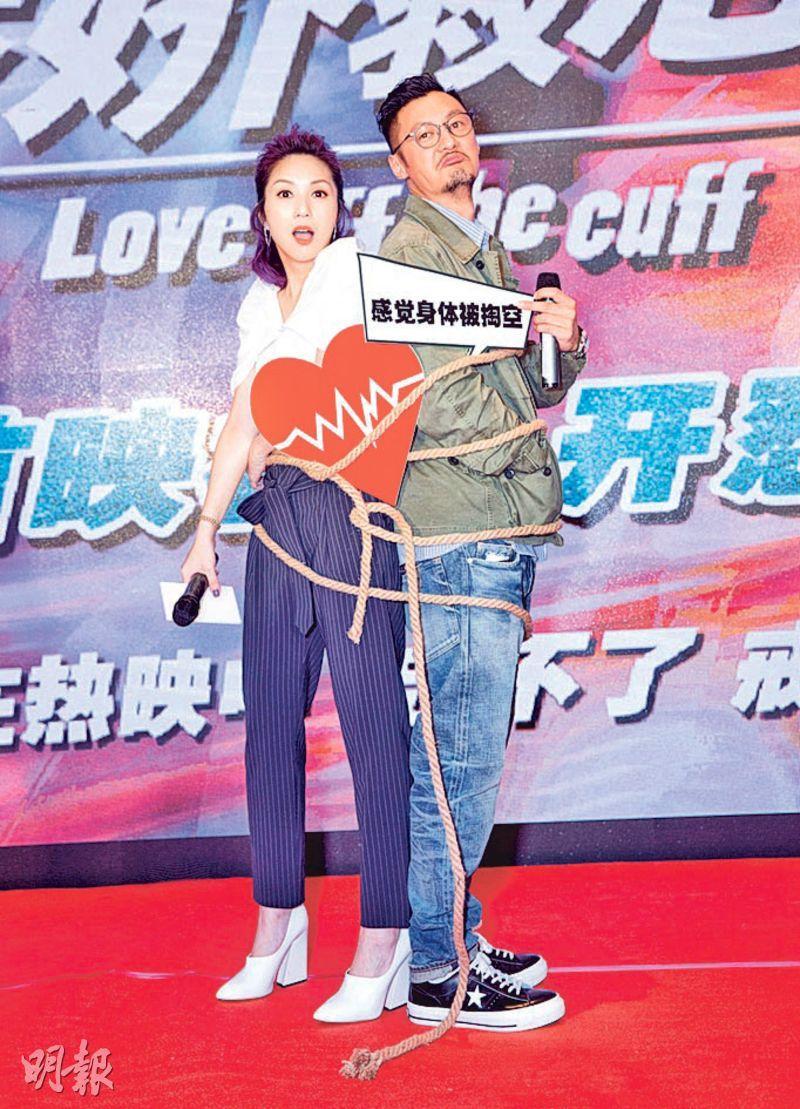 courtesy of mingpao.com
The film LOVE OFF THE CUFF (CHUN GIU YU JI MING) has been a commercial and critical hit. Its Hong Kong box office has already broken HK$ 12.46 million, its Mainland box office even broke 113 million yuan RMB. Lead actress Miriam Yeung Chin Wa and the director two nights ago cut a cake to celebrate the film passing the 100 million yuan mark. Yesterday they not only arrived in Chengdu to promote but also got close to giant pandas. They both put on protective gear to feed giant panda. They even named one of them "Cherie".
Yeung Chin Wa and co-star Shawn Yue Man Lok earlier finally was able to enjoy the film together on a "date". After the show Chin Wa tearfully said, "I was very touched, it was worth being bullied on the set for these few months!" Ah Lok reprised the rotten gag from the film. He looked over Chin Wa and handed tissue to her and said, "Hey, you are all wet!" Chin Wa immediately turned from crying to laughing. He stated that Chin wa could win Best Actress again with the third film just as she did with the second one. Chn Wa instead had confidence in Ah Lok and director Pang Ho Cheung.
Ah Lok admitted that as he watched all the memories came flooding back. It was very rare to still keep making this film after 8 years, and hear the audience laugh and cry together at the movies. He said, "I am more reserved, I won't cry until I get home!" Chin Wa emotionally praised Ah Lok's performance. Ah Lok told her to calm up. She jumped around and said, "I really am very emotional. Some of it was shot in parts, but because of good chemistry we didn't talk about the performance. Today I finally saw our guesses of how the other would perform were right. I am very happy, very happy, I have quite a sense of success!" Chin Wa affected Ah Lok as he said, "Honestly, I haven't studied whether the movie is good or how the performance is because the meaning within is truly too great. Everyone have to come and support it, there probably won't be another one. Watch it while you can. It's a farewell film!" Chin Wa chased after him and tried to hit him.
In addition, earlier while promoting in Shenzhen, Isabel Chan Yat Ning, June Lam Siu Ha and Mia Yam Man Suen "prosecuted" "Jimmy Cheung" for being unfaithful, wildly spending, unambitious and the biggest crime of "not as handsome as Huang Xiaoming". The audience cracked up. Ah Lok struck back, "Men are usually like this!" The director immediately told the ladies to tie up Chin Wa and Ah Lok forever. Ah Lok called out the director for being "hardcore". As the two camps exchanged fire, finally "Jimmy" gave flowers and said some loving words then hug "Cherie" from behind. In Changsha a male viewer got drunk the night before and upset his girlfriend. At Chin Wa and the director's audience appreciation event he got on his knees to present flowers, ask for forgiveness and proposed. His girlfriend broke down. Chin Wa was very moved.