Du Juan says Leon Lai is a director who pays attention to details
courtesy of on.cc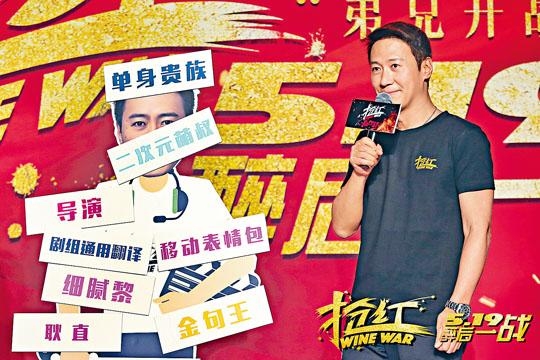 courtesy of singtao.com
courtesy of mingpao.com
Leon Lai Mng recently made his directing debut in the upcoming release WINE WAR (CHEUNG HUNG). On the set Leon even did the lighting, sound recording, photography, moving props and even translating, as the entire team dubbed him the "all purpose director." He admitted that while shooting on location in France, everything had to be fast. He did all the jobs only to fight against time. "The film production standard in France is completely different from what we are used to. We have to 'fight for time, location and production'!"
Two days ago Leon and the WINE WAR producer Huang Jianxin led Du Juan, David Wang, Huang shang-Ho, Nan Fulong, Liu Zuoting, Wes Zhao Weilin, Lily Ji Li attended the premiere in Beijing. The film song music video with Leon and Zhang Hanyu premiered. Another promotional song's performer, Mainland popularity king Wang Weichen even made a surprise appearance and performed.
In the film everyone have their own idea as they battle brains and brawn for the hundred year vintage "wine god". They not only had thrilling action scenes but also brotherhood, love and comedy elements. To coordinate with two Best Actors Leon and Zhang Hanyu, popular "warm guy" David Wang and goddess Du Juan, Leon and the cast scattered gold dust to announce the film's Friday Mainland release and held a toast with red wine instead of champagne.
The host asked each actor to write different nicknames on the "paper Leon". Aside from the "director" and the "golden quote king", "bachelor aristocrat" and "direct", actually while shooting in France Leon was the "team's official translator", with all his expressions during the shoot he was dubbed the "mobile emoji". One of the lead actors David Wang even revealed that Leon loved to play video games, a lovable "cute otaku uncle"!
Lead actress Du Juan called Leon "Attentive Lai" because he really took care of the actors' emotions and was a very attentive director. However the mischievous David Wang said, "Where is the director tiny?" As the crowd cracked up, Leon could not help but look at where on his body did Du Juan put her sticker. He only breathed a sigh of relief when he found out it was on his hip.
Although Zhang Hanyu was unable to attend the press conference, he sent a video to wish the press conference success and even promised to appear at the next promotion. He even gave away online red envelopes to the guests in accordance to the WINE WAR theme.