Hedwig Tam tries to learn more from Anthony Wong
Alex Fong Lik Sun feels making movies in the Mainland is easier to get a breakthrough
Derek Tsang and Venus Wong
courtesy of on.cc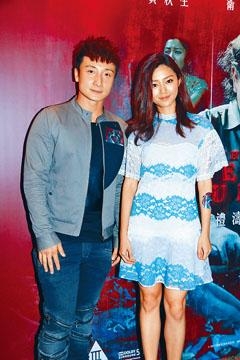 courtesy of singtao.com
The Michelle Wai Sze Nga starred film THE SLEEP CURSE (SUT MIN) two nights ago held an all star advanced screening. Guests included Alex Fong Lik Sun, Derek Tsang Kwok Cheung, Venus Wong Man Yik, Belinda Yan and Hedwig Tam Sin Yin. Wai Sze Nga later had to drop to 80 some pounds for a film role. She is 102 pounds currently and thus would have to exercise. Her nutritionist already told her she would not lose any more. Was she worried that she would lose her figure? She joked, "I don't have any to begin with, so I wouldn't mind much. I would only miss it if I have it!"
Wai Sze Nga just posed for a sexy photo shoot to mixed reviews. She said that she was already very sexy and was worried that her family would not be able to accept it. Mommy after seeing the pictures said that they were well shot and suggested for her to blow them up, much to her surprise. Would she shoot a pictorial collection? She said, "Shouldn't I quit while I am ahead? Actually some online said me if I needed money, but this photo series of course was not done for money. I wanted to try different things!" She admitted that she was poor for a period and completely relied on her family's support to get through it. Would she accept any sexy performance? She said that it would depend on the director and the script. High class sexy was OK, she would not make anything low brow even if she was clothed.
Fong Lik Sun had a healthy image in Hong Kong, but in the Mainland actually she often played characters with personality split and wanted to violate women. Actually he had to show a side that normally could not been seen for a breakthrough, so he would try these characters if Hong Kong films asked him to.
Siu Fong is a free agent and has his own company. He revealed that he was planning a crime film script and would look for investors. As for playing the lead or support he would be open.
Tam Sin Yin recently worked with Jennifer Yu Heung Yi on the film NGOK YU TAM (CROCODILE TALK), in which she had to kill and dismember someone. She said that she "killed" for ten hours. Before the shoot she watched films online for research. She watched Anthony Wong Chau Sun's THE UNTOLD STORY. Two nights ago she came to support him to learn some more.