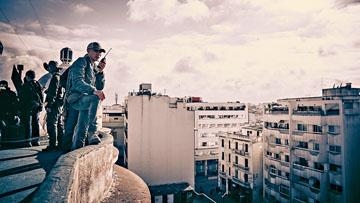 Dante Lam takes his team to Morocco
courtesy of singtao.com
Director Dante Lam Chiu Yin's latest film OPERATION RED SEA released its first poster at the 70th Cannes Film Festival and debuted its first teaser online.
Lam Chiu Yin's anti terrorism action film OPERATION RED SEA's total investment reached 500 million RMB, escalating both the production scale and the story. This time Director Lam traveled to Morocco for location shoots and between almost 10 regions from to the massive mountains to the desolate desert, from the modern city streets to old town alleys the Jiao Long Commando Unit left battle scars. The scale is unprecedented.
As a military expert, director Lam Chiu Yin made the film "China's first modern navy film" used world class weapons that have never appeared in Chinese films and invited professionals from almost 10 nations to assist with the shoot in Morocco. Lam Chiu Yin tried to break through the Chinese military subject's traditional model in hopes of making the Chinese navy "cool" and gratifying the passionate image young people imagined for serving the nation.
OPERATION RED SEA was based on the real life event the "Yemen Chinese Evacuation", when a Chinese merchant ship was held hostage in the ocean near Somalia. The Jiao Long commando unit invaded the ship and successfully rescued all the hostages. On the return voyage, a coup took place in a Red Sea republic as terrorist organization and rebel force invaded the capital. As the navy fleet rushed over for an evacuation of Chinese citizens, the Jiao Long commando unit received the news of a Chinese hostage in terrorist captivity 200 kilometers away. The unit without any assist went deep in an eight men team and faced an unpredictable result.