Chrissie Chau says that her co-star often called her character "Cheng Yun Yi"
courtesy of on.cc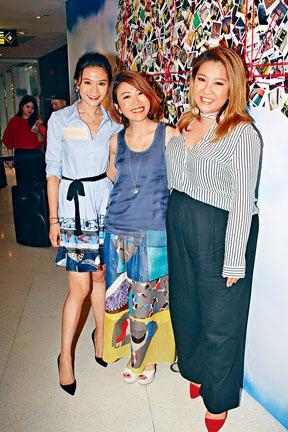 Chrissie Chau, director Kearen Pang and Joyce Cheng have grown closer from promoting together
courtesy of singtao.com
Chrissie Chau Sau Na , Joyce Cheng Yun Yi and director Kearen Pang Sau Wai yesterday attended the film 29+1's set exhibit. A giant wall was flled with 300 instant photos, just like the Eiffel Tower scene in the film.
Because Sister Na in the film rented a room in Yun Yi's home, most of the photos had Yun Yi and Babyjohn Choi Hong Yik. Sister Na praised the art department for its effort into putting the photos together. She remembered that during the shoot she was sitting on the grass in Paris alone. Yun Yi said that the shoot schedule was so tight that they began work as soon as they got off the plane. They only shot for three days. After the team left she shot her new song music video, so she did not have any chance to sightsee. Did Yun Yi and Sister Na both like Paris? Sister Na said, "No girl dislike romance, but I want to be more practical." Yun Yi admitted that she would like to go to paris again. Even without anyone going with her, she could meet foreign guys as long as they both had feeling for each other. Yun Yi also said that in the film she did not have a lot of scenes wth Sister Na. Instead they became much more familiar during the promotion. Sister Na said that in her new TVB series she played a concubine with the name Siu Yi. She said, "In the series my last name is also Cheng. My co-workers say that my name Cheng Siu Yi is very hard to read and would often misread it as Yun Yi. I tell them lately I constantly see Yun Yi."