courtesy of on.cc
courtesy of singtao.com

Miriam Yeung says that now she has another person to answer to -- her son.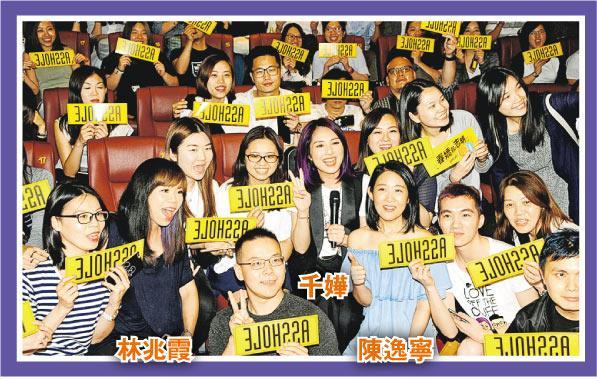 June Lam, Miriam Yeung and Isabel Chan
courtesy of mingpao.com
Miriam Yeung Chin Wa, Isabel Chan Yat Ning, June Lam Siu Ha two nights ago attended a LOVE OFF THE CUFF (CHUN GIU GAU JI MING) event in Kowloon Tong and announced that the film's Hong Kong and Macau box office has exceeded HK$ 26 million.
Frequently attending audience appreciation events, chin Wa two nights ago when appearing at the cinema with Chan Yat Ning and Lam Siu Ha caused a stir from the audience. Chin Wa joked that this was a middle aged woman forum about three treasures of middle aged women -- sweater, jacket and hot water bottle. She pointed out that although the film has already reached its second week, she should still work hard on promoting it as she hoped to break another record. The film has been the highest grossing Chinese film in Hong Kong this year so far, Chin Wa felt that the performance was already great and thanked the audience for its support. She was also confident that it will break the previous installment's record. As for how she would celebrate, she said, "If it passes the second installment then I will sing and dance on the stage, perform a mini concert, book the Macpherson (Stadium) for the three of us to perform together and win this year's rookie group (award)." Would Chin Wa wear her cosplay nurse uniform from the film? She joked, "I am afraid that people would think it's a horror film. I don't want to destroy Cherie. I have no problem at all for asking me to sing. We are songstresses and we have already rehearsed all the songs."
Did her son Torres see the movie? Chin Wa said that the film was rated IIB and her son was underage, but her son said that he wanted to see it. "He knows Mommy and Papa went to the movies without him, if he went he would be bad. I told him he wouldn't be bad, he would just have to wait until he would be older. He also asked why (the lead) was Lok Gor Gor (Shawn Yuen Man Lok) and not Daddy. What would happen if he saw it? I am already very bothered when my husband watching over me, with our son I would also have to answer him in an orderly fashion and tell him that acting is fake. He would ask why would it be him if it was fake, it could still be Daddy! You could go to work with Daddy together." Fellow mother Chan Yat Ning also said that she would not permit her son to watch it because in the film she had to use foul language.