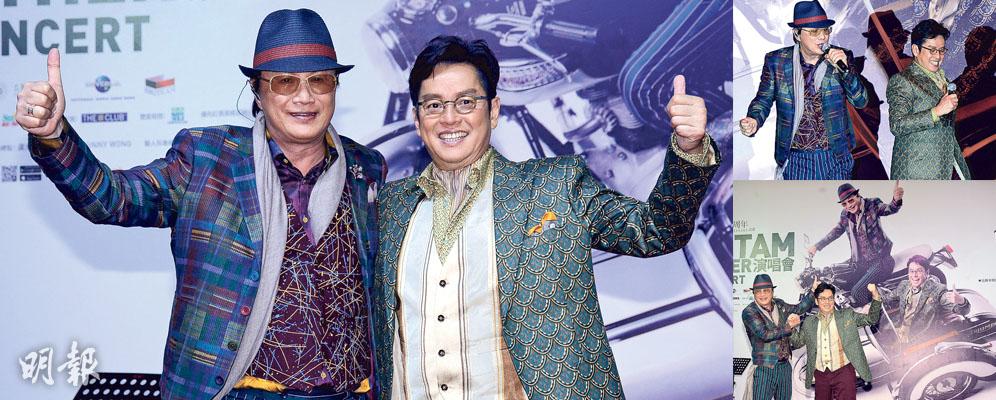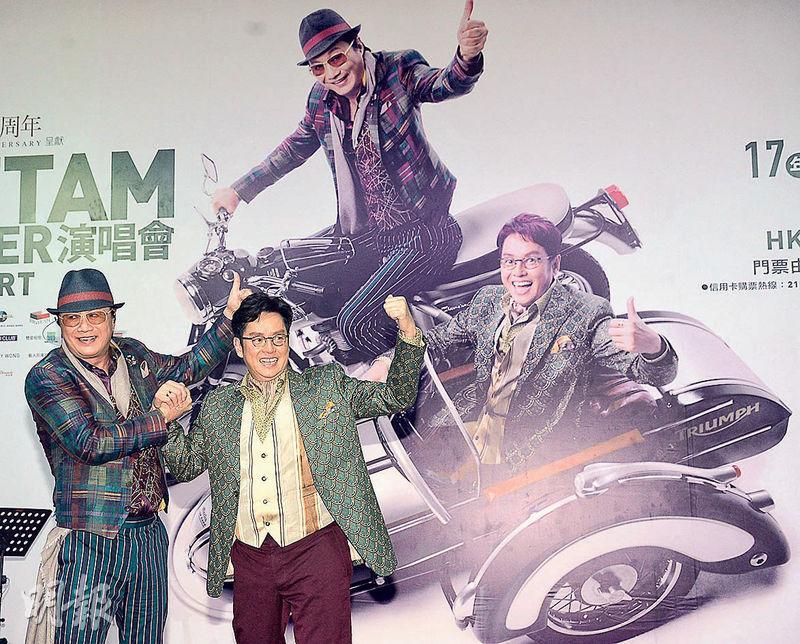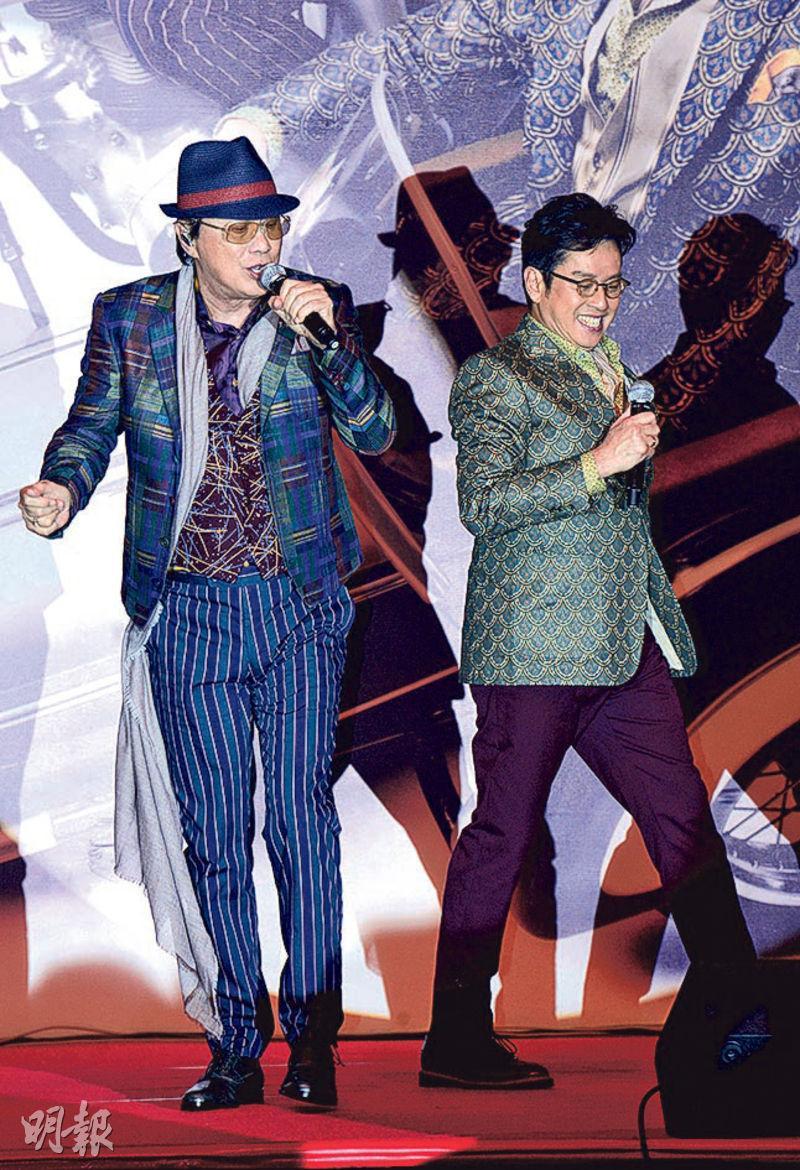 Sam and Alan perform a warm up for their concerts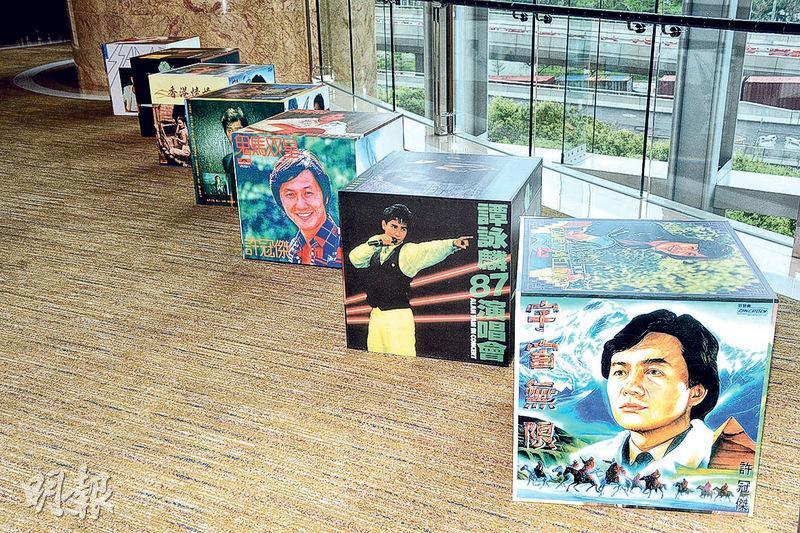 The venue was decorated with past Alan Tam and Sam Hui album covers
courtesy of mingpao.com
Two Masters of Music Sam Hui Koon Kit and Alan Tam Wing Lun will perform the "Ah Sam and Ah Tam Happy Together" concert between August 12 and 18. Yesterday they performed a warm up duet at the press conference. They also sad that they would perform a rock version of DAI NUI FA. Sam even wanted Alan to sing the female part! Alan knew that Sam had a fondness for leopard print, so he prepared to appear in tiger strip and rock the Hong Kong Coliseum as "tiger and leopard".
Yesterday Sam and Alan appeared as they did in their concert poster. They first performed a medley of Cantonese songs. Sam played the guitar then they again sang English songs. Alan asked the audience to stand up like a warm up for their August concert.
In the poster they sang in a convertible antique vehicle happily. Alan said that the original concept was speeding down a highway, on the way their song titles would fly by. However they really had a lot of songs and an entire road would not fit them. Then they changed the idea. When the host asked if Alan was unable to fit into the vehicle, Sam said that he was about to sit in it. Alan joked, "It was a lot of work, the seat had to be widen for the shoot! Actually Sam is my own idol. He appeared in a convertible for his 1971 concert at the Stadium, so this time we sat in a convertible vehicle."
Two musical giants' unprecedented collaboration brought the listeners a pleasant surprise. Sam said, "Last year I invited Alan to be a guest at my HK Coliseum concert. Then two weeks ago I received news that we would perform a show together. I of course couldn't agree fast enough because I really enjoy his music, like LOVE OF FOG and LOVE IN LATE AUTUMN." Alan followed, "We have had quite a connection. The last time when I was his guest, I already followed up and asked Sam to write a song for me and he agreed right away; even though so far he still hasn't written it yet." Sam said, "I am writing it." Alan continued, "Back then Sam's EIFFEL TOWER IN THE CLOUDS was very influential in Chinese music. Once upon a time Cantonese pop songs were important around the world. Now it depends on who sings them. This time would be a collective memory." Sam could not help but say, "Cantonese songs never die!"
During the group photo, because of too many people Sam and Alan graciously took a knee. The two "Song Gods" did not sweat the small stuff at all.
Due to their countless classic songs, every night they would have different songs and invite different era bands as guests. They would include the Lotus, the Playboys and the Wynners. Sam said that even the medley had several versions already and they had to sing four hours to finish all the songs. Alan said, "Don't sleep too much. (Would you remember the lyrics?) I won't have to!" They would sing each other's song. Alan said, "I already pocketed my favorite songs of his, which ones they are I can't tell you just yet. Sam likes my ROOT OF LOVE because the first verse sounds English, haha. I know Sam likes Elvis, originally I prepared several Elvis songs to surprise him. However he caught me!"
Currently this concert will have seven shows for now, will they add shows? Alan said, "Tickets are on sale yet, but very early on people are already scalping tickets for HK$ 1,500! I am very afraid that fans would be fooled. I don't encourage this behavior." Twenty shows would not be enough for the two of them, Sam revealed that this time the schedule would permit ten shows at most.
Actually Sam revealed that he considered rock version of Cantonese songs. "Like DAI NUI FA and BELLS OF THE MONASTERY." Who would be the diva, Sam pointed at Alan and said, "Alan would be the diva, his falsetto is great." Alan said, "Years ago at a charity event, Yip Sin Man (Sally Yeh) and I reversed our gender roles. I have already played a diva." Sam said that Alan would probably be very pretty. Alan said, "I really would!"
Their concert's image designer would be Tina Lau Tin Lan. Sam said, "Colleagues have already gone to Thailand for fabrics but we haven't decided on a style. (Would you lose weight?) No, each show I would automatically lose three pounds. (would you wear leopard print?) One or two sets." Alan joked, "He would wear leopard print and I would wear tiger strips, then the Tiger Balm Garden would appear! Because of the 'Five Tigers of Wynners'."
Alan loved to take friends around on food runs. He said, "I started to take Sam. Actually Sam really like the authentic street flavor. I have to ask him for suggestions. (Are you afraid you would eat so much you wouldn't fit into your costumes?) What is there to be afraid of? I would wear something Arabian." Sam would kiss fans at every show. Alan said, "He kissed so many before, this time we would divide up the job. He would kiss the guys and leave the heavy lifting of the girls to me." Sam said, "I can accept that, no problem. Fun is the most important!"