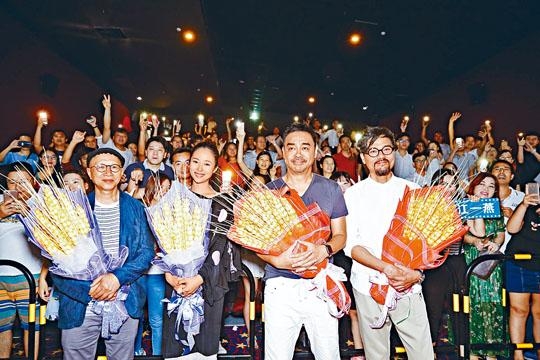 Lawrence Lau, Jiang Yiyan, Sean Lau and Gordon Lam
courtesy of singtao.com
Bringing the legendary past of the "Tsz Wan Shan Thirteen Taibo" to the silver screen again, DEALER/HEALER (DUK SING) two days ago held its premiere in Guangzhou. The film's producer and the man the story was based on Chan Chun Chi, director Lawrence Lau Kwok Cheung, stars Sean Lau Ching Wan, Gordon Lam Ka Tung, Jiang Yiyan and others attended and uncovered the stormy underworld past. Lam Ka Tung even demonstrated the life saving skill of the past with Chan Chun Chi -- "eye poke, chicken heart, steelyard balance".
The film music video RIGHTEOUSNESS was also released, displaying the brotherhood in the film and momentarily brought people back to the 60s and the 70s Kowloon Walled City of Hong Kong. Director Lau Kwok Cheung said that he has known Chan Chun Chi for over 30 years and has always been extremely interesting in his experience. "I am very happy to be able to bring his legendary experience to the silver screen this time. I was even able to invite four top actors Lau Ching Wan, Lam Ka Tung, Koo Tin Lok and Zhang Jin, which also fulfilled a little dream of mine!"
Any place with the mob must have brotherhood. The film spent the most time on brotherhood. Whether the big brother, his followers or his rival/friend, they all took "righteous" to the extreme. To producer Chan Chun Chi, "righteousness" was not blind. Real righteousness required helping friends with problems and not help with a fight. Playing the mob boss, Lau Ching Wan said, "His entire life is about righteousness. While in the mob he risked his life with many brothers; after waking up he also brought everyone out of the sea of drugs." Lam Ka Tung also felt "righteous and loyalty" was his character's display of "righteousness". "This person is very simple, even with righteousness he is direct. He would sacrifice himself to save the big brother because righteousness was the most important!"
Lam Ka Tung and Chan Chun Chi demonstrated the life saving skills of the past. Chan Chun Ch even explained as he demonstrated. "Actually these are only the basic skills of staying a live. I have escaped death many times and am grateful for escaping from all the dangers." Lau Ching Wan said that he did not know how effective the life saving skills were, but he found it incredible that people of that era ran around Tsz Wan Shan and chopped back and forth in tight bell bottoms and platform shoes. He said, "I really don't understand how people of the era fought. The pants were so tight around the thighs and with platform shoes you already can't run around all that well. How can you fight with others?"