Aaron Kwok's sharp eyes catch Law Chung Him in his wedding suit
THE MONKEY KING 3 releases a Mother's Day poster
courtesy of on.cc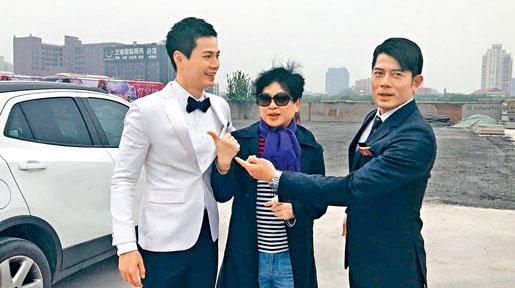 courtesy of singtao.com
The Lunar New Year's Day release, the Soi Cheang Po Shui directed Lunar New Year film THE MONKEY KING 3 (SAI YAU GEI NUI YI GOK)'s stars Aaron Kwok Fu Sing, Zanilia Zhao Liying, Feng Shaofeng, Xiao Shenyang, Law Chung Him, Lin Chiling and Kingdom Yuen King Tan earlier appeared together at the Beijing Film Festival. Ten THE MONKEY KING 3 buses also traveled all over Beijing for half a month began the launch.
Sun Wukong Sing Sing and Sand Monk Him Jai dressed up that day, but Sing Sing with only one glimpse could tell that the white suit Him Jai wore was what he wore for his wedding in England with Tavia Yeung Yi. Him Jai said, "I am not as rich as Sing Sing!"
The film also released three posters of the Venerable Tang Monk, Piggy and Sand Monk's accidental "pregnancy" after drinking the mother son river's water when they passed by the Women's Nation, as a salute to all the great mothers everywhere. The only one "spared" Kwok Fu Sing although did not have to be "pregnant" but felt bad for the three of them. Everyone even sympathize with how great mothers are for carrying their children 9 months and wish mothers everywhere, "Happy Mother's Day!"