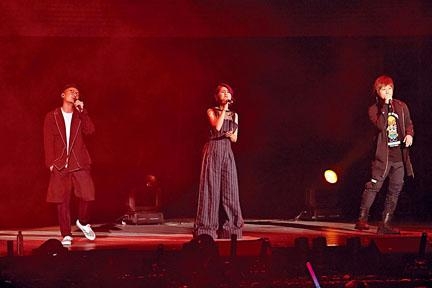 courtesy of singtao.com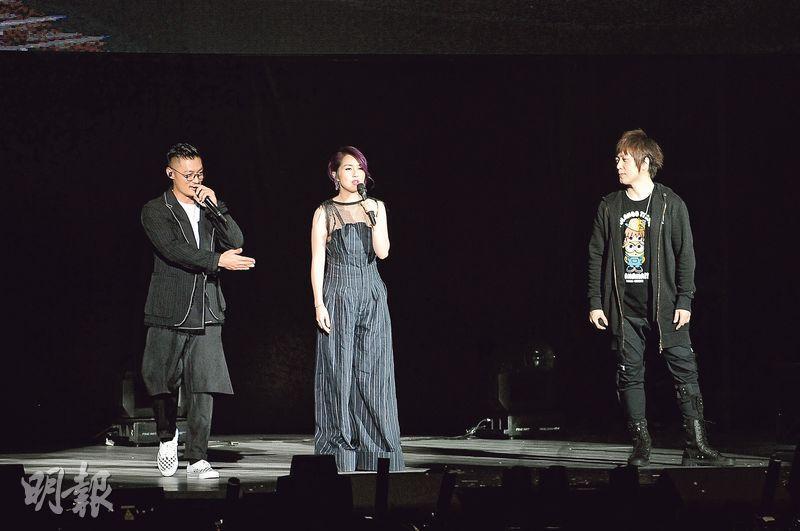 courtesy of mingpao.com
LOVE OFF THE CUFF (CHUN GIU GAU JI MING)'s leads Miriam Yeung Chin wa and Shawn Yue Man Lok two nights ago were guest performers at May Day's Hong Kong concert. Ah Lok even stated, "One show only, we had to beg for a very long time."
Ah Lok admitted that this was the first time he stood on the Hong Kong Coliseum stage. Ah Lok said, "May Day took my first time many times." Chin Wa joked, "Actually you are a singer." Ah Lok also joked that he was "shameless", as May Day gave him time to perform the Cantonese version of CHI MING AND CHUN GIU on the stage once. However he was also afraid that May Day fans would leave. Chin Wa immediately said that she wanted to push Ah Lok to the top. Ashin also helped and said that he wanted to hear Ah Lok sing. Finally Ah Lok truly sang the entire song. Chin Wa even said that she hoped Ah Lok would be able to return to the Hong Kong Coliseum one day.
Finally Ashin invited them to perform SUDDENLY MISSING YOU SO BAD. "Cherie and Jimmy add a third party to sing this song together today." Ah Lok immediately said to Ashin, "If you are the third party it's over, there probably wouldn't have been a third installment as Cherie would have left!" The trio performed the song and said goodbye to the "May Fans" amid applause.