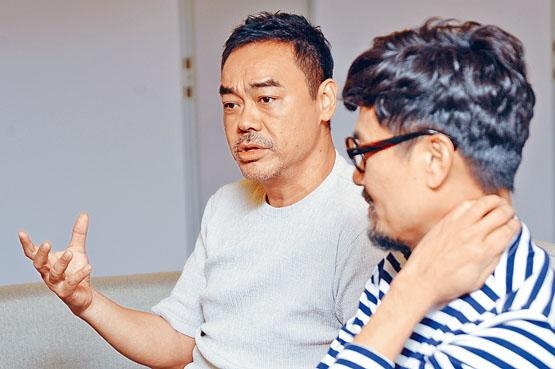 courtesy of singtao.com
Two Best Actors Sean Lau and Gordon Lam in DEALER/HEALER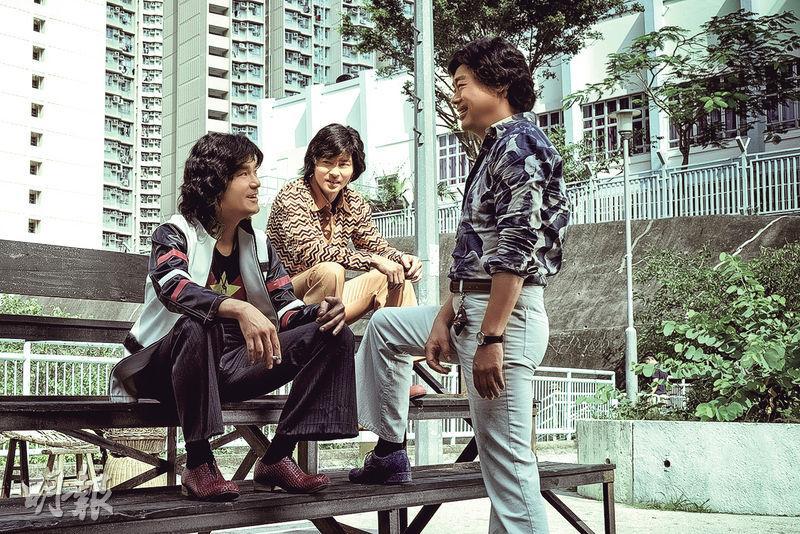 Aside from playing drug addicts they also have to wear tight shirts and bell bottoms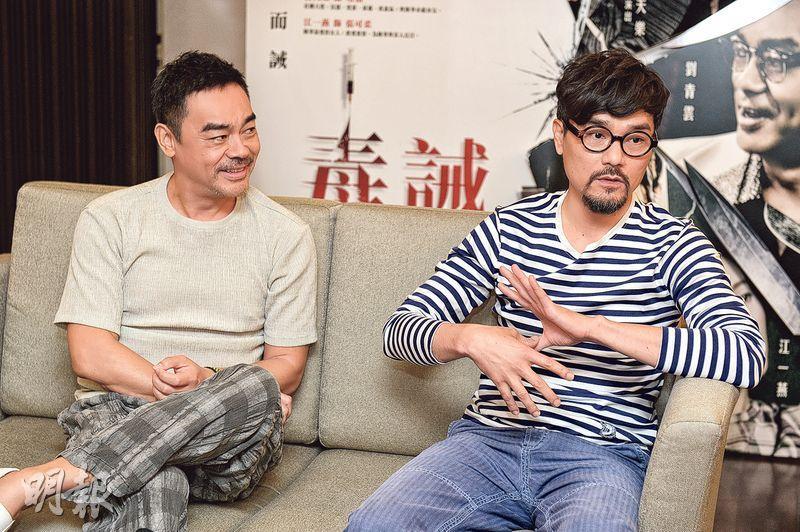 Sean Lau says that Gordon Lam is too impulsive and almost busts his face open
courtesy of mingpao.com
The film DEALER/HEALER (DUK GAI) was adapted from the true story of the "Tsz Wan Shan Thirteen Tai Bo" leader Chan Chun Chi. Sean Lau Ching Wan played him, while Gordon Lam Ka Tung played his brother Speaker. They talked about the production earlier.
Ching Wan said that before the shoot he met with Chan Chun Chi. He heard about his past for years and has always been interested in it. He never guessed that he would truly have a chance to play this character. Ching Wan pointed out that this story wanted to tell people that people have a chance to turn around after making a mistake. "I realize that people in the world now are cold and less forgiving. The film is about Chan Chun Chi dealing and using drugs in the mob. Actually he taught his brothers to use drugs as well and took them to rob. Later after he made amends after his release, he tried to straighten out the brothers too. I thought this was a pretty good message." He revealed that for this film he came in contact with a lot of drug paraphernalia and learned how to use drug. However he has never touched drugs even though the character he played used drugs. "Sometimes I have drinking scenes, I am not a drinker either. Acting is fake, whether I drink or not it s personal. What if I end up with a bad take? If I have a few more and pass out, then what? Of course, drinking is to relax myself, then why don't I try to relax for my performance."
In the film Ching Wan and Jiang Yiyan slapped each other in one scene. He said that he was a little worried during the performance because his palm was bigger than her face. He would not suddenly do it. Thus before the official shoot he would tell her and showed her his hand. During the shoot he would hold back. If he hit her for real he believed that she would faint. "Hitting people take a little skill, I am very afraid to hit. That scene took several slaps, her face was all red."
Playing Speaker, Lam Ka Tung said that the original character was Lee Siu Kay. They ran into each other on the street once. He interpreted the memories that Lee mentioned, fortunately most of it was from Lee's youth. Ka Tung revealed that in one scene he had to swallow the heroin to avoid the police. Because back that drug dealers would swallow the heroin then get it out again. Speaking of this scene he said with a little regret, "During the shoot the cinematographer asked if I could take off my pants. I immediately did and even asked if I had any wardrobe malfunction. Actually I didn't use any tape at the time because the schedule was very tight. However in the end this scene was cut."
Ka Tung who once lived in Shek Kip Mei and Kowloon Walled City saw a lot of drug addicts using drugs since he was little. "I have seen someone who would put the drugs under his tongue as soon as he saw the police. When I lived in the Walled City I saw too many people using drugs, they walked 'hunchback' and crooked. I thought they were so poor, why would they use drugs? So I wouldn't touch drugs. I don't feel that only using drug would be able to relieve stress."
The story took place in the 60s and the 70s, so the costumes involved long hair, tight shirts and "platform shoes". Ka Tung said that at work he did not dare to eat as he was afraid that he would get fat. He revealed that he had a fight scene, because he wore platform shoes he was almost "busted open". "In the scene I had to run downhill, I slipped and fell toward a barrier. We immediately had to stop rolling for five minutes. Later I realized that my face was a little swollen." Ching Wan also said that because his character was much thinner while using drugs, he had to lose weight before hand. Then he used computer post production to look even a little thinner.