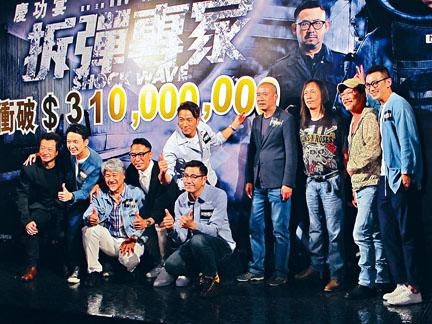 courtesy of singtao.com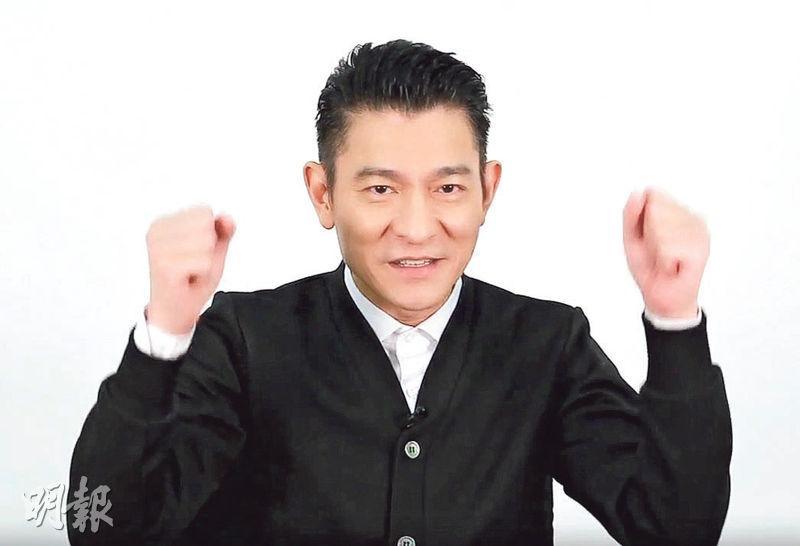 Andy Lau says the news of the film's success is making him well sooner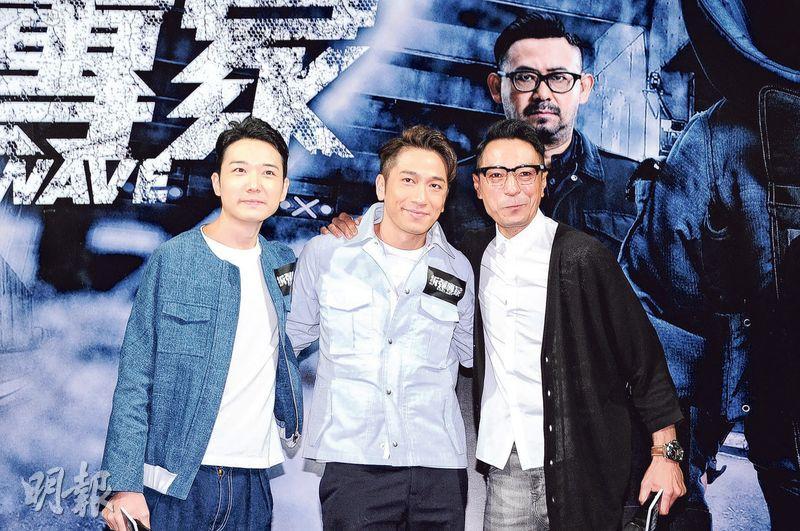 Babyjohn Choi, Ron Ng and Philip Keung
courtesy of mingpao.com
The film SHOCK WAVE (CHAK DAN JUEN GA) broke HK$ 310 million in Hong Kong, Taiwan, China, Singapore and Malaysia. In Hong Kong it already made HK$ 18 million in two weeks. The film two nights ago celebrated. Ron Ng Cheuk Hei, Philip Keung Ho Man, Babyjohn Choi Hong Yik and Vincent Wan Yeung Ming attended. Producer and star Andy Lau Tak Wa was unable to attend due to his recovery at home, but Wa Jai was excited. He even sent congratulation and encouragement over the phone to the team and at the same time announced a sequel! At the celebration banquet, the team called Lau Tak Wa with the good news. Wa Jai excited said, "I am Lau Tak Wa, how are you, how are you! To the brothers and sisters, thank you all, and the brethren of the team as well, everyone spent a lot of time to promote. I will definitely repay you in two folds in the future!"
The host asked what Wa Jai was the happiest about right now? He said, "It's May Day, after the labor I am happy about the fruit. Sigh, I don't know what to say......thank you to the audience for supporting our movie. Congratulations to the director, congratulations colleagues! We are making a sequel!" When Wa Jai said that they would make a sequel, everyone cheered and told Wa Jai to get back to the team soon. Wa Jai said, "Definitely, definitely, after hearing such a good box office performance I am getting better a little quicker!"
Ng Cheuk He was happy to have such an ideal box office, as his six cities in seven day promotion tour was not wasted. He was the happiest about on the May Day holiday the national box office was 60 millon yuan RMB.
Ron sad that earlier he went to Nanning for audience appreciation but the event arranged for him and Babyjohn to enter the cinema while the movie was playing. He said, "I was afraid that a shoe would come flying at me, luckily the host appeared first!" Did the audience ask for photos? "I was the one who went to get their photos!"
The audience asked questions at various audience appreciation events. Ron said that most viewers were concerned with when he would return to TVB and when he would make another TRIUMPH IN THE SKIES. Did the audience care about Wa Jai? He said that the audience knew about Wa Jai's injury online and was concerned when he would be able to meet everyone. Ron said, "I hope Brother Wa would get well soon too and return as soon as possible. I didn't look for him, as I want to let him rest properly. However Brother Wa sent videos to show everyone!" This film performed well. Ron admitted that in the future he would focus on finding a breakthrough in film, but the middle of the month he will first work on the Shaw web drama. Other film scripts were in negotiation.
Keung Ho Man was very pleased with SHOCK's box office. Babyjohn even revealed that the audience dubbed him "Tearjerking Hong". Babyjohn tried to sneak into the cinema to watch reactions, and he heard the back row audience sobbing. After the show he even found many left over tissues on the floor. He said, "When the audience cries I am happy, because I am able to affect them!"