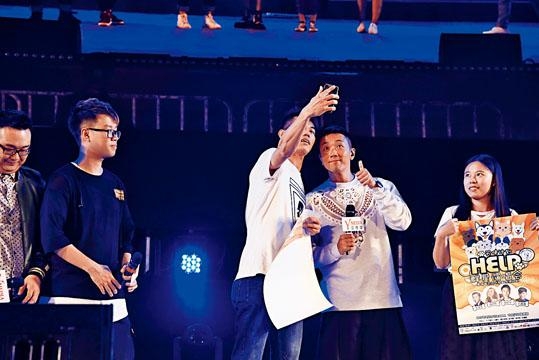 courtesy of singtao.com
Putting the focus of his career on film in recent years, Wilfred Lau Ho Lung after finishing his new film CHASING THE DRAGON (JUI LUNG) with Donnie Yen Chi Tan, Andy Lau Tak Wai and Philip Keung Ho Man later will join another film. Earlier Si Hing took time to perform in Zhongshan.
Speaking of his upcoming new film, Si Hing will play a film superstar's action director. Although the film will be a comedy and Si Hing would not have any dangerous stunt, the director wanted Si Hing to "look the part at least". Thus he asked him to get a tan, lose weight and work out. "Actually I got a lot fatter after Christmas and New Year, especially after the Lunar New Year holiday in Japan. I got 10 pounds by the time I returned to Hong Kong, my belly stuck all the way out. Even I was surprised."