For Sunday, the weekn ending September 24 2023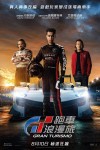 10 GRAN TURISMO
d. Neill Blomkamp
David Harbour, Orlando Bloom, Archie Madekwe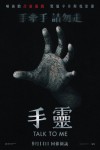 9 TALK TO ME
d. Danny Philippou, Michael Philippou
Sophie Wilde, Alexandra Jensen, Joe Bird, Otis Dhanji,
Miranda Otto, Zoe Terakes, Chris Alosio,
Marcus Johnson, Alexandria Steffensen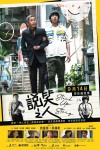 8 STAND UP STORY
Can : Suet Siu Ji Yun
Lit : Person who Tells Jokes
d. Au Cheuk Man
Ng Siu Hin, Ben Yuen Fu Wa,
Ng Wing Sze, Franco Yuen Siu Fai, Chan Lai Wun,
Joman Chiang, Locker Lam Ka Hei
Rating : IIA
Length : 104 mins.
Opening September 14 2023
Trailer : https://youtu.be/eLID--7Kw8w.

[ CINEMA CITY ]
From a young age, Mancer had always known that his father Wah is different from other adults; he speaks illogically, he has slow comprehension and he's quite easily deceived. After growing up, Mancer finally understood that Wah is intellectually disabled. After his mother ran away from home, Mancer was forced to become his father's primary caregiver.

By chance, Mancer joins a stand-up comedy competition for the prize money and becomes instantly hooked. He's addicted to the joy he feels from making people laugh. However, after the competition, Mancer couldn't make people laugh again. While searching for inspiration, Mancer realizes that his best jokes seem to come from his hardships -- the ridicule he received at school, his difficulties at work, his struggles in caring for his father, and even the worldwide pandemic. Perhaps misery can also be the best source of comedy after all.

[ SCREEN DAILY ]
The film tells the story of a man who gets involved in stand-up comedy, as an emotional outlet after becoming the primary caregiver to his intellectually disabled father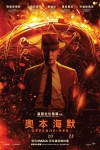 7 OPPENHEIMER
d. Christopher Nolan
Cillian Murphy, Emily Blunt, Robert Downey Jr.,
Matt Damon, Florence Pugh,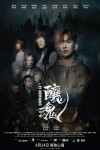 6 IT REMAINS
Can : Yeung Won
Lit : Brewing Spirit
d. Charlie Wong Wing Fung
Anson Lo Hon Ting, Summer Chan Chi Huen,
Tommy Chu Pak Hong, Ng Siu Hin,
Tree Kwok Chui Yi, John Chiang Dai Wai,
Angela Yuen Lai Lam, Lam Yiu Sing
Rating : IIB
Length : 100 mins.
Opening August 24 2023

[ HONG KONG MOVIE 6 ]
A group of friends, Finn, Luke, Liam and Cora, heads to a little-known island for a getaway camping trip.

Upon arrival, the friends are startled to find the island devoid of residents aside from a father and his daughter. When strange paranormal encounters begin to occur, it becomes evident that a supernatural force is at work...

With the group trapped on this mysterious island shrouded in darkness, will they be able to escape alive?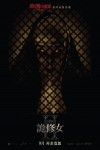 5 THE NUN II
d. Michael Chaves
Taissa Farmiga, Jonas Bloquet, Storm Reid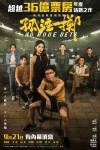 4 NO MORE BETS
d. Shen Ao
Zhang Yixing, Gina Gin, Yong Mei, Eric Wang, Darren Wang,
Zhou Ye, Sun Sun
Rating : IIB
Length : 130 mins.
Opening September 21 2023
Trailer : https://youtu.be/KZ5AWvv0qTk

[ HONG KONG MOVIE 6 ]
The film is based on tens of thousands of real fraud cases, and the horrifying inside story of the entire industry chain of overseas cyber fraud. Programmer Pan Sheng and model Anna were attracted by an overseas recruitment ad and went abroad to seek wealth, but they were scammed and ended up working in a factory. In order to leave, the two are going to attack the gambler Ah Tian and his girlfriend Xiao Yu, take their money, and complete their business... Can Pan Sheng and Anna escape from the cruel leaders of the fraud group, Manager Lu and Ah Cai? Facing cross-border investigations and pursuit of the police, where can they escape to?.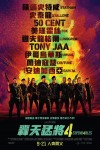 3 EXPENDABLES 4
d. Scott Waugh
Jason Statham, Sylvester Stallone, 50 Cent, Megan Fox,
Dolph Lundgren, Tony Jaa, Iko Uwais, Randy Couture, Andy Garcia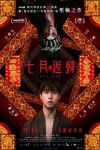 2 BACK HOME
Can : Chut Yuet Fan Gwai
Lit : July Return
d. Nate Ki (Tse Ka Kei)
Anson Kong Ip-sang, Bai Ling, Tai Po, Helen Tam Yuk Ying
Rating : IIB
Length : 102 mins.
Opening August 11 2022 (POSTPONED)
Opening July 25 2023 at the New York Asian Film Festival
Opening September 14 2023
Trailer : https://youtu.be/i7xDrL55KdM

[ BROADWAY CIRCUIT ]
Heung Wing has been sensitive to paranormal activity and keeps seeing ghosts since he was a kid, which is called having "Yin Yang" eyes. To avoid being bothered by the ghosts, he pretends to be ignorant even though he knew their existence. When he gets older, he escapes from Hong Kong to Canada because of his miserable childhood.

One day, Heung Wing has been told that his mother is in coma by committing suicide, which forces him to return back to Hong Kong. When he goes back to the old home, everything looks strange and unfamiliar to him. What's more horrifying is, a series of suicide cases happen in his neighbourhood, and ghosts start to appear in front of him again. The situation is deteriorating beyond his imagination...

[ NEW YORK ASIAN FILM FESTIVAL 2023 ]
A young man who can see ghosts must return to his childhood home where he soon finds himself caught in a waking nightmare between the lands of the living and the dead.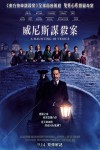 1 A HAUNTING IN VENICE
d. Kenneth Branagh
Kenneth Brangh, Michelle Yeoh (Yeung Chi King), Jamie Dornan,
Tina Fey, Kelly Reilly