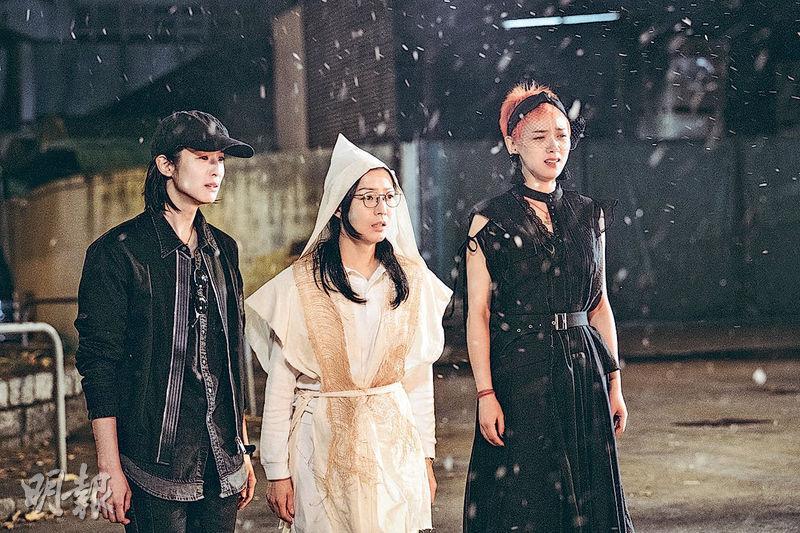 courtesy of mingpao.com
New film FAGARA (FA JIU JI MEI) will officially open on September 12th in Hong Kong. The film is about three sisters who have never met and separated geographically since childhood. They met for the first time at their father's funeral. Playing the big sister Yu Shu, Sammi Cheng Sau Man before the passing of her father did not even know about her two little sisters.
At the funeral, because it was the first meeting between the three sisters, each could not describe how she felt about the other two sisters. Their relationship was rather complex, mixed with the sorrow and pain of their father's passing, curiosity about the sisters they have never met, strangers to each other but also bound by blood. Everything met the funeral atmosphere even more complicated.
Sammi, Megan Lai and Li Xiaofeng released all of their emotions at this funeral scene, especially when they shouted, "Old man, get your stuff!", "Dad, remember to get them!" during their offering scene. This was the symbol of family separated by life and death, so their emotions could not be contained. All three said that they kept crying all day, "We kept crying, after the director yelled 'cut' we still couldn't stop. The three of us continued in an embrace and kept crying thoroughly!" This type of weeping to them was a way to release emotions.
Aside from the three actresses, the film also had a rather cute actor Wu Yanshu. In the film she played third sister Yu Gor's grandmother. On the set she was able to tell right away that Li Xiaofeng was the actress who would play her granddaughter. Li Xiaofeng said that Wu Yanshu had magic. When rehearsing with her, as soon as she saw her eyes her heart would melt. On the set Li Xiaofeng often could not help but want to kiss Wu Yanshu, this granny truly was too cute.