courtesy of on.cc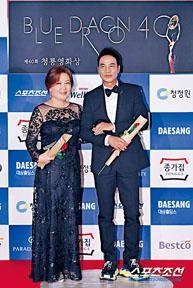 courtesy of singtao.com
Simon Yam Tat Wa earlier flew to Seoul to promote the December 2nd Korean release of his film LITTLE Q (SIU Q). Brother Wa's past films BULLET IN THE HEAD, SPL and IP MAN all left an impression with the Korean audience. He even starred with Jeon Ji-Hyun and Lee Jung-Jae in THE THIEVES and made a special appearance in the Jung Woo-Sung and Han Hyo-Joo in the Hong Kong film EYE IN THE SKIES (GUNG JUNG) based COLD EYES.
Returning to Seoul to promote LITTLE Q, Brother Wa happily shared with the Korean media the production highlight. He admitted that LITTLE Q was the greatest challenge in his film career. His first portrayal of the vision impaired was full of difficulties. He even set a 48 take record when acting with Little Q. He was very happy to learn that the Korean media and the video on demand viewers were deeply touched. He looked forward to the film being able to introduce more viewers to the difficulties guide dogs and the vision impaired faced. He also urged that no matter what kind of difficulty viewers would face in life, as long as they have love they would be able to overcome it. He was working with a blue clay to revive hand nerves for physical therapy during the interview. He thanked his wife and daughter for being by his side after the surprise attack and filled him with love.
This year would be the 100th anniversary of Korean film. One of Korea's three great film awards, Blue Dragon Film Award, has never invited foreign actors to be its guest presenter. This year for the 40th Blue Dragon Film Award, Brother Wa was invited to present the Best Supporting Actor award with his THE THIEVES co-star Kim Hae-Sook to DEFAULT's Jo Woo-Jin. Brother Wa felt very honored to be the guest presenter. He was able to take the chance to catch up with his co-star Kim Hae-Sook. He even remembered the doenjang jjigae that she made for him. Unfortunately due to the tight schedule he did not have time to meet with director Choi Dong-Hun. Brother Wa has made over 300 films in his career. He said that he truly loved film, thus he never thought about stopping. In addition acting has no end. Now he is working on a screenplay to direct.