courtesy of on.cc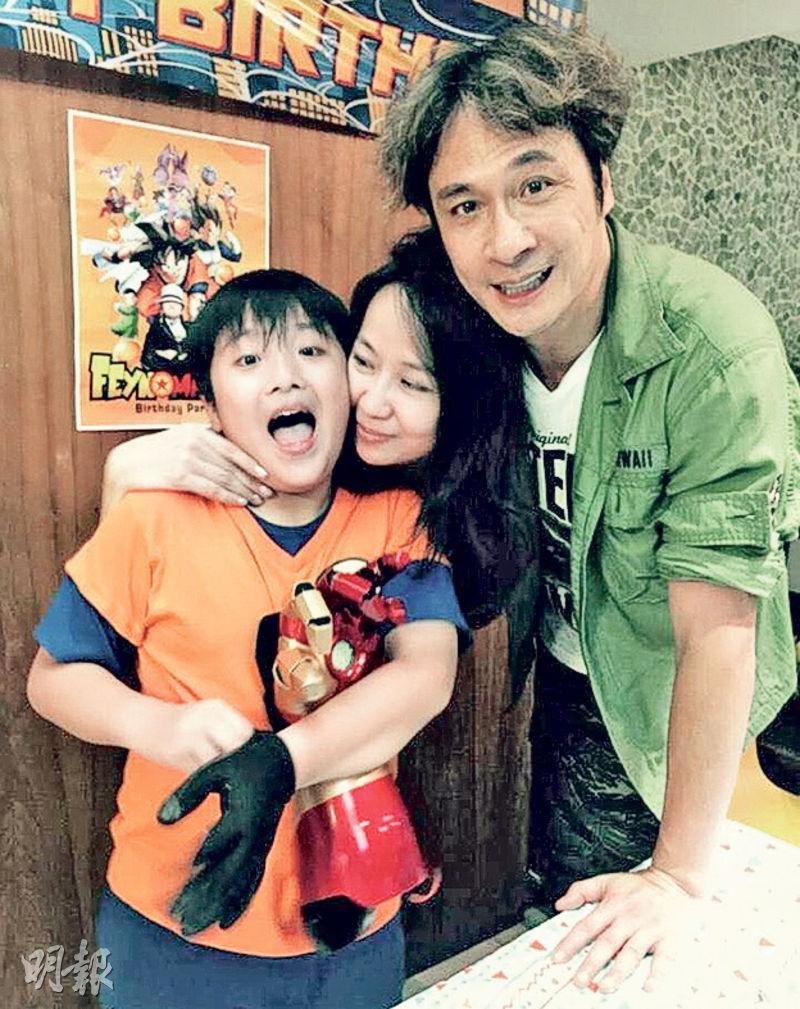 Francis Ng and his family
courtesy of mingpao.com
Francis Ng Chun Yu, Wu Tsz Tung, Ken Wong Tak Bun, Poon Chan Leung and Jennifer Yu Heung Yi yesterday worked on a dragon boat location shoot at the Hong Kong China Dragon Boat Association for their film MAN SHUI CHIN SHAN JUNG WAN. Chun Yu revealed that he has already shot a week of dragon boat race scenes and he was well tanned. For his first dragon boat race, he even had to sit at the front of the boat. Earlier he even rowed from Shatin Town Hall to Shek Mun. Although it took 20 minutes, he arrived earlier than those on four wheels. Chun Yu felt that he had a knack for dragon boat and did not need any special training.
Speaking of his son Feynman's 9th birthday, Chun Yu held a party for him. He said that every year he would celebrate with his son, this year he bought some stuff to eat at home and invited his son's friends. This year's party theme was WUKONG. Chun Yu said that his son used to like SESAME STREET, then TOY STORY, this year he likes WUKONG. All were a part of his emotional journey. His wife rarely appeared in public. This time his wife's photo was posed online. Chun Yu admitted that his family put it online. Even if he minded he could not do anything.
Yu Heung Yi in the film played a dragon boat coach and often had to yell at the team, even Chun Yu, Wong Tak Bun and Poon Chan Leung. As soon as the camera stopped she would apologize, but she already praised the elders for treating her very well. They were afraid that she would get a tan and asked the crew to help with umbrellas. She also revealed that she and one of the elders had an ambiguous scene.
Wu Tsz Tung before the dragon boat race also had training. He also praised the elders for their extra care. Although each looked very cool, they were constantly joking and made the atmosphere very harmonious. His girlfriend Stephanie Au Hoi Shun earlier won a gold medal a a swim meet. Tsz Tung said that last night his girlfriend had another meet and he would show his support. Yet due to work he could only make it up to her later with a celebration.