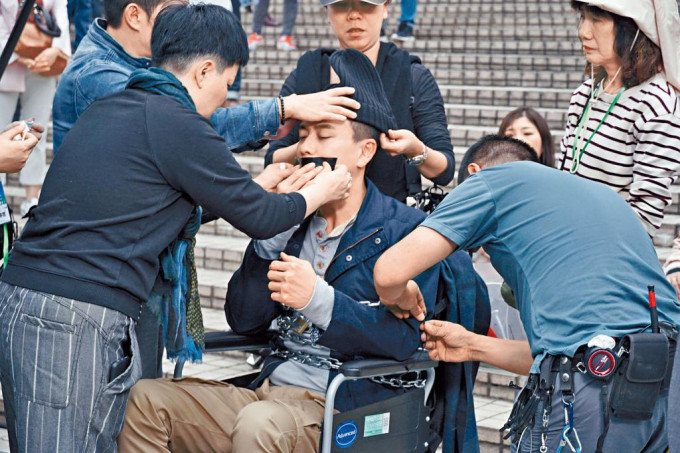 courtesy of singtao.com
The anti-corruption storm film series' final chapter G STORM (G FUNG BO) yesterday officially opened on New Year's Eve. The film aside from Louis Koo Tin Lok, Julian Cheung Chi Lam, Kevin Cheng Ka Wing also added Jessica Hester Hsuan (Suen Huen), Bosco Wong Chung Chak and the Malaysian Best Actor Rosyam Nor. The film production had heavier and heavier investments with each installment, including a gun fight and car chase near the Cultural Center in Tsim Sha Tsui. One of the bright spot was Ka Wing and Bosco's brotherly conflict. While investigating a case Ka Wing discovered that Bosco was involved in corruption and fell between a rock and a hard place. Bosco was tied up and turned into a human bomb. Tied up to a wheel chair the entire time, Bosco kept himself from going to the bathroom in order not to hinder the production.
The team successfully applied for the large scene gun fight at the Cultural Center with over 100 extras. Bosco recalled being tied up by criminals to the Cultural Center gates. "The team tied me to a wheel chair, then tied a large bomb to me. Basically I couldn't move. When Ka Wing arrived he could offer no help, because he was only ICAC and not a bomb disposal expert." Bosco in order to keep from wasting time from locking and unlocking the lock, he sat on the wheel chair before dinner. He even kept himself from going to the bathroom, while he only drank water with the assistant's help.
Bosco said that the director and Goo Jai gave him several challenges. He said, "They asked me and Ka wing to each interpret several different versions for them to choose. I thought it was pretty fun, everyone tried to add some new challenges and new elements into the film." Ka Wing said that he and Bosco have not worked with each other in a long time, when they were not working they would relive when they worked on television series. Ka Wing continued to say that this time in the film because of Bosco's involvement in corruption he had to choose between family and justice. In addition, Ka wing hoped that the audience would be able to relate more to familiar locations like the gun fight at the Cultural Center.