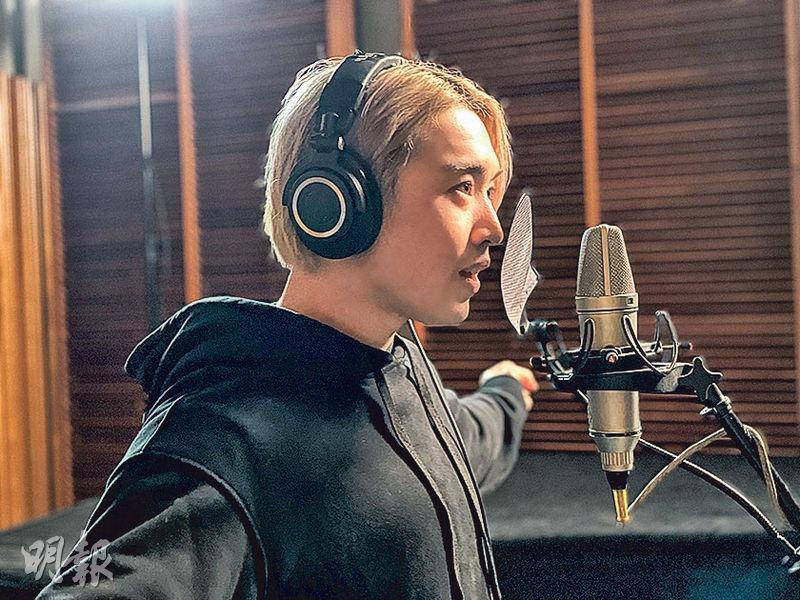 Jer Lau says the song's rhythm is very hard to grasp, near the end he even has to reach for the high notes
courtesy of mingpao.com
MIRROR member Jer Lau Ying Ting participated in the film OVER MY DEAD BODY (SEI SI SEI SI SEI SUP SEI) and performed the theme song SALTED FISH GAME. Working with lyricist Wyman Wong for the first time, he sang the helplessness of Hong Kong people who turned into "salted fish" in order to buy a home. In the lyrics "salted fish" referred to the modern city people who were only busy at work. While working hard to pay off their homes they often forgot their dreams. Jer said, "When I go the lyrics I felt very surprised, the 'salted fish' in the song reminded people a famous line in a (Stephen) Chow Sing Chi movie, 'If people have no dream in life, how are they any different from salted fishes'. I felt that Wyman wanted to remind the modern city people, not to continue to live in this type of condition. Like me, if you like to sing and dance then do it, don't be someone without any flesh or blood."
Jer felt that the challenge of singing this song was rather large, because the tempo was very hard to grasp. He spent about two days before he was able to catch it accurately. The song had many half steps, the last part even had to reach high notes. In the end the singing had to go very far. "It's like using the last of the strength to singing out the message of the song." The line, "all salted fish, be fresh once again" was the entire song's theme, like it wanted to wake up people who were asleep to find something that their hearts longed for. He said, "When I sang it I was really able to get into the mood. I have liked to sing since I was little, I have experienced days of being a salted fish. My first job wasn't one that I liked, at the time in order to make a living for the family and pay the mortgage, everyday I worked like a cog. Luckily in the end I ran into a competition that changed my destiny, and I finally was able to leave this 'Salted Fish Game'."