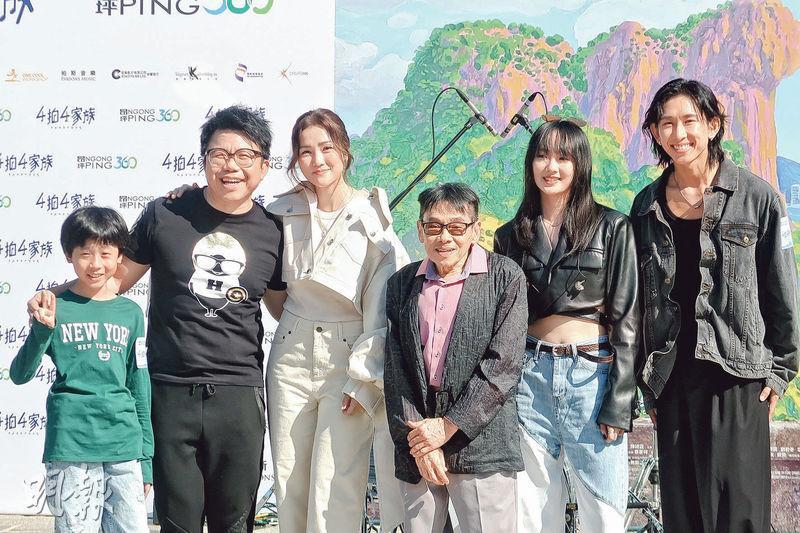 Chan Lok, Hanjin Tan, Kay Tse, Teddy Robin Kwan, Anna hsibbuR and Manson Cheung promote BAND FOUR and perform live
courtesy of mingpao.com
Kay Tse On Kay, Teddy Robin Kwan, Rondi Chan Lok Ting, Anna hisbbuR, Mason Cheung Chun Hiu, Hanjin Tan (Chan Woon Yan), director Mo Lai Yan Chi yesterday promoted their film BAND FOUR (4 PAK 4 GA JOOK) at the Lantau Island Ngong Ping Village. Kay and Anna performed the movie theme song, while the 10 year old Chan Lok Ting played the drum. Also the producer, Teddy revealed that BAND FOUR took 8 years before finding 4 companies to finance the production. Because music movies in the past 30 years have not performed as expected, many investors have been scared off. Teddy and Kay hoped that the new film would have a box office breakthrough and blaze a trail for music movies. Kay said, "Many directors and music makers have watched the advanced screenings and praised the story as touching, which increased my confidence."
Kay and Teddy in the film played father and daughter, the relationship of which turned from bad to good. Then the entire family formed a band to play rock music. The production process was very pleasant. Kay created a song for the film for the first time and thought it was a lot of fun. "I have thought that the song I wrote would pair with how touching the story was. When I watched the video I cried, I felt a little narcissistic." Would she form a band with her family? She said, "My family has the right people, the children have a little talent."
Teddy praised Kay's performance in the film was better than before, and also said that the father role in the film for him was a tremendous challenge. In order to get into the estranged father and daughter relationship, he had to ask people all for research. Kay said that in real life her relationship with her father was close. During the production she projected certain real feelings into the film. "I am prepared to bring Father to see the movie, I believe it would make him cry."