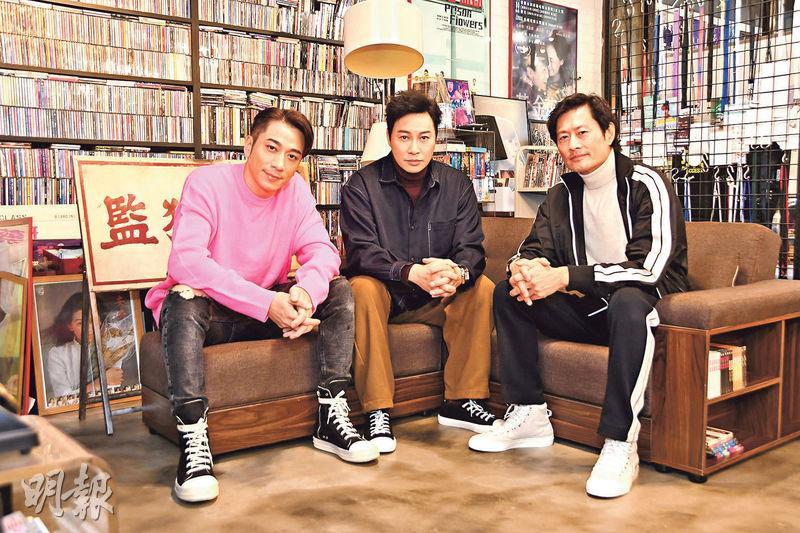 Ron Ng, Patrick Tam and Ken Wong have fun from working together on BREAKOUT BROTHERS 2 and would like to do it again

Patrick Tam and Ron Ng had many close combat fight scene
Ken Wong has to wear winter clothes to work in the summer
courtesy of mingpao.com
Ron Ng Cheuk Hei, Patrick Tam Yiu Man and Ken Wong Tak Bun in the film BREAKOUT BROTHERs (TOH YUK HING DAI 2) battled brains and brawn. Ng Cheuk Hei joined the cast as the villain. Tam Yiu Man praised him for looking vicious during fight scenes. In the production highlight, Ng Cheuk Hei fought so much that he needed to apply ice on his hands. He denied that Tam Yiu Man injured him and even cleared his name. "My farm was injured earlier from another film. When Tam Yiu Man hit me, I couldn't feel his strength. In other words it didn't hurt. Everyone are having a very pleasant time from working together."
Ng Cheuk Hei fought from the beginning to the end, feeling that the role that he played could not be considered a villain. He only twisted the logic and always felt he was right. Playing the villain in many films lately, Ng Cheuk Hei said, "I asked for 20 years not because I wanted a transition, but because I feel each actor have to have different attempts, play different characters, work with different people in order to set off some sparks. Actors have to play anything and everything."
Tam Yiu Man this time still had a shower scene to show off his muscles. With fight scene after fight scene he deliberately went on a diet to lose weight. "I probably was thinner than the first film. It wasn't complete for the action scenes, but also for my career because in this last film I seemed to have a little belly." The 53 year old Tam Yiu man in the film mainly fought Ng Cheuk Hei. He did not get hurt from the fight scenes but from a car flipping scene instead. "At the time we still had many shots waiting, so I toughed out the pain. I only found out after 3 fractured ribs after going for tests after work. The worst was when I woke up, I was in so much pain I couldn't get up. I needed help from my family to get up. Luckily although I have reached this age, I only took two months to recover."
Playing the prison warrant, Wong Tak Bun did not need to work on fight scenes. He felt like the director played a prank on him. "The director perhaps feels I was too relaxed from not having any fight scene. He arranged for me to shoot winter scenes in a sweater in the summer, from which I became much more sweaty." He felt that working on men's movies are especially fun. He could say anything. This time he worked with a group of actors of all ages, they showed all of their masculinity in the new film.
Christine Ng Wing Mei took part in the new film BREAKOUT BROTHERS 2 (TOH YUK HING DAI 2). Ms. Ng reprised her role as Patrick Tam Yiu Man's wife, the couple reconciled. However because Ron Ng Cheuk Hei wanted to threaten her husband to assist with his prison escape, thugs attacked Ms. Ng and kept hitting her car windshield. Finally the glass shattered on Ms. Ng's head and scared her out of her wits. Later Ms. Ng said, "Although it wasn't real glass, the distance was very close. I had some minor scratches, it was very scary but also very exciting." Before the shoot Ms. Ng listened attentively to the director's explanation and tested her mark with the action director. Ms. Ng said that after so many years in the business she has not made a scene in which thugs threatened her before. she said, "During the test the bat kept smashing and I was already scared. Then during the official shoot, when the bat struck the glass heavily I was really scared, but as an actor I had to tough it out. All of the reactions were real." In another prison visit scene, Ms. Ng after working with Tam Yiu Man in the previous film has become more familiar. She praised him as a good co-star, as they adjusted the dialogue together to make the whole thing even more perfect.
In addition, SUNSHINE OF MY LIFE (YUT LO TUNG HUNG) held its world premiere in Italy at the Udine Far East Film Festival. Not only w was the screening sold out, after the show the applause was endless! The live audience reaction was immediately sent back to Hong Kong and the cast and the staff were very pleased.