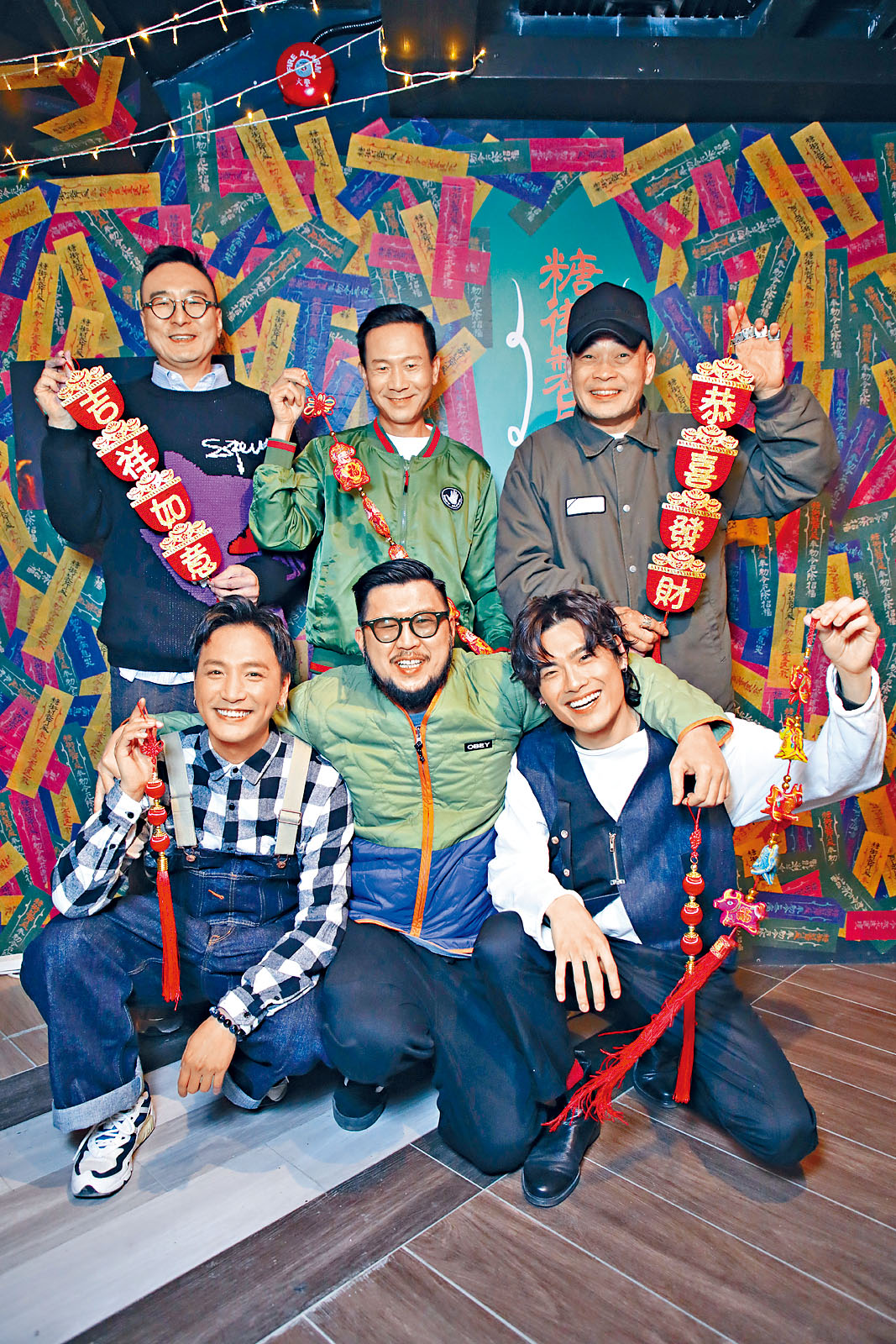 Director Sunny Lau leads Matthew Chow, Eric Kot, and other strong men in a not so usual Lunar New Year film
courtesy of singtao.com
Speaking of Lunar New Year films, they are in general happy and full of joyful cheer in welcoming the New Year. Yet this year one not so usual Lunar New Year film appeared. The Sunny Lau Yung directed film SUGAR STREET STUDIO (TONG GAI JAI PIN CHONG) is a ghost film! Its star Eric Kot Man Fai jokingly said that he would prepare fire basins for the audience to leap over when they leave, wishing everyone good luck and fortune.
The Lau Yung directed Lunar New Year ghost film SUGAR STREET STUDIO starred Kot Man Fai, Chan Kwok Bing, Matthew Chow Hoi Kwong, Lam Yiu Sing, Wong Yik Ho, Wiyona Yeung Lau Ching, Kaki Sham, Hanna Chan, Chloe So Ho Yi and Susan Shaw Yam Yam. Hong Kong Lunar New Year films have been all fun and joy, with a happy ending and the cast would wish everyone a Happy New Year in the end. Perhaps you would feel that watching a ghost film during the New Year would be somewhat taboo, but Lau Yung hoped that the audience would have choices. Kot Man Fai also thought of a great idea, jokingly said that he could prepare fire basins for the audience to leap over when they leave for luck.
Director Lau Yung have worked with all 5 men and have certain chemistry. He could say that each character was tailor made. However Kot Man Fai had words, feeling that how could a little lamb like him would be worldly enough to play a mob boss. Lau Yung mentioned that on the first day of work he deliberately prepared a "delicacy" for Ah Kot. Ah Kot said, "That's right, dance hall scene, I was completely full, I am still stuffed now. It was a lot of fun, for them!"
Chow Hoi Kwong's character lies, cheats and steals but is not a bad guy. He said that his personality was the complete opposite so the performance was rather tough. He mentioned that one scene truly scared him -- getting the purple nurple from Ah Kot for any mistake he made. He said, "This is what Ah Kot likes to do that most. For decades he has given the purple nurple to many." why did Ah Kot have this interest? Ah Kot said, "His are big! That's not my problem!"
Lau Yung joked that Chan Kwok Bong was his mascot, because every time they worked together they would receive the audience's praise. He said, "When I was creating I was already thinking Brother Bong would play the role, he would have to handle more complicated scenes so I definitely had to ask for his help." In addition, Lau Yung mentioned having worked with Lam Yiu Sing and Wong Yik Ho before and really admired their rhythm. Thus he again invited them to participate.
In addition, speaking of breaking taboo and releasing a ghost film during the Lunar New Year. Lau Yung felt that the Lunar New Year slot was only the best release week in his eyes, but now there should not be any traditional restriction. With changes that turned Hong Kong upside down in recent years, the pandemic also made changes in life. He believed that viewers would also make changes in their choices. Would he be worried that cinemas would still have to close due to the pandemic? He said, "If it can't be released then it will be released in March. One day it will be released. Instead we should ask, how do everyone keep going in the future? This is even more difficult."