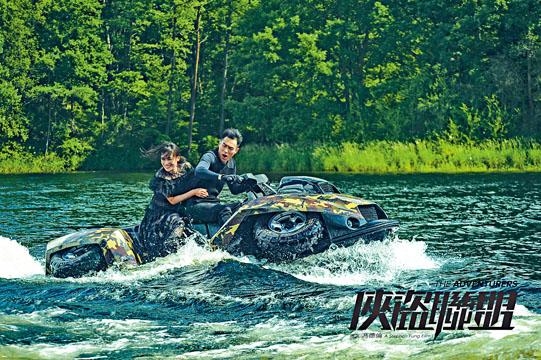 courtesy of singtao.com
The Stephen Fung Tak Lun directed, Andy Lau Tak Wa produced and starred THE ADVENTURERS (HUP DOH LUEN MUN) will be released on the 24th. In the latest production special, Lau Tak Wa talked about working with Shu Qi in THE ADVENTURERS. "Each time I see her I feel certain affinity." Director Fung Tak Lun even stated, "Yip Hung (Shu Qi's role) is a very, very important character, with a lot of changes -- short hair, long hair, glasses, no glasses......" Shu Qi also said that this character was very different from her past characters. "I didn't play her like an ice queen." She was livelier and more mischievous.
Actually, Shu Qi in the film had both brawn and brains -- a fully charming, ever changing, beautiful thief who held her own with Tony Yang's character; they were not only happy rivals, Tony Yang played a genius hacker who was a little silly. As he fully displayed his fun and agile side, he received universal praise from the cast and he crew alike. Fung Tak Lun also praised him for being very focused, casting him in this hacker role was absolutely the correct choice.