courtesy of on.cc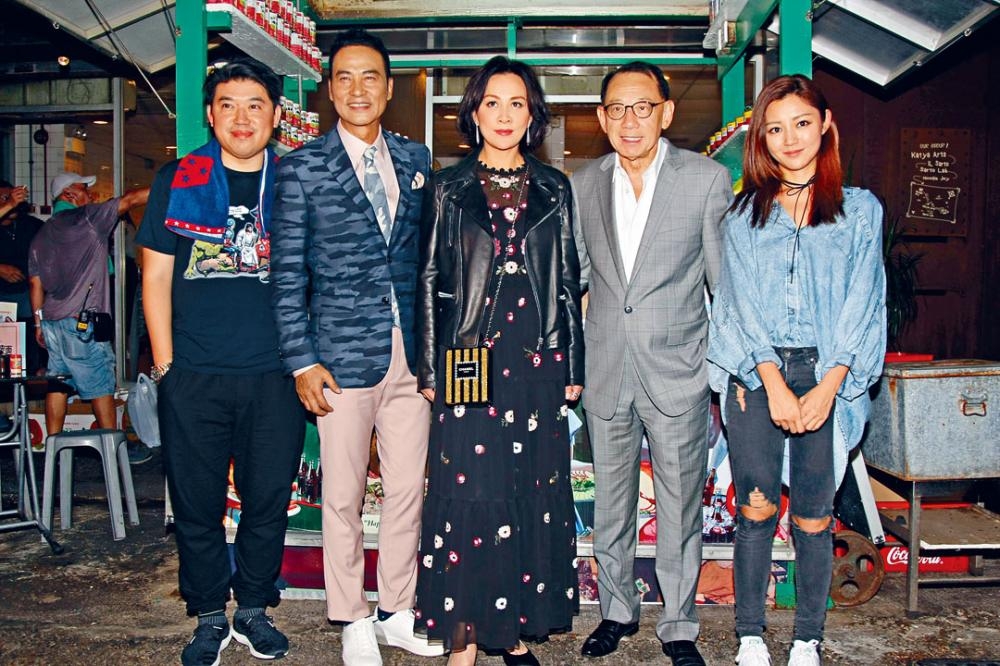 courtesy of singtao.com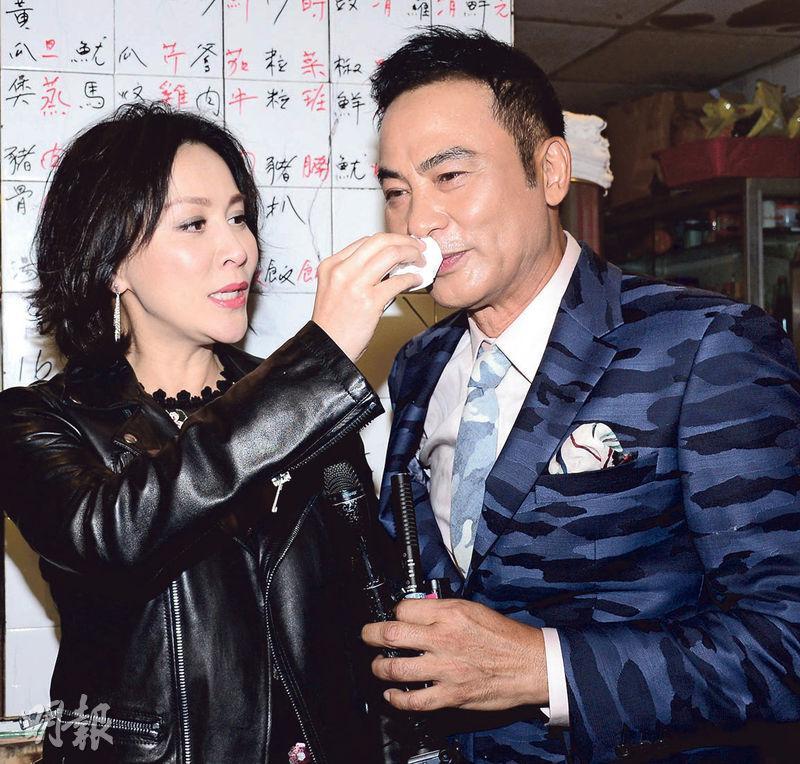 Patrick Kong, Simon Yam, Carina Lau, boss Albert Yeung and Michelle Wai
courtesy of mingpao.com
The Patrick Kong (Yip Lim Sum) directed, Carina Lau Ka Ling, Simon Yam Tat Wa and Michelle Wai Sze Nga starred FATHER VS. FATHER IN LAW (NGOR DIK CHING DIK NUI SAI) two nights ago shot on location in a Wanchai coffee shop.
25 years after GIGOLO AND WHORE (GAI NGAP LUEN) they worked together again, Brother Wa praised Ka Ling for being well maintained. She proudly said that in the film she had an adopted daughter Wai Sze Nga. In real life she could probably be her mother, but now still many young people admire her. She would not do anything about that because she felt that she was well worth admiring. Did her husband Tony Leung Chiu Wai know? Ka Ling said, "Some things you can't tell, I have to make him feel a little threatened. If younger girls like him, I would be happy for him, congratulate him because he is already at this age!" Brother Wa agreed, "That's why people are jealous of me too. Yesterday a man glared at me on the next block!" Ka Ling asked Brother Wa if he had more younger girls trying to get near him? Brother Wa was actually so nervous that he was sweating. "Only my daughter can get close to me, really no girl can get close to me!" Ka Ling took a tissue and wiped the sweat off Brother Wa as she said, "Tell the truth!" Brother Wa said, "Really only my girl can get close. When I injured my hand she cut the steak for me. My wife fed me soup. It was seriously romantic." Was Wai Jai romantic? Ka Ling said, "He wouldn't, but I can be romantic alone. Have red wine, drink coffee, run, it's pretty romantic for someone to be so carefree!" Brother Wa said that his family of three on vacation was also very romantic. Recently his wife Qi Qi came back from vacation 10 pounds heavier.
Two nights ago Ka Ling and Brother Wa ran into each other again at a won ton noodle stall, but Brother Wa was already stuck between Ka Ling and adopted daughter Wai Sze Nga. They both felt that love had no age limit. Ka Ling said that the French president was like that too, love without age difference would happen.
Director Yip Lim Sum asked Ka Ling to play the final "Ah Bo". She said that she has never watched Director Yip's movies so she first talked with the director. Then she learned about the romantic story behind the movies. Actually if done well they could keep going.