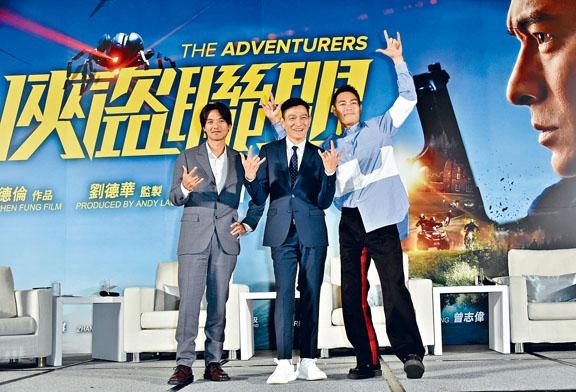 courtesy of singtao.com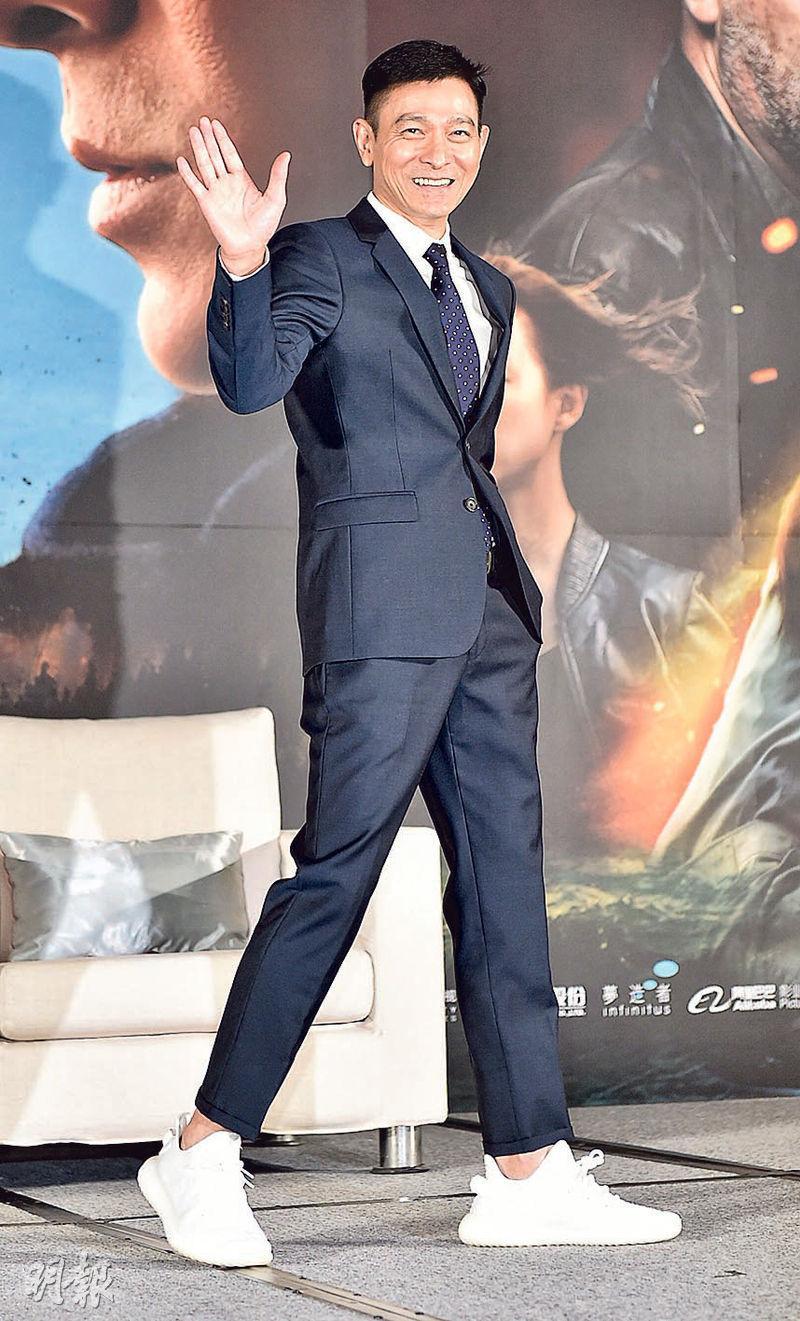 Andy Lau reveals that he is already 95% recovered. During recovery everyday he was very happy.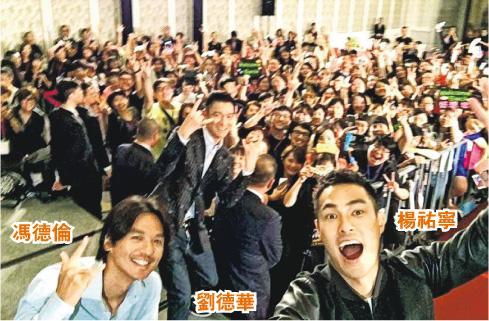 Stephen Fung, Andy Lau and Tony Yang take a selfie with everyone
Stephen Fung must have had a sweet 43rd birthday with his wife Shu Qi
courtesy of mingpao.com
Andy Lau Tak Wa yesterday promoted his film THE ADVENTURERS (HUP DOH LUEN MUN) in Taiwan, his first trip there since his injury. Wa Jai said with a smile, "I really am back! I really am no different from before." Wa Jai also got hurt in THE ADVENTURERS, he stated that he would get hurt only because he loved to play.
Lau Tak Wa yesterday appeared in Taiwan for the first time since his January fall from a horse to promote the Stephen Fung Tak Lun directed new film THE ADVENTURERS. Taiwan artist Tony Yang was also on hand. During the press conference, Wa Jai looked energetic and even kept making fun poses for the media to take photos.
Wa Jai greeted the media with a handsome smile and said, "I really am back! I really am no different from before."
Wa Jai continued, "First I really have to thank everyone, during this period you worry about me so much. My Hong Kong doctor kept telling me to be careful! Not to appear in so many public places! However I really want to come back to see everyone, to tell everyone that I am much better now, so today I am standing here."
"In addition earlier everyone rumored that I turned very thin. They even went to pray for me, but I was in Hong Kong, properly resting for 6 months. I am already 95% better, and I only felt how fast time flew. Under everyone's concern during this half a year, everyday I was very fortunate and very happy. Everyday I was exercising, I got into even better shape, thank you!"
Wa Jai also got hurt during THE ADVENTURERS shoot. He explained that he only got hurt because he loved to play. "At the time I was on a metal net, I moved to look more handsome but I overdid it and hit my head."
Wa Jai in the film played a master thief, did he want to steal anything in real life? He said that now he has everything, he would not need to steal anything. Yesterday although Shu Qi was not present, her husband Fung Tak Lun did not forget to show off their love as he claimed that he stole Shu Qi's heart. Thus he had nothing good left to steal. Tony Yang wanted to steal one thing. Because his bank passbook was with his mother, he hoped to steal the stamp back.
In the film Tony Yang wanted to kiss Shu Qi but was slapped. Tony Yang felt that "at the time he probably could have kissed". Then Wa Jai joked, "She is married already, did you just overthink it?" Everyone laughed.
In the film Wa Jai and Zhang Jingchu had a kiss scene. Why would he agree to it? Wa Jai joked, "Zhang Jingchu agreed so I agreed too". Then he said that the kiss scene actually was set up for Tony Yang to show the contrast of him being slapped and show his funny side. Fung Tak Lun was asked if he had any special feeling with his wife during the shoot. He said that they have known each other for over 20 years, they really had no difference.