Shawn Yue calls Eddie Peng a sorry sack for not getting girls
Derek Kwok says a sequel would depend on his actors' schedules
courtesy of on.cc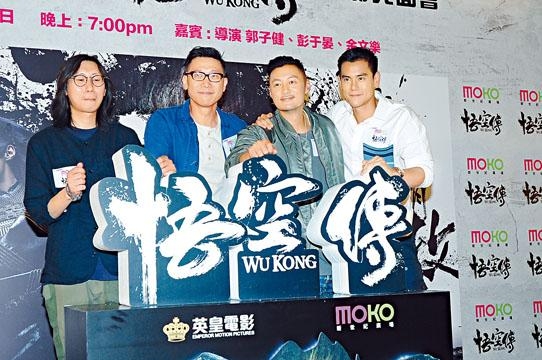 courtesy of singtao.com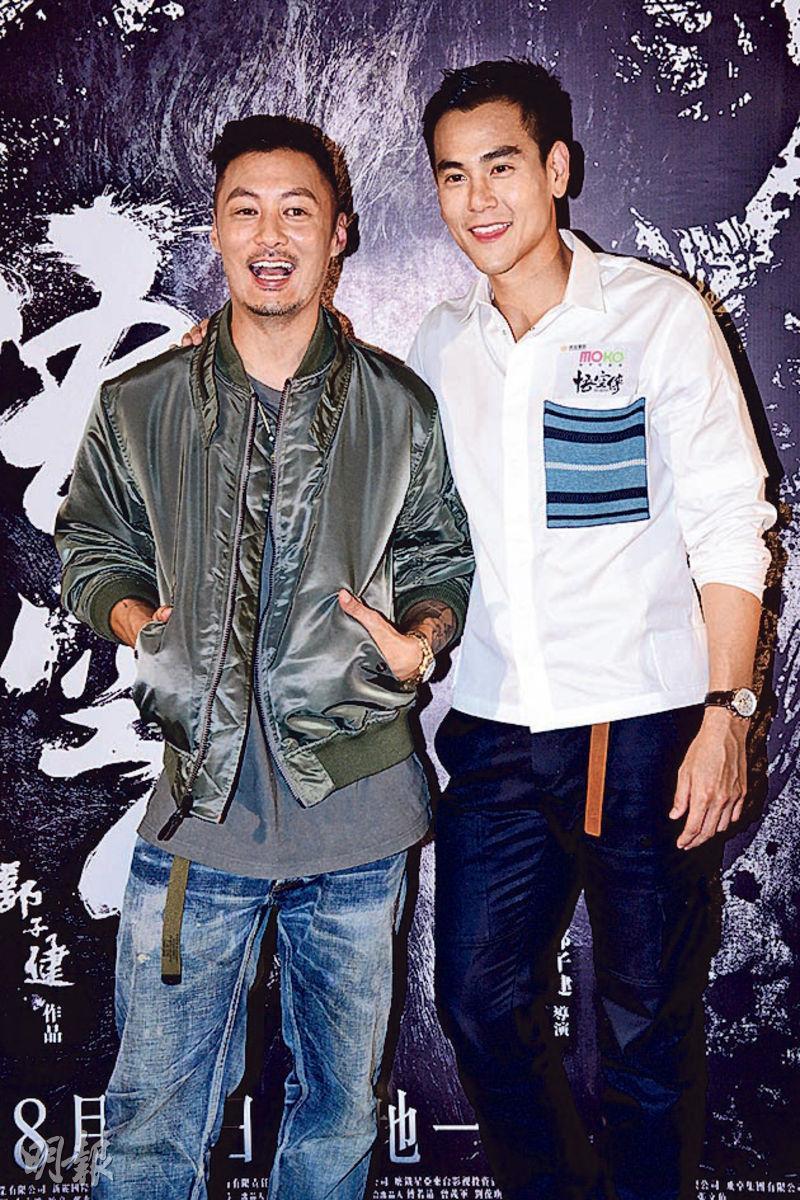 Shawn Yue and Eddie Peng have known each other for a long time so they have great chemistry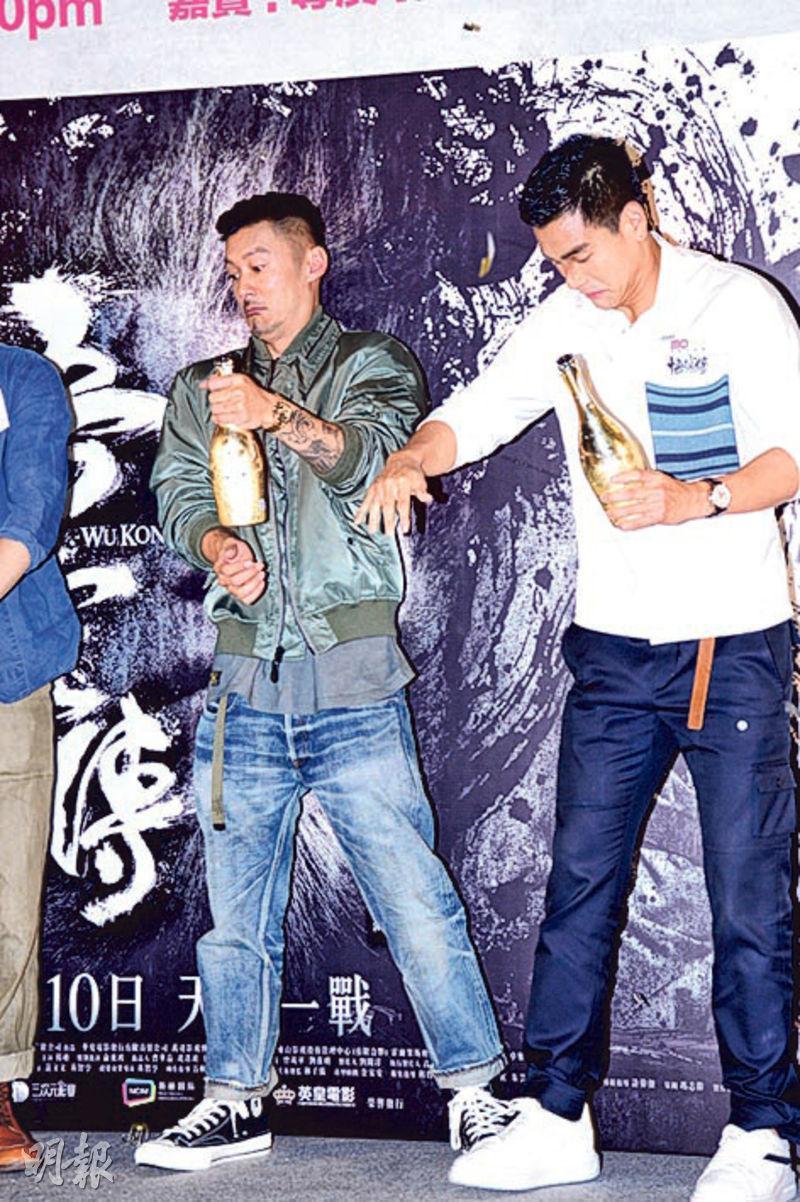 Shawn Yue and Eddie Peng get wet from the champagne
courtesy of mingpao.com
The film WU KONG last night held an event. Director Derek Kwok Chi Kin and two lead actors Eddie Peng Yu-Yan and Shawn Yue Man Lok appeared together and met fans. Eddie taught a female fan how to pose. Lok Jai joked that was how he normally got girls. Then Lok Jai clarified Eddie did not try to meet girls. He himself would want him to, but he had no girl to introduce to him. He even joked, "I have just enough for me!"
Peng Yu-Yan greeted fans with less than fluent Cantonese. The host asked the two hunks about working together again, 15 years after TOMORROW. Did they feel any different? Lok Jai joked, "His Cantonese isn't much different, I still don't understand him. However we kept seeing each other, so it might not be accurate to ask me about differences." Did their heart ache over having to fight each other in the film? Lok Jai said that before the performance they did not need any warm up, they just took their mark and went so they saved a lot of time. Eddie joked, "Lok Jai has always wanted to hit me. He didn't use a double. He was very strong, very terrifying. He turned an 8 pack of abdominal muscles into an 18 pack. Since his trainer wasn't present, I played his trainer and kept the blood flowing through his muscles!" Lok Jai said, "What are you saying? Keep the blood flowing? Go back inside!" As for spending 11 months to work out, Lok Jai said that there was no short cut. He was only convinced completely because the director talked him into it, but he felt that the result was worth the effort. Then Lok Jai touched Eddie's chest and said, "Only I get to touch!"
When they played games with fans, two female fans tried calligraphy on the stage. Lok Jai said that it was a tie and both female fans' prize was to spend a night with Eddie. Eddie immediately went off the stage with ink and said, "I would rather drink this!" In the second game female fans had to wield a halberd, firs Eddie demonstrated. Lok Jai said, "He normally gets girls like this!" When Lok Jai demonstrated he said, "I am quite a gentleman, I won't touch you!" Later they and the director popped bottles of champagne to celebrate the film's 700 million RMB Mainland box office performance.
Eddie was asked if he knew that Lok Jai said he got girls like he got close to fans? Lok Jai said, "I was just joking, he didn't try to meet girls. He is a pitiful bug. I too would want him to!" Would he introduce any to him? Lok Jai said, "I don't have girls to introduce, I barely have enough for myself!" Was he already out of stock? He said, "I would only pass to him if I have stock. He has been single for a long time, but he is a super great property." Eddie also admitted that he was not dating, but believed that he would find a girlfriend very soon. Was he seeing someone? He said no yet, and he had no geographical restriction for girlfriends. As soon as they were able to get along he was fine. He said, "Let it to chance, you can't just get one because you say so!" Did Lok Jai's girlfriend like all the muscles on him? Lok Jai said that when he met his girlfriend he was still normal and not at his peak. Did his girlfriend suck him dry? Lok Jai awkwardly laughed and said, "We are playing this again?"
The film made 700 million in the Mainland, director Kwok Chi Kin said that it already exceeded expectation. He was able to make money for the boss and he got to play too. Thus he would like to make a sequel. However it would depend on whether the two big brothers would have any time on their schedule.