courtesy of on.cc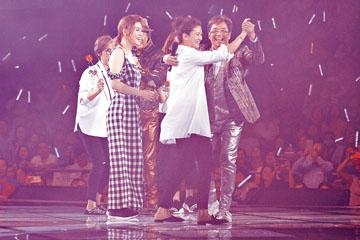 courtesy of singtao.com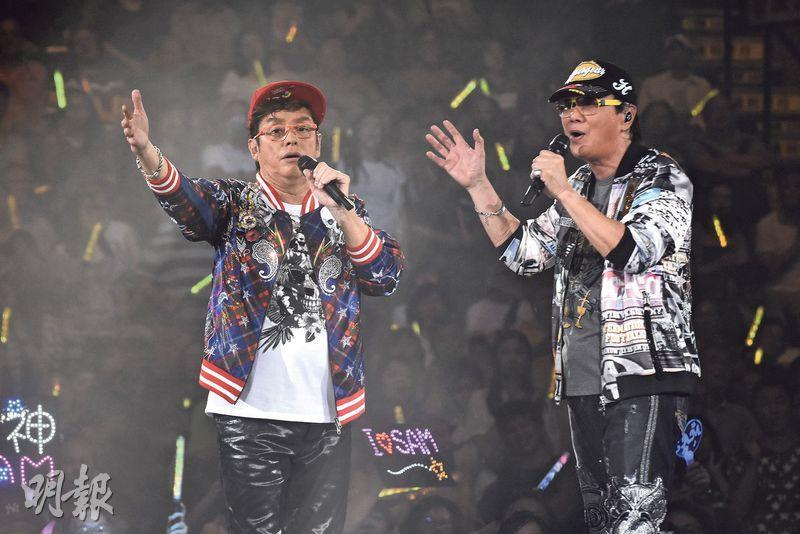 Alan Tam and Sam Hui announces a part 2 to their concert series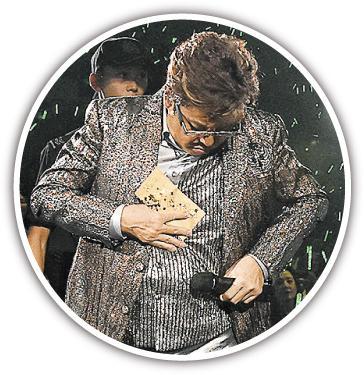 Alan Tam's pockets are filled with lai see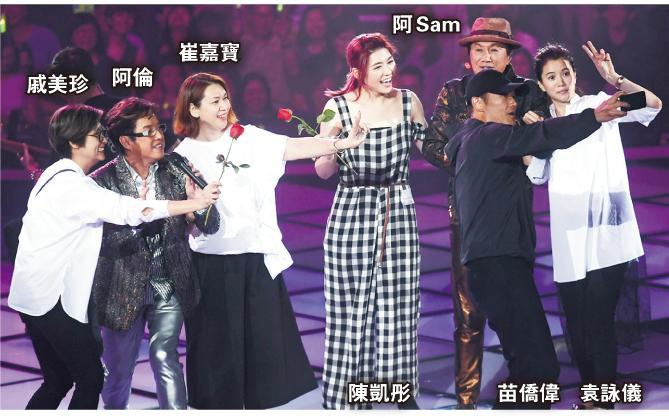 Jaime Chik, Alan Tam, Tsui Ka Bo, Lillian Chan, Sam Hui, Michael Miu, Anita Yuen
courtesy of mingpao.com
Two master class singers Alan Tam Wing Lun and Sam Hui Koon Kit two nights ago successfully completed their 12 show SAM AND TAM HAPPY TOGETHER CONCERT. Their extraordinary charm gave their fans all the audio and visual entertainment. Sam and Alan in front of over 10,000 viewers promised a part 2. As for the suggestion of adding George Lam Chi Cheung, Alan immediately came up with the name 3am with his quick wit!
The final show attracted many industry insiders, including Deborah Li, Nat Chan Pak Cheung and Wong Hung Sau, Wayne Lai Yiu Cheung and his wife, Linda Wong Hing Ping, Cally Kwong Mei Wan, Michael Wong Man Tak and his wife Janet Ma Sze Wai. Andy Lau Tak Wa, Aaron Kwok Fu Sing and Simon Yam Tat Wa sent videos to cheer them on.
Sam and Alan performed a series of classic hits. Alan told everyone that he wanted to perform Part 2, which hopefully would take place at the end of next year or the Lunar New Year. The audience applauded. Sam invited Lillian Chan Hoi Tung to the stage while Alan dragged Anita Yuen Wing Yi, Jaime Chik Mei Chun and Tsui Ka Bo to the stage. Michael Miu Kiu Wai also got on stage for a selfie. As the three "pretty wives" took turn dancing with their idol. Sam joked, "I can't take it anymore!"
Alan and Sam have been together for awhile. Alan said, "At first when I met Sam, it was very hard to get in touch with him. He was a ninja and rarely came out. After some contact I realized that he was very introverted and bashful, which kept me from saying the wrong thing or trying to be funny. I was afraid of scaring him. After we became familiar actually he was very humorous and a lot of fun. Sam hasn't worked with others so he needed time to work with me. Every night he has improved as our chemistry got better and better. We really have become the best partners." During encore, the audience all stood and sang with them. They also said that they very much looked forward to Prat 2 to play with everyone again. Finally at 11:45PM the concert ended with TOWER IN THE CLOUDS. After the show, Sam and Alan popped champagne backstage to celebrate. Would they perform a Part 2? Alan said, "I do, but the venue would be very hard to book. At least we would need it for two to three weeks." Some suggested that they could perform Part 2, 3, 4? Sam smiled and nodded. As for the suggestion of adding Ah Lam, Alan quickly said, "'3 am' concert, but we belong to different companies. We would have to coordinate. Ah Lam is a friend of mine as well." Alan due to shaking hands with the audience left many wounds on his hands. In addition he injured his elbow on the first show. He said every night he was in so much pain that he could not sleep. Now he prepared pain killers at the venue just in cast. He would recover after a few weeks.
Today is Alan's birthday. He accepted so many lai see that night his hands were numb. He said, "My chest is swelling more and more, but I have to work overseas on my birthday. I won't celebrate. Later Sam and I will perform a world tour. In September I will perform my solo concert. Sam's birthday will be on September 6th. As usual he would go to a steak house for steak. "I can only have it once a year, I have to stay in shape." Alan was stunned then joked, "I have it 6 days a week! He only has it once a year, to me that is incredible!" Alan immediately invited Sam to a famous steak house. Sam agreed, "For him I can break the diet and have roast beef twice a year."
Miu Kiu Wai's son posted a photo with Alan's son online. Alan said, "Young people don't sense threat as much, they never consider any problem of threat. (Do you mind?) Just don't do it again." Sam still has not seen Alan's son. Alan explained that because his son was not in Hong Kong. I definitely would take him to see Uncle Sam whenever he would get a chance.