Donnie Yen and wife Cissy Wang
William So
courtesy of on.cc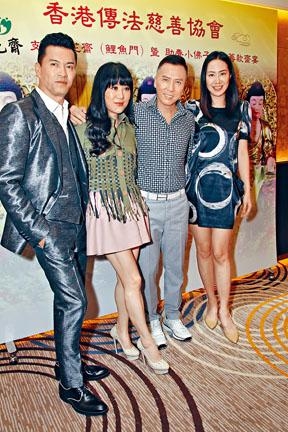 Ray Lui and Donnie Yen attend with their wives
courtesy of singtao.com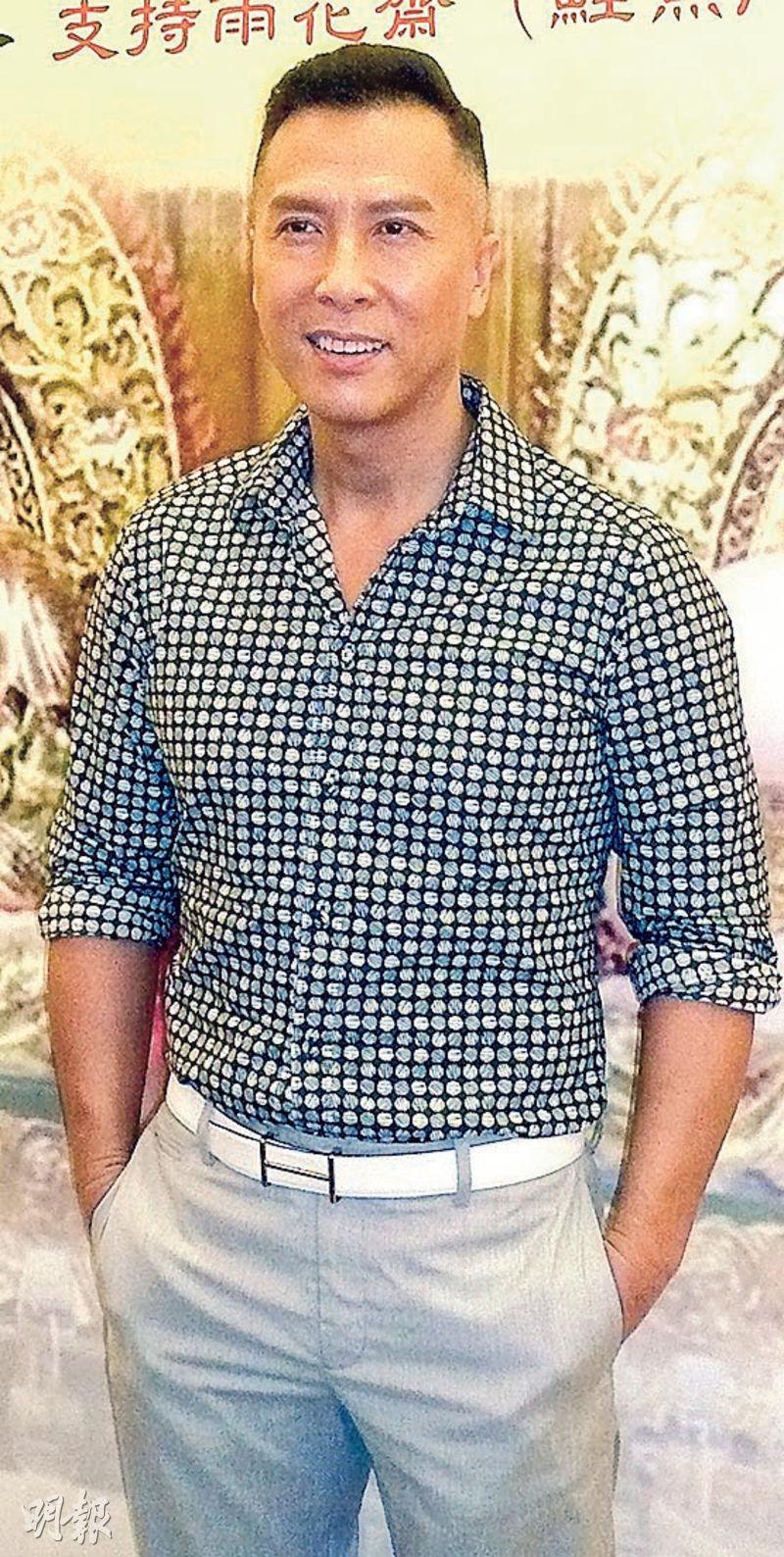 courtesy of mingpao.com
Ray Lui Leung Wai and Donnie Yen Chi Tan last night attended a charity banquet. Recently the Wu Jing starred WOLF WARRIOR 2 set Mainland box office records and made nearly 5.3 billion yuan RMB, thus rumors surfaced that when Wu Jing worked on SPL Yen Chi Tan looked down upon him and asked for his scenes to be removed. Wu Jing said, "Thank him for looking down on me at first!" However, Chi Tan later issued a statement and strongly denied the rumors.
Yesterday Yen Chi Tan was asked about the rumor with Wu Jing. He was prepared. "Rumors often surface, in recent years no matter big or small anything that has to do with action films I am dragged in and says that I am responsible. Actually Wu Jing has already clarified. I also talked to him about it, we are fine!"
"It's a long story. Actually SPL had several scenes that Wu Jing originally wasn't it, I fought for him to be in them. I smashed the table and told the producer to ask Uncle Ba (the boss) to spend 5 more million on him. It was the back alley scene that everyone liked later!" Chi Tan stated that many people with bad intention wanted to create rumors and said that he was at odds with Leon Lai Ming, Jackie Chan and Jet Li (Lee Nin Kit). He said, "Ah Lai and I are good friends! Actually I never pay any attention (to rumors) but this time is truly too absurd. My Weibo account was hacked for likes and screen capture, even Wu Jing told me to call the police. Big Brother Sammo (Hung Kam Bo) also told those keyboard warriors not to make any more trouble!"
Were he and Wu Jing very good friends? Chi Tan admitted, "While working with him we weren't too close, we worked on our own parts." Did he issue the statement because he was upset or to deter anyone from messing around further? "I never cared, but the internet world is enormous. No one can control it. Sometimes I wouldn't want to know all that much and upset myself. I have my own life, actually the number of friends tells whether someone is an OK person or not. This time went too far, they were even more incredible than screen writers. In addition someone had ulterior motives to hurt me and hurt others. Thus after the Weibo account was hacked, I asked professionals to handle it."
Did he communicate with Wu Jing? Chi Tan said, "We communicated long ago. His performance is something to be proud of, motivates action films. I admire his potential, he is a hard working filmmaker, so I gave his 10 likes. Actually he spent three years to make one movie, I myself may not be able to do it. The record breaking is something for everyone to be happy about. His determination and will power is worth commending!" Has he looked down on Wu Jing before? Chi Tan reiterated, "I have already answered that, why would I! I of course didn't look down on him. I like people with substance the most and I admire hard working people too!" Did he want to surpass Wu Jing's 5.3 billion record? He said, "I never think like that, I would only want to surpass myself. In addition few can achieve this record, I never compare myself to others."