courtesy of on.cc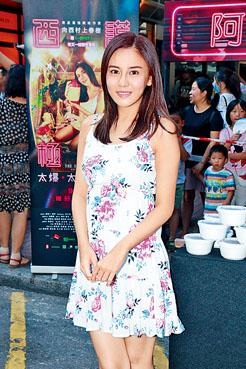 courtesy of singtao.com
Ava Liu (Yu Kiu) and director Ng Hon Bong yesterday promoted in Mongkok. The former in the film THE SINKING CITY: CAPSULE ODYSSEY (SAI FONG GIK LOK: TAI BAU TAI JI TAI HUNG CHONG) played a "masseuse" with a Mainland accent who would present great soup to clients. She herself often made soup as well.
Yu Kiu in the film had the most scenes with Pakho Chau and some were romantic scenes. In one scene they had to make out in a phone booth in the rain. Because the phone booth was constructed and with the storm effects two crew members had to hold up the phone booth. She and Pakho had to kiss while crying in the narrow space.
Yu Kiu said, "At the time my contact lens relocated, during the shoot I couldn't see Pakho clearly. I only listened to the director's orders and moved around with Pakho. We kissed for almost two minutes!" Did she give her boyfriend Adason Lo (Law Lik Wai) advanced warning? She said she told him, but he understood that this was acting.