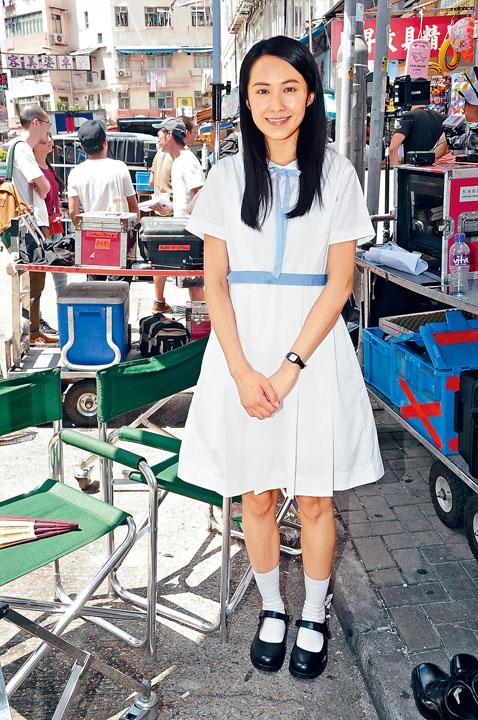 courtesy of singtao.com
Emperor Motion Picture YUT YUET SING (SUN MOON STAR) is heating up in production. Kathy Yuen (Tong Yi), Daichi Harashima, Lawrence Cheng Tan Shui and Karena Ng Chin Yu earlier worked on location at an old school office supply shop in San Po Kong. Although it was just a simple entering an exiting the store scene, due to the heat the actors were trying to lower their temperature during their breaks with mini fans and paper fans.
Playing a secondary school student, Tong Yi became even younger and cuter in a school uniform. She revealed that Brother Tan in the film was both the office supply store boss and her uncle in the film. This time they worked together for the first time, she felt that Brother Tan was a very sharp, very humorous person. She would properly learn from him.
Tong Yi also admitted that she has not worn a school uniform in years. This time she was reminded of many secondary school memories, especially when she worked with Daichi Harashima. She would be reminded of her past school days. She said, "Because Daichi really likes to play basketball, I used to like to watch boys play ball at school. I was the silent supportive type. In secondary school I had two Puppy Love, but we only held hand once and went out once. Ultimately at that time school came first, so I didn't officially date until I started working."
Was she the type of girls who took the initiative? Tong Yi said, "In school I was very quiet and very meek, I had few opposite sex friends. Although sometimes I would find an excuse to find the guy I liked, I didn't dare to take too much initiative." Because the character required light make up, she said that a studnet could not wear too heavy make up. She said that she would not be unaccustomed to it. She was very confident in light make up, but her co-star this time was a young Daichi Harashima, she still had to work on a skin care everyday. She used facial masks in the morning and at night, she exercised, tried to sleep earlier. She believed that she could still pass. She also said that her boyfriend Ken Hung Cheuk Lap has always seen her school girl look and thought it was decent.
In addition, director Benny Lau Wai Hung directed WONG KA YAN, so this time he asked Ng Chin Yu to be the special guest star so Wong Ka Yan could appear on the screen again. Chin Yu said that she was very happy to play Wong Ka Yan again. Both YUT YUET SING and WONG KA YAN took place in the 90s Hong Kong. The director hoped to have a little continuity, a story that felt like a parallel universe. She said that in the denim over all she felt like she went back to several years ago. The crew said that she did not change at all. She said that she was very happy to work with the director again because she has not worked in Hong Kong in a long time. Earlier she mostly worked in the Mainland, so working in Hong Kong felt particularly familiar.
Reportedly she and boyfriend Raymond Lam Fung were already married overseas. Chin Yu said, "Engaged? No! Absolutely not true." She earlier attended an event and said that both she and Lam Fung were very busy with work, for now they did not have any wedding plan. Work would come first for them.