Shiga Lin, Ava Liu
Eva Chan pretends to slap Andrew Lam
courtesy of on.cc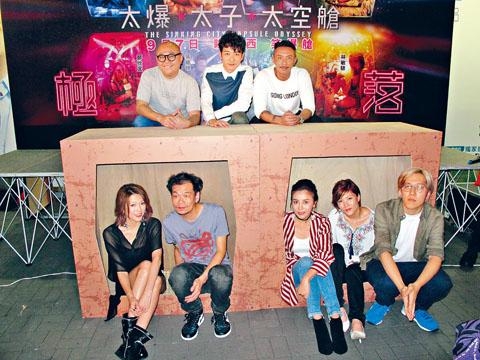 courtesy of singtao.com
The film THE SINKING CITY CAPSULE ODYSESEY (SAI FONG GIK LOK: TAI BAU TAI JI TAI HUNG CHONG)'s actors Andrew Lam Man Chung, Louis Cheung Kai Chung, Bob Lam Sing Bun, Ava Liu (Yu Kiu) and Shiga Lin Sze Nga last night promoted at the Star Ferry pier, but Lam Man Chung was late and made fun of for having a pimple near the corner of his mouth. Finally after using his hand to wipe it he touched Bob's face.
Cheung Kai Chung recently sent his 10 year old son to Shanghai Chelsea soccer school to learn to play soccer, Grandpa also went with him. However his son stayed at the dormitory with two teammates. On video conference, he realized that his son has learned to put away his clothes but his room was a little messy. He hoped after the ten day course he would become independent. Whether he would become a professional soccer player it would depend on his talent and abilities. He would absolutely support him.
Yu Kiu just celebrated her birthday on the 5th. She said, "I am already 30 something, this year I celebrated with fans at a restaurant. My boyfriend was there too!" Her birthday wish was a good response to the new film because she gained weight and padded her bra for the performance. As for her wish, she would like to be healthy the most. She considered marriage and family but now she was already too late. Earlier she went to a pre wedding forum and learned that as a wife she had to admire her husband's flaws as advantages. She has already started to learn to.