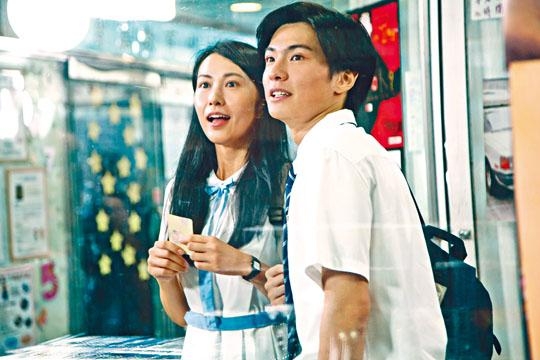 courtesy of singtao.com
Kathy Yuen puts on a school uniform to play a couple with 10 years younger Daichi Harashima
Their on screen romance has quite a first love feeling
Kathy Yuen has a lot of pressure from her first leading role
courtesy of on.cc
Emperor arranges for the 29 year old Kathy Yuen (Tong Yi) to star in the new film YUT YUET SING (SUN MOON STAR) with Daichi Harashima, Lawrence Cheng Tan Shui and Donny Summer (Ha Siu Sing).
Aimee Chan Yan Mei would also return. The film will be about the people and event of Hong Kong in 1992, including the tolerance and sacrifice for love. Tong Yi and Daichi Harashima will play a student couple. Although they are ten years apart in real life, Tong Yi looks much younger. Earlier they appeared in school uniforms and worked on a record selection scene in Chai Wan.
First time playing the lead, Tong Yi thanked the company for giving her a chance and also felt the pressure. She said, "After two days of work, I don't know if it's from working all night or the pressure my skin is acting up a little. Actually both Daichi and I warm up slowly. After three months we still keep in touch and get to know each other's lives." Tong Yi said that despite the age difference, Daichi looked more mature so they had no problem. "I never would have guessed that I can still play a student! (How do you communicate?) At first I was a little scared because I didn't know Japanese, but actually he knew Putonghua so communication was OK. I also asked Daichi to teach me Japanese."