courtesy of on.cc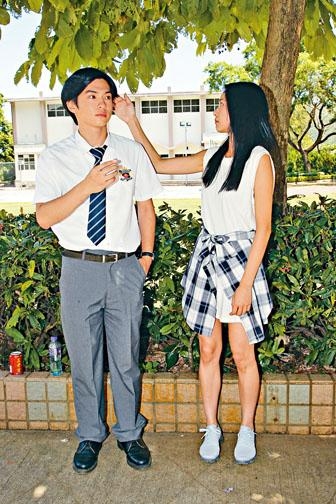 courtesy of singtao.com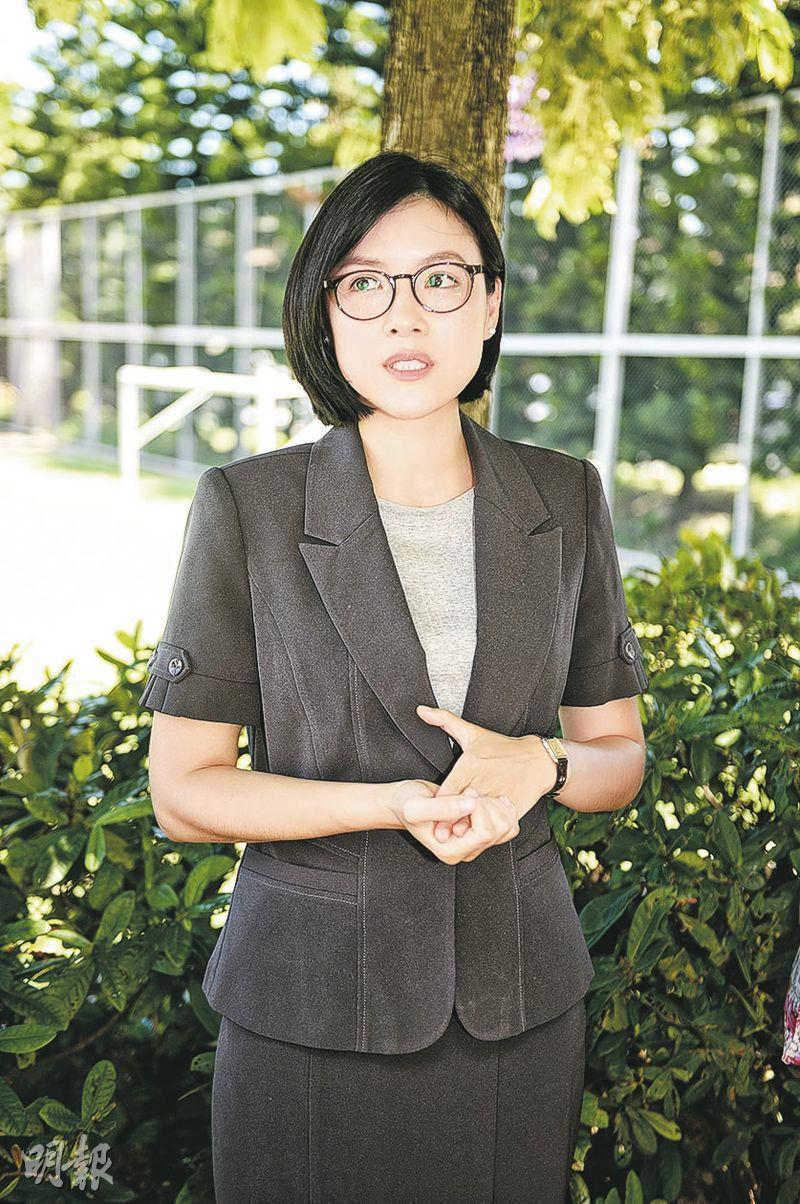 Aimee Chan admits that she is not used to facing the camera on her first day back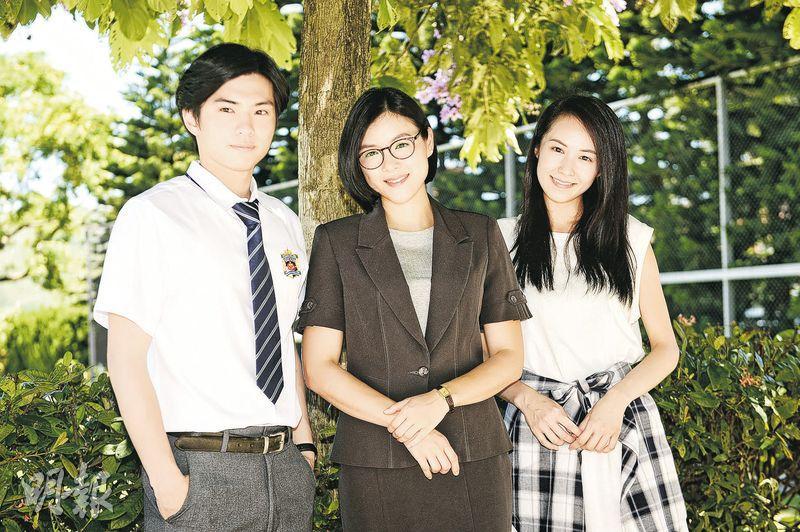 Daichi Harashima, Aimee Chan, Kathy Yuen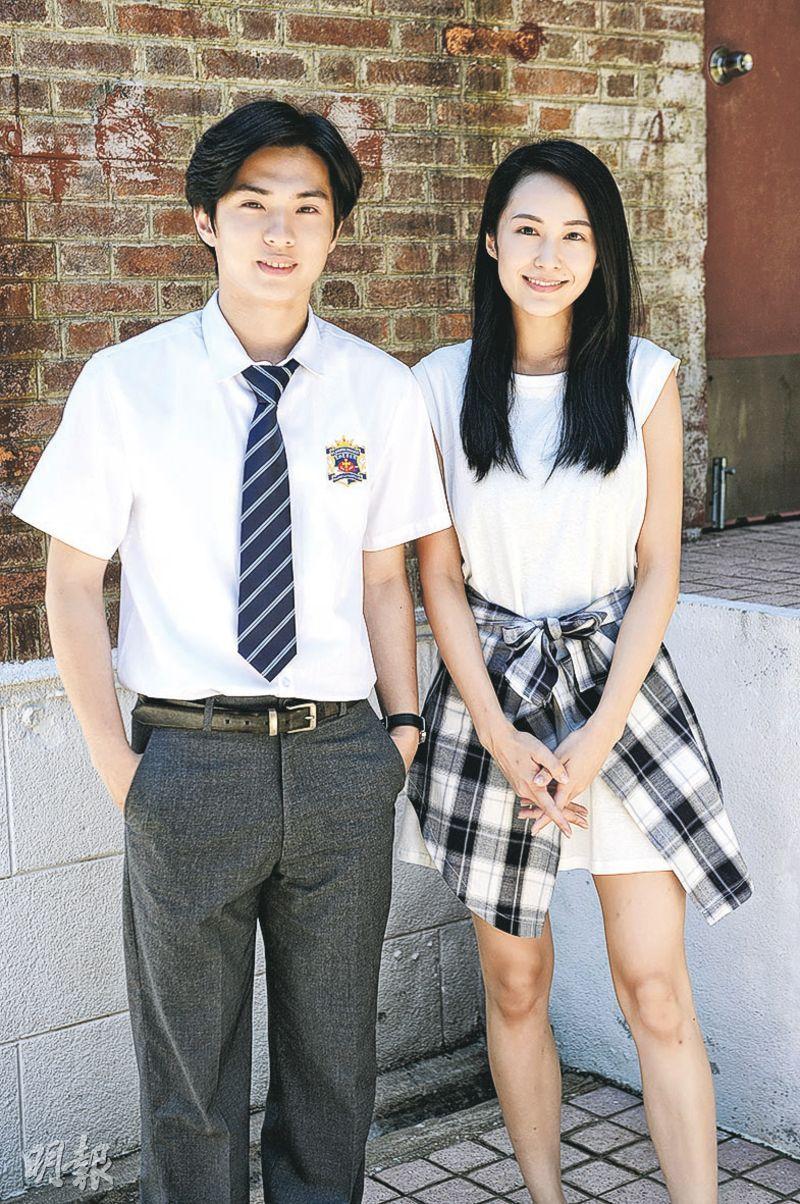 Kathy Yuen jokes that she took Daichi Harashima's first kiss and she would have to give him lai see
courtesy of mingpao.com
The film YUT YUET SING (SUN MOON STAR) yesterday shot on location at a secondary school. Actors included Aimee Chan Yan Mei, Daichi Harashima and Kathy Yuen (Tong Yi). Aimee after three children officially returned to film. She admitted that she was very happy about returning to work but took some getting used to. However she got used to it very quickly. Now her husband Moses Chan Ho plays babysitter. She said that the couple wanted to try to accommodate their schedules as they hoped one of the parents would stay home to take care of the children.
Chan Yan Mei missed her children while at work. Did the children want to go to work with her? Aimee said, "They would keep asking, Mommy what kind of job are you doing? I would explain in English that I am an actress!" They also said that all three children were stuck to her, especially the oldest son and the younger daughter. Thus she would miss them at work.
Aimee said that the last time she made a movie was already two years ago, so she was particularly excited about this return to work. The first shoot took a little getting used to, but she very quickly adjusted to it since she had some past performance experience. This time in the film she played a serious English teacher. Because the background was the 90s, she had to wear a pair of glasses to look more mild mannered. In the film she kept waiting for a boyfriend who left but might not appear again, she still kept writing letters to maintain this long distance relationships. Thus she also taught her student Daichi Harashima to write to the girl he liked. Her husband Chan Ho just finished a series, now it is her turn to work. Aimee said, "We are very lucky, we would try to accommodate each other's schedule. We hope that one of us would be able to stay at home with the kids!" Did her husband enjoy being a house husband? Aimee said, "He enjoys it, he has been working all year. So he would want to raise the children, which is more tiring than working. He has said that it was time for his wife to work, and I really like acting!" She revealed that now she has different offers. Although she had no TVB contract she has series offers. Would she not be in the same series with her husband because of the children? Aimee said, "I don't dare to say I would or not, but it would depend on the opportunity and the script. I like the job of acting!" Has she already completed slimming down? She said that earlier she kept working out for half a month in Canada and she had results. She no longer needed to wear the large sized clothing from before.
Daichi Harashima and Tong Yi played students. Tong Yi said that she never thought she still would be able to play a student, but she felt that in a school uniform she would be able to fool people. Daichi Harashima has already graduated from high school and is attending the university, he returned to Hong Kong to act during his summer vacation and has already stayed for two weeks. In early September he will return to school in Japan. He admitted that he liked making movies but he did not dare to say whether he would continue to act in the future, but if the opportunity arises he would like to make movies. For the past several years he made movies in the Mainland, instead he left a blank in Hong Kong for awhile. At age 5 or 6 he played Cecilia Cheung Pak Chi's son in LOST IN TIME (MONG BUT LIU). After over a decade he finally has a chance to return to Hong Kong film.
Would they have any intimate scene? Tong Yi said that in comparison to her past performance, this time would be ordinary. At most she would have a kiss scene. She immediately asked Daichi Harashima whether it would be his first on screen kiss? Daichi Harashima hinted that this was his "first kiss". Reporters joked that he was young fresh meat. Tong Yi answered, "Very fresh, I have to give you lai see. You have to take me to dinner!" Daichi Harashima immediately agreed, "Great!" They said that the kiss scene probably would not be awkward.