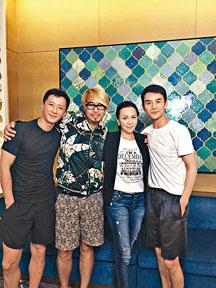 Han Geng, Roy Chow, Carina Lau, Wang Kai
courtesy of singtao.com
The husband and wife team of director Roy Chow Hin Yeung and producer To Chi Long recently have been adapting the popular video game DYNASTY WARRIORS into a film. This game took place during the Romance of Three Kingdoms, after many iterations it remained popular with a lot of fans. As soon as the news of a film was released, fans excitedly guessed who would play the characters but the cast has not yet been announced. Even more online speculation and discussions surfaced. Two days ago Director Chow posted on a photo from dinner, which might be a clue. In the photos were Carina Lau Ka Ling, Han Geng, Wang Kai. Several hours after the photo was posted it had almost 2 million views! Director Chow and Producer To thanked everyone for their concern for DYNASTY WARRIORS. "We know everyone is looking forward to it, we are too. When we can announce the cast everyone will definitely be pleasantly surprised!"